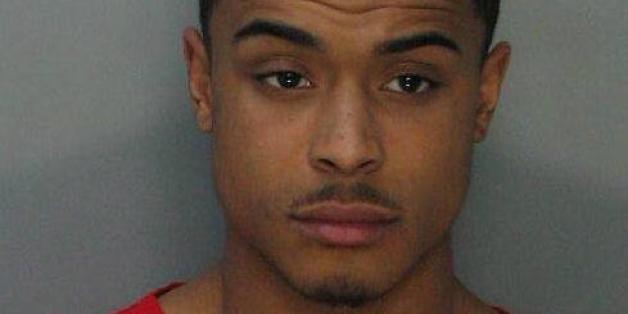 R&B singer Khalil was arrested with Justin Bieber Thursday (Jan. 23) for alleged DUI and drag racing.
Khalil, real name Khalil Amir Sharieff, was identified as the second person arrested Thursday morning in Miami Beach, Fla., the Miami Beach Police confirmed. The 19-year-old from Sacramento, Calif., was driving a Lamborghini at the time of the arrest, according to CBS Miami.
Khalil, who faces charges of DUI and drag racing, was being held on $1,000 bond on Thursday, NBC Miami reported.
The singer signed with Def Jam Records when he was just 15 years old. On the Def Jam website, he is described as an artist who is following in Bieber's footsteps. In 2011, he released a song with Bieber's friend, Lil Twist, called "Hey Mama." His most recent single is titled "Stars."
Prior to the arrest, he posted a photo of himself behind a Lamborghini as well as a photo of Bieber in a yellow vehicle with a female behind the wheel (which has since been taken down). One photo was captioned, "Miami nights ridin thru yo city in that hot wheel ♛."
Bieber and Khalil were arrested around 4 a.m. Thursday. In the arrest report, the officer stated he "smelled alcohol emanating from the driver's breath and bloodshot eyes." Bieber also asked the officer, 'Why the f--k are you doing this? What the f--k did I do? Why did you stop me?"
The underage pop star later failed a field sobriety test. He was charged with DUI, resisting arrest and driving with an expired license, per the police report.
After his arrest, Bieber "made some statements that he had consumed some alcohol, and that he had been smoking marijuana and consumed some prescription medication," Miami Beach Police Chief Raymond Martinez said Thursday, according to CNN.
View the full police report below.
NOTE: This article originally included a photo of Justin Bieber in a yellow vehicle with a female behind the wheel, but the picture has since been deleted from Khalil's Instagram account.
BEFORE YOU GO
PHOTO GALLERY
Celebrity Mugshots