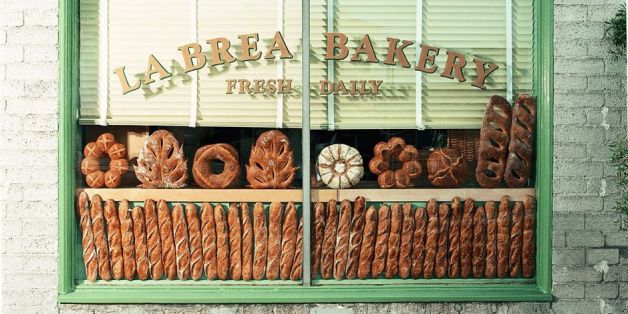 After more than a year of renovations (and a re-location, to boot), La Brea Bakery's flagship cafe is officially re-opening Jan. 30 with a big party, and everyone's invited.
Founder and chef Nancy Silverton will be on hand, along with as yet unnamed city officials, to celebrate the new location with a ribbon cutting and free samples for everyone who shows up.
The re-opening also coincides with the influential bakery's 25th anniversary. To commemorate the birthday, Silverton and crew are giving away gift bags and gift cards to randomly selected fans who tweet or Instagram pictures from the event with the hashtag #LaBreaBakery25. Anyone who also has a red La Brea Bakery stamp on the bottom of their tasting plate will also receive $25 La Brea Bakery gift cards.
The original La Brea Bakery storefront closed Dec. 31 when its home, the Campanile restaurant, shuttered. Campanile has since been replaced by celebrated chef Walter Manzke's bistro Republique, and La Brea Bakery moved one block north to a much bigger space.
WHO: Fans of good bread and good food.
WHAT: La Brea Bakery is celebrating its 25th anniversary with the grand re-opening of their cafe in a new location.
WHEN: Thursday, Jan. 30 from noon to 3pm. Free samples start at 12:30 p.m., after the ribbon cutting and Nancy Silverton's remarks.
WHERE: La Brea Bakery Café, 468 South La Brea Ave., Los Angeles, CA 90036 (on the corner of 6th & South La Brea Avenue)
WHY: Because La Brea Bakery is an LA institution, and you're SO happy that it's back!

BEFORE YOU GO
PHOTO GALLERY
Quick Bread Recipes