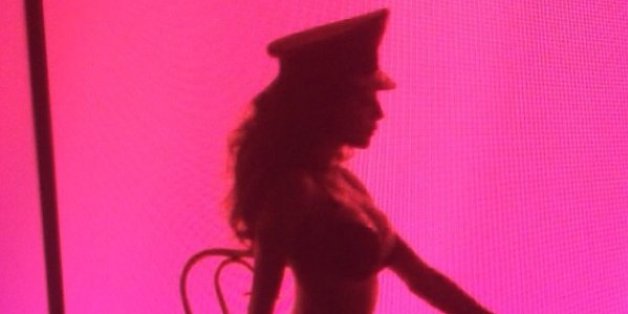 "Glee's" anticipated 100th episode won't air until Spring, but Naya Rivera is already heating things up.
The 27-year-old star gave fans a sneak peek of the episode via Instagram this week, posting photos of herself in a sexy red bra top, knee high black boots and short skirt with the caption #Glee100."
Rivera, who plays Santana in the series, will return to McKinley High along with the entire original cast for the milestone episode. Fans were also given a chance to be a part of the 100th episode, set to air in March, by choosing their favorite classic "Glee" songs that will be remixed on the show.
In December, Kevin McHale and Harry Shum, Jr. spoke to The Huffington Post about what audiences are in for in the Spring. McHale said the one-hour special will be "hilarious" and will have some fan favorite moments.
"There are some of those Santana and Brittany moments that we've all been missing," McHale told HuffPost. "I'm a fan of those story lines, too, so I'm excited for people to see that."
Last year, "Glee" creator Ryan Murphy announced that the series would end after Season 6. The news came after the unexpected death of the show's main male protagonist Cory Monteith in July.
"The whole [last] year of the show -- which will be next year -- was really designed around Rachel-Cory/Finn story," Murphy said, according to EW. "I always knew that. I always knew how it would end. I knew what the last shot was -- he was in it. I knew what the last line was; she said it to him. So when a tragedy like that happens you sort of have to pause and figure out what you want to do."

BEFORE YOU GO
PHOTO GALLERY
Personal Details On "Glee's" Naya Rivera