Twelve hours.
That's how long a trio of New Yorkers drove to deliver clean water to West Virginia, where a chemical spill left 300,000 residents without tap water for a week.
And the act of kindness all started with a text.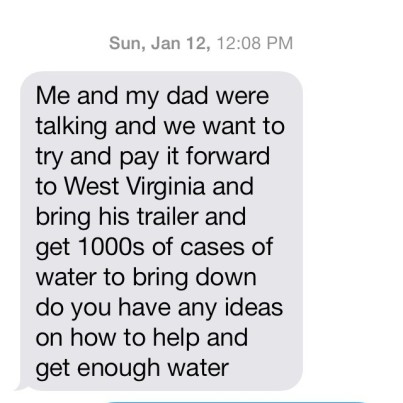 Angelina Sarro, a senior at East Rockaway High School in New York -- an area affected by Superstorm Sandy in 2012 -- knew her social studies teacher, Don Poland, was the man to contact when it comes to paying it forward. Last year, Poland organized a student trip to bring aid to Moore, Okla., after a deadly tornado tore through the town. Now, after learning about the predicament in West Virginia, Angelina wanted to do more than just watch news coverage.
Poland got right to work. He told The Huffington Post that he began gathering donations of bottled water by driving around town in his van and then setting up tents in front of the school so parents and passersby could drop off cases.
In about a week, they collected 227 cases and more than 100 gallon-bottles of water, according the "Pay It Forward East Rockaway" Facebook page.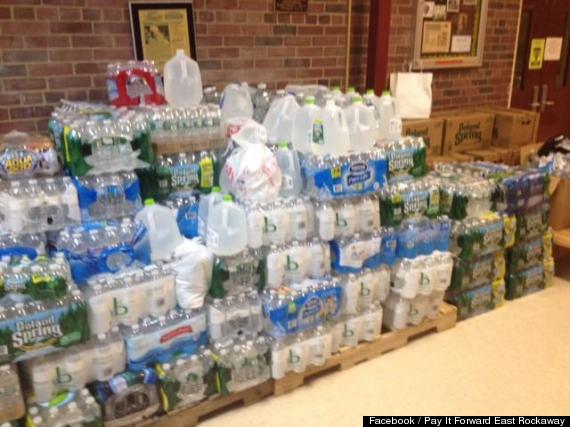 Last Saturday, Poland, Angelina, and her dad, Frank Sarro, set out to make the delivery. They ended up in Clendenin, W.Va., and tried to find people to talk with -- at first, to no avail.
"Everything was closed," Poland told HuffPost. "It was haunting, like a twilight zone, really. We eventually came across a church."
"It isn't by coincidence that they stopped by my church first," Pastor Charles LaRue of Clendenin Church of the Nazarene told the Good News Network. "We just gave away several cases of water instead of selling it, believing God would bless us for it."
People eagerly helped unload water cases from the truck.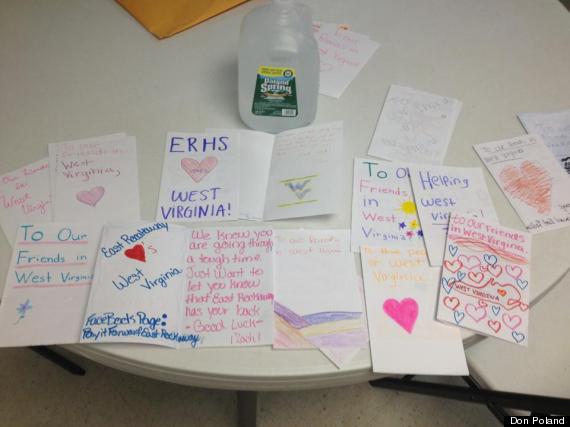 LaRue told Poland of other local churches that could use the extra water. For the next few hours, they went around town delivering more cases.
"It was all really powerful," Poland told HuffPost. "That simple little text turned into all that."
When they returned to LaRue's church, they found the sign out front had a new message: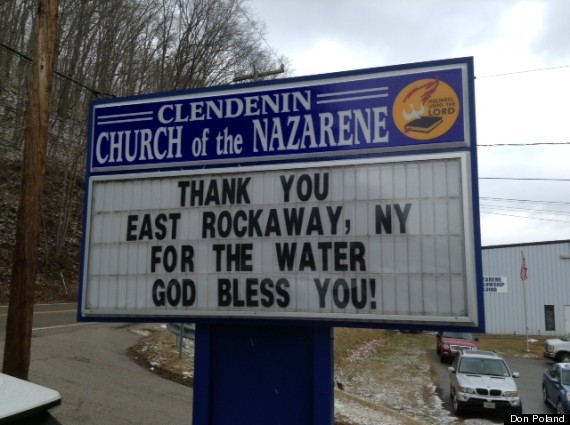 Churchgoers also collected gas money to pay for their new friends' trip back to New York.
"It was great, but the idea was not to take care of us," Poland said. "I told them, 'In the future, you take care of somebody else.'"
BEFORE YOU GO
PHOTO GALLERY
Hurricane Sandy Random Acts of Kindness