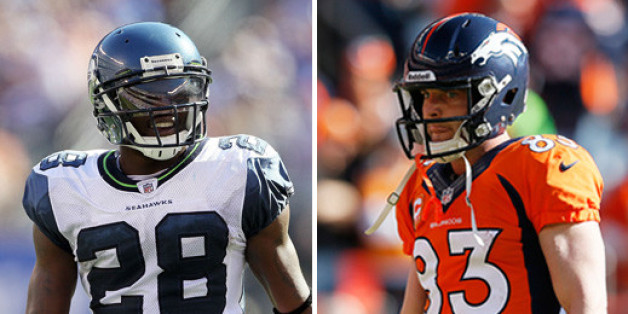 Bill Belichick is not alone. Seahawks cornerback Walter Thurmond joined the Patriots coach's corner on Wednesday when he said Denver's Wes Welker "should be getting fined" for his collision with New England's Aqib Talib in the AFC Championship Game.
"It was really uncalled for," Thurmond said, per ESPN.com. "The receiver ran right into the guy. I don't know the extent of the injury Talib had, but I thought we were supposed to protect football players in this league now. I guess not. I guess that only goes one way."
In the second quarter on Sunday, Talib was defending Broncos wide receiver Demaryious Thomas who was running a left-right crossing route. Welker was running a right-left route underneath Thomas. Peyton Manning threw a short pass to Thomas and as the ball approached him, Welker collided with Talib. No penalty was called and the Patriots cornerback was injured on the play. He was later ruled out for the rest of the game with a knee injury.
On Monday, Belichick ripped Welker for what he called "a deliberate play by the receiver to take out Aqib."
"No attempt to get open. I'll let the league handle the discipline on that play," Belichick told reporters. "It's not for me to decide but it's one of the worst plays I've seen. That's all I'll say about that."
The NFL, however, saw nothing wrong with the play. The leagues' vice president of officiating Dean Blandino called it "a legal hit."
BEFORE YOU GO
PHOTO GALLERY
PHOTOS: Broncos vs. Patriots