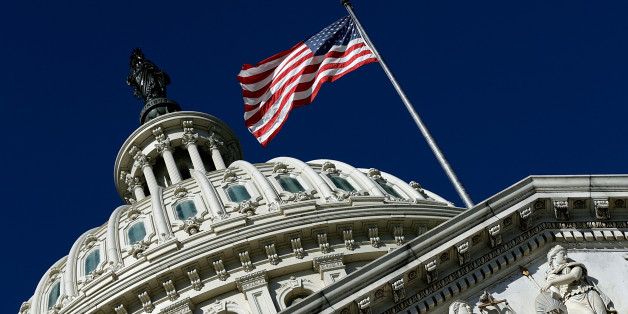 A record number of Americans say they want to fire their own members of Congress, but they may not follow through. We explain how ad spending can guide poll watching. And Facebook unfriends Princeton. This is HuffPollster for Friday, January 24, 2014.
MOST AMERICANS DON'T THINK THEIR OWN MEMBER OF CONGRESS DESERVES REELECTION - Andrew Dugan and Brad Hoffman: "The enduring unpopularity of Congress appears to have seeped into the nation's 435 congressional districts, as a record-low percentage of registered voters, 46%, now say the U.S. representative in their own congressional district deserves re-election. Equally historic, the share of voters saying most members of Congress deserve re-election has fallen to 17%, a new nadir...The 17% of voters who now say most of Congress deserves re-election is well below the roughly 40% threshold that has historically been associated with major electoral turnover. With this in mind, Congress could be in for a major shake-up. Judging by net seats lost in an election as a percentage of the overall number of seats, 2010, 1994, and 2006 register as the top three recent elections. All of these years had election-year averages of 41% or fewer voters saying most of Congress deserved re-election, with the Republican-wave election of 2010 registering the lowest, 30% -- still 13 percentage points higher than the current reading.
" [Gallup]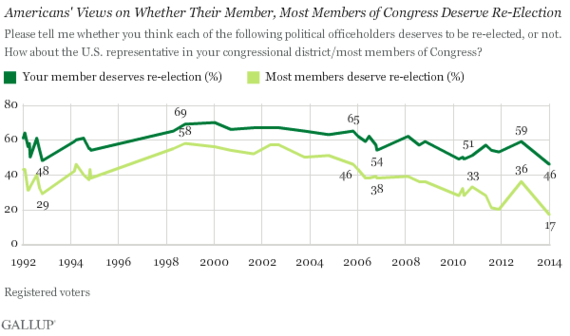 Skeptical reactions - Scott Bland: "As Gallup notes, 'Results like these have presaged significant turnover in Congress, such as in 1994, 2006, and 2010,' and we could well be in for another year like those. But those years were more anti-majority than anti-incumbent: In all three of those midterm elections, voters rebelled against the party controlling Congress and flipped scores of House seats in the other direction. This year, Congress is divided, and House districts are sorted to the point where there isn't too much room for the parties to take new districts. And even in those tumultuous years, or at the height of the widespread House banking scandal in 1992, reelection rates never dipped below 85 percent, according to the Center for Responsive Politics. And on top of that, despite a very rough year for congressional ratings, more people than not still want their member back in 2015." [National Journal]
-Alan Abramowitz, via Twitter: "Don't believe Gallup--No wave coming in November House elections...Why no wave in House? Only 16 R seats and 9 D seats in enemy territory and strong party voting." [@AlanIAbramowitz here and here]
GOP ADVERTISING ADVANTAGE IN 2010 - In a column about continuing Republican efforts to advance its data analytics, Elizabeth Wilner shares CMAG data on television advertising spending in the last two midterm elections: "As recently as the last midterm election in 2010, Republicans netted six seats after outside groups put GOP TV advertising on steroids. This data visualization by CMAG's Harley Ellenberger maps out total daily general election TV spot occurrences sponsored by candidates, parties and outside groups in Senate races in 2006 (on the bottom) and 2010. The dataviz shows considerable Republican growth in spot occurrences from a peak of about 5,000 per day in 2006 to about 8,000 per day in 2010, whereas Democrats saw more modest growth. The viz also shows a gradually widening Republican advantage from July 4 all the way through the end." [Cook Political]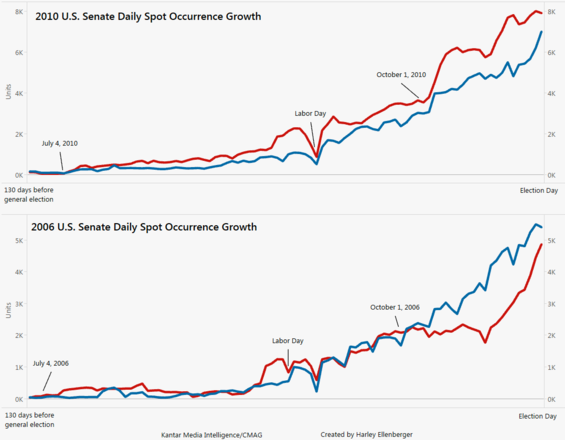 What this means for how to read polls - The CMAG data presents a clear illustration of why horse race polls can be misleading before the autumn. It shows that the overwhelming majority of Senate campaign advertising dollars are spent in the last two-to-three months of the campaign. In races featuring poorly known but well funded nominees, this late spending often boosts name recognition and shakes up the poll standings. Yes, major news events can sometimes alter voter preferences long before the campaign begins in earnest, but for the most part, any apparent shifts that occur before Labor Day are mostly statistical noise. The time to watch the polls most closely is when the campaigns ramp up their spending and the volume of their advertising.
HUFFPOLLSTER VIA EMAIL! - You can receive this daily update every weekday via email! Just enter your email address in the box on the upper right corner of this page, and click "sign up." That's all there is to it (and you can unsubscribe anytime).
FRIDAY'S 'OUTLIERS' - Links to the best of news at the intersection of polling, politics and political data that we missed during our holiday break (starting with a few
new items from today:
-Nearly two thirds of New Jersey voters now describe Chris Christie as a bully. [Rutgers]
-73 percent of Americans have not seen any of the movies nominated for Best Picture. [YouGov]
-The RNC is trying to change the timing of their presidential primaries. [HuffPost]
-Josh Putnam has more about the RNC rule changes. [FHQ]
-Greg Sargent finds the Republican economic and poverty agenda is more reflective of the views of Tea Party rather than other Republicans. [WaPost's Plum Line]
-Barry Burden finds that convenient early voting decreases turnout. [AJPS]
-Steve Benen challenges the question wording in the Fox News poll. [MSNBC]
-Conspiracy theorists are also likely to be skeptics on vaccines and climate change. [Mother Jones]
-The California Healthcare Foundation analyzes Twitter sentiment about Obamacare. [CHCF via @SusannahFox]
-David Simas, former director of polling and focus groups for the Obama re-election campaign, will head a new White House Office of Political Strategy and Outreach. [Politico]
-Researchers at Princeton extrapolate from Google search query data to predict the demise of Facebook. [Arxiv.org]
-Facebook "debunks" the Princeton researchers by extrapolating from Google search query data to predict the demise of Princeton...and air. [Facebook via Flowing Data]