 The initial poster and trailer for March's "Better Living Through Chemistry" premiered this week, but it's not the first time co-writers and directors Geoff Moore and David Posamentier have seen their debut feature in the news. Back in 2010, "Better Living Through Chemistry" was a frequent fixture in the Hollywood trades, thanks to the fact that Jeremy Renner, fresh off his Best Actor nomination for "The Hurt Locker," and Jennifer Garner were cast in the leading roles.
"We came out of the gate real quick. We were so overwhelmed to the responses to the script, and it was more than we could ever have imagined," Posamentier told HuffPost Entertainment in a recent interview. "People really were responding positively. We got the cash immediately. There was a moment where we thought we would shoot four months after we read the script."
Added Moore: "It was going to be the fastest independent movie of all time."
Unfortunately, that didn't happen. Renner, besieged with offers, would eventually leave "Better Living Through Chemistry" because of a busy schedule that included "Mission: Impossible - Ghost Protocol" and "The Bourne Legacy"; Garner soon followed him out the door.
"Jeremy, who we loved, became a humongous star at the best and worst time," Moore said of the casting setbacks. "We were at a hotel bar in Baltimore where we looked at each other and said, 'All right, we'll go back to L.A. and regroup and lick our wounds and give it one more try.' The way financing comes in is based on the foreign sales model. People start pitching you names that might get you money for the movie, but it's not the movie you want to make. We said we would give it one more whirl to get a cast together. If it happens, it happens; if not, we'll just pick up the pieces and move on to the next project. We didn't want to compromise in terms of the cast."
On the strength of the script, they didn't have to: Sam Rockwell replaced Renner as the film's lead character, a small-town pharmacist who shakes up his boring life by starting an affair with a local trophy wife. That role, which Garner had filled, went to Olivia Wilde. Michelle Monaghan stars as well, in the role of Rockwell's onscreen wife, while Ray Liotta, Ben Schwartz and Jane Fonda fleshed out the cast in supporting roles.
"Our outlook the whole time has been the cast we end up with is going to be that cast for a reason, and those are going to be the best ones for a reason," Posamentier said. "We really believe we got the best people."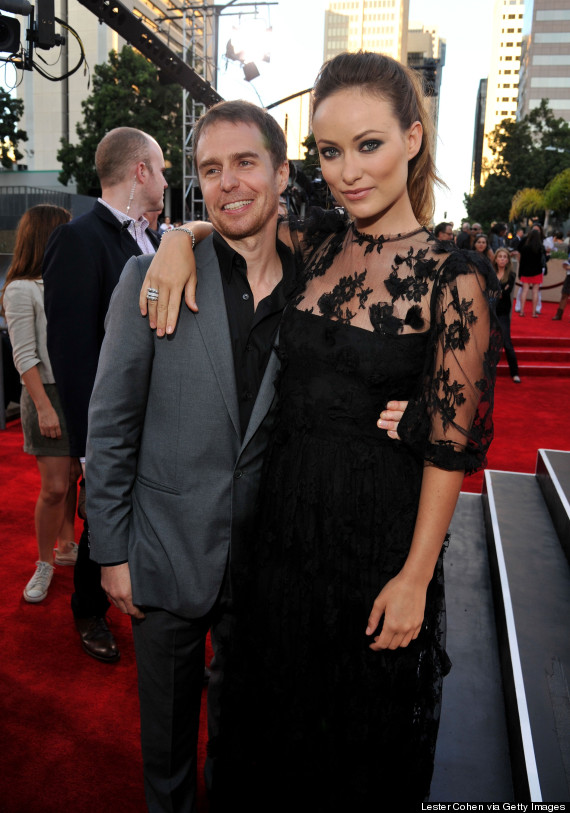 Unlike many screenwriting duos, Moore and Posamentier weren't college roommates and didn't grow up together. They both worked in the film industry at different production companies and only met because of mutual friends.
"They were like, 'You like the same movies and have the same sense of humor,'" Moore recalled. "The first time we sat down and started talking about things, we realized that for various reasons, we were looking for a new challenge and writing was one of them."
To see how they'd work as collaborators, the pair wrote a script called "Veteran's Day." It was never made into a film, but the screenplay put them on the map. "We never made a single dollar off that script directly, but it got us an agent and our first assignment. We were able to quit our jobs. That was 10 years ago," Moore said.
Fluent in a wide variety of genres, Moore and Posamentier said that they were inspired to write "Better Living Through Chemistry," in part, by the films of Joel and Ethan Coen, Alexander Payne and even Sidney Lumet. "We always talk about 'The Verdict,' even though it is so outside the realm of the movie," Posamentier said. "It's a movie that we love in terms of the craft."
About that craft: according to the directors, the four-year delay was actually beneficial to the end result of the film. "Because of all the false starts, it was like we went through prep for three times. For a first-time director it was super frustrating as the movie was falling apart, but you're also getting triple preparation for the movie," Moore said. "When the day comes to shoot, you can do it in your sleep. It's like being an astronaut. They strap you into a rocket, you're ready to go. Then they call off the launch. You know the procedure because you were ready for the launch."
With "Better Living Through Chemistry" so close to arriving in theaters, what did Moore and Posamentier learn from the lengthy process?
"We have friends who are writers who get a shot to direct a movie, and they come back and go, 'Oh my goodness, that was just awful. I'm happy to sit at my computer and write my screenplays. I won't do that again,'" Moore said. "We came back from Maryland and started cutting the movie and were like, 'Wow, that was awesome. When can we do it again?'"
BEFORE YOU GO
PHOTO GALLERY
Celebrity News & Photos