It's not just you. Gmail went down, and everyone flipped out.
At around 2 p.m. EST, Google's email service became largely inaccessible, as confirmed by the website Down For Everyone Or Just Me. But you probably already know that if you've been checking Twitter:
let this be the last tweet about the gmail outage /thread

— Chris Ziegler (@zpower) January 24, 2014
The utter dependence of the journalism industry on Gmail has been revealed.

— Owen Thomas (@owenthomas) January 24, 2014
the gmail free public beta is OVER

— John Herrman (@jwherrman) January 24, 2014
how do you email the people at google to see what the problem is

— samir mezrahi (@samir) January 24, 2014
Hello Yahoo email account, my old friend

— Mark Gongloff (@markgongloff) January 24, 2014
hmm my gmail is up, im still emailing with my friends. cool gmail still seems to be up.

— John Herrman (@jwherrman) January 24, 2014
First person to tie the Gmail outage to Bieber wins a Pulitzer. GO.

— Tim Stevens (@Tim_Stevens) January 24, 2014
Apparently the rapture occurred, I was saved, and this is heaven because I haven't received new email since 11:45PM. Or maybe Gmail is down.

— Chris Sacca (@sacca) January 24, 2014
And the coup de grâce:
Gmail is temporarily unavailable pic.twitter.com/KLNxcQ9zUP

— Yahoo (@Yahoo) January 24, 2014
The problem seems to be isolated to email, according to Google's Status Dashboard: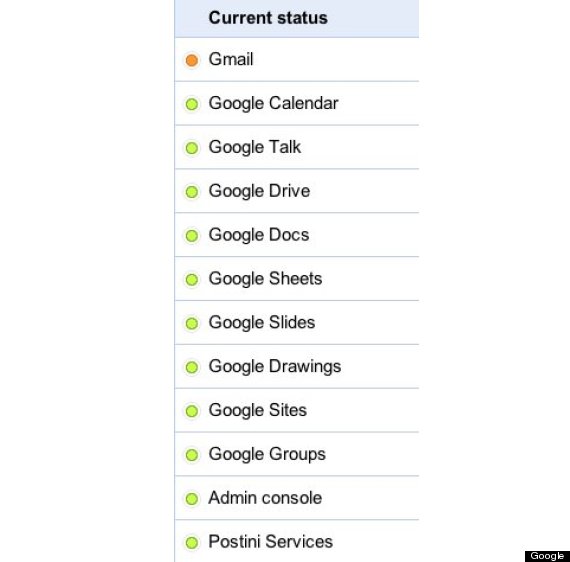 UPDATE: As of 3:23 p.m. EST Gmail is back. "The problem with Gmail should be resolved. We apologize for the inconvenience and thank you for your patience and continued support. Please rest assured that system reliability is a top priority at Google, and we are making continuous improvements to make our systems better," Google writes on its App Status Dashboard.