Do not retouch Nicki Minaj.
Minaj blasted ESPN on Instagram Thursday (Jan. 23) for retouching her photos in a spread for the magazine, Jezebel first noted. The rapper appears on the cover of the mag's "Music Issue" alongside Kobe Bryant. But, the images for the shoot looked a little different once in publication.
"When retouching goes wrong," she wrote.
She also posted photos that were unedited, writing, "I love my personal unretouched photos where my forehead doesn't mysteriously grow in length."
While some editing errors are egregious (remember when Claire Danes was missing a leg in Vogue?), there were only some subtle changes made for ESPN Magazine's final version of the imagery featuring the "Pink Friday" star.
"While we occasionally make minor visual and cosmetic adjustments to cover images, we do not significantly change a person's unique physical characteristics," ESPN Magazine Editor-in-Chief Chad Millman told The Huffington Post in an email Friday. "The folks on our covers are too proud of their bodies to stand for that. The forehead Ms. Minaj walked in with is the one on the cover and we're thrilled she participated."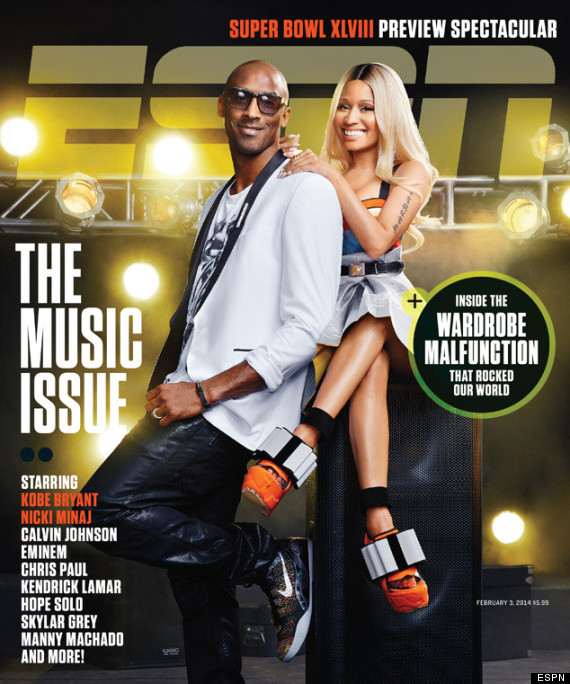 Last week, retouching made headlines when Lena Dunham's Vogue February 2014 cover and editorial spread were revealed. The fashion magazine became the center of controversy after apparently editing various portions of the photos.
BEFORE YOU GO
PHOTO GALLERY
When Photoshop Goes Wrong...