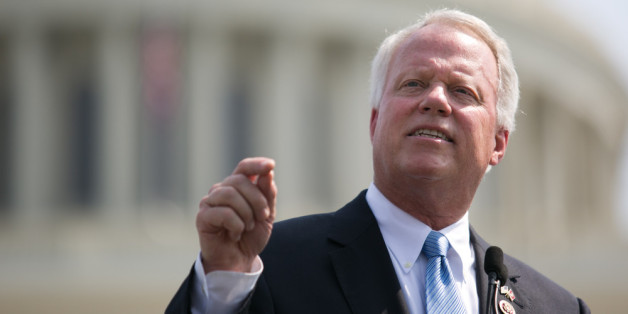 This cycle's hottest campaign trend, apparently: free assault weapons.
Following Republican South Carolina state Sen. Lee Bright's announcement Thursday that he will raffle off an AR-15 assault weapon in his primary campaign against Sen. Lindsey Graham, U.S. Rep. Paul Broun (R-Ga.) will do the same in his campaign for the U.S. Senate seat being vacated by Republican Sen. Saxby Chambliss, the Atlanta Journal-Constitution reported.
Broun, perhaps seeking to distinguish himself in a crowded Republican primary field, sent an email to supporters Friday offering up a free gun to push back against "the Democrats and liberal media" who "would love to take away our guns and mandate every aspect of our lives," according to the paper.
"As one of the most conservative members of Congress, and a staunch supporter of the 2nd Amendment, I am constantly under attack for my values and beliefs," the email read. "Today I'm fighting back. How would you like to start off 2014 with a brand new AR-15 for free?"
The Broun campaign did not respond to a request for comment, but he gave a reason for the contest on his campaign website. President Barack Obama, he wrote, "would like nothing more than to ban the AR-15 rifle -- and that's exactly why I've decided to give away a free AR-15 to one of my fellow 2nd amendment supports." The contest ends Feb. 27.
Obama came out in support of a ban on the production and sale of certain types of assault weapons in January of last year.
Broun said earlier this month that Democrats will not win in Georgia unless the state grants undocumented immigrants, or in his words, "illegal aliens," the right to vote. Back in 2012, he attacked science, saying that evolution, embryology and the Big Bang theory are "lies straight from the pit of Hell."
The representative is one of eight Republicans seeking his party's nomination in the Senate race. The primary will be held May 20.
BEFORE YOU GO
PHOTO GALLERY
Senate Seats Up For Grabs In 2014