The battle for same-sex marriage rights in Australia has been tumultuous, with the country's High Court overturning recently instated marriage equality laws in the Australian Capital Territory (ACT) in December, thereby invalidating the 20 or so marriages that were performed during the brief window.
Now, an adorable 4 year old has penned a letter to the Australian Prime Minister (on Disney Princess stationery, no less), urging him to let same-sex couples marry one another.
Sabrina Franco, the ambitious toddler, also asked Prime Minister Tony Abbot to not make any funding cuts to the Australian Broadcasting Corporation.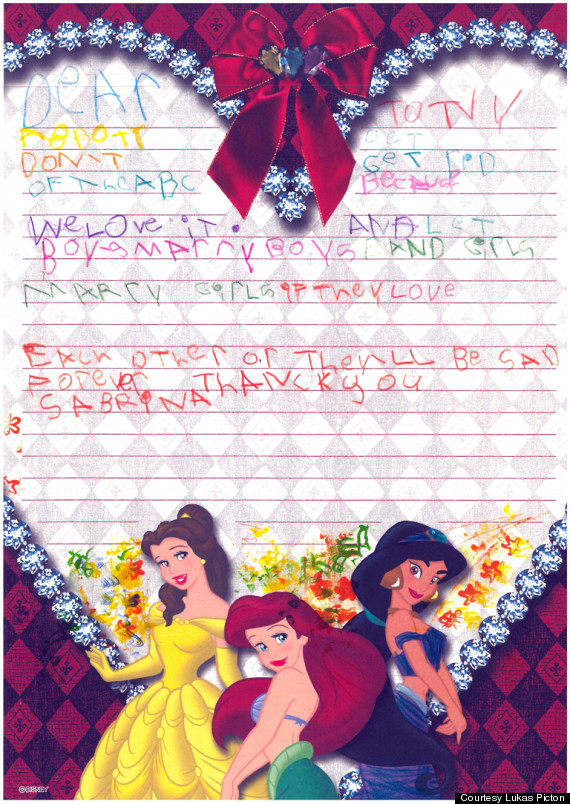 The letter reads:
Dear Tony Abbott,

Don't get rid of the ABC because we love it. And let boys marry boys and girls marry girls if they love each other or they'll be sad forever.

Thank-you.

Sabrina.
Franco reportedly wrote the letter after discovering that her mother's friends, Lukas Picton and Greg Stone, were forced to travel to New York in order to be legally married.
This isn't the first time that kids have adorably voiced support for marriage equality. In this viral video from late last year, a group of kids were shown videos of same-sex marriage proposals and their reactions are absolutely precious, with the kids seeming to view same-sex marriage as a non-issue.
(h/t Towleroad)
BEFORE YOU GO
PHOTO GALLERY
18 LGBT Kids And Allies Who Are Way Braver Than We Were At Their Ages