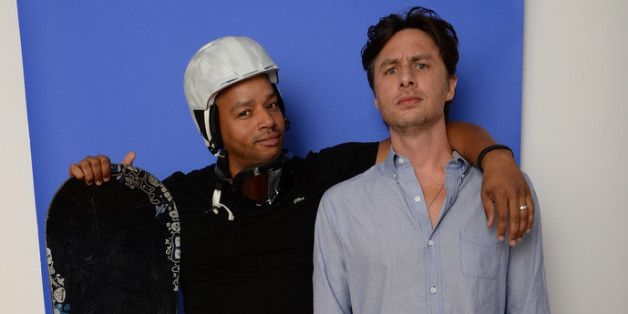 Donald Faison and Zach Braff are best friends, both on "Scrubs" and in real life. They snuggle in the pool and sing Christmas carols together. Faison even married his wife Cacee Cobb at Braff's Los Angeles home.
So, when Faison held an AMA (Ask Me Anything) session with fans on Reddit on Thursday (Jan. 23), it wasn't at all surprising that Braff showed up to chat with his buddy. Braff, whose username is zachinoz, is a frequent Redditor and has hosted AMAs of his own. He brought some shenanigans to his best bud's AMA, and fans loved the "Scrubs" co-stars' chitchat as much as they enjoyed Faison answering their own questions.
Faison hosted the AMA in order to promote his fundraising event to benefit Soles4Souls, a non-profit organization that fights poverty. He is currently running a Prizeo campaign in which donors can enter to win a walk-on role on Faison's TV Land sitcom "The Exes."
Check out the highlights of Faison and Braff's banter below.
PHOTO GALLERY
Zach Braff crashes Donald Faison's Reddit AMA
BEFORE YOU GO
PHOTO GALLERY
Zach Braff and Donald Faison Define Guy Love