Not so long ago, the marijuana arrest capital of the world was covered in, well, marijuana.
A fascinating blog from the Brooklyn Public Library remembers when, in the 1940s and early '50s, "razor-toothed fronds of 10 foot tall Cannabis sativa plants could be seen all around the city happily waving in the wind like any other innocuous and legal weed."
New York's time as a marijuana hot-spot, however, came to an end in the early 1950s when a buzzkill named John E. Gleason, who was the Sanitation Department Chief Inspector, formed the "White Wing Squad" to confiscate and destroy the plant wherever it grew. The squad would go on to incinerate 41,000 pounds of marijuana, over 17,000 of which was uprooted in Brooklyn, namely in neighborhoods like Williamsburg, Greenpoint, and East New York.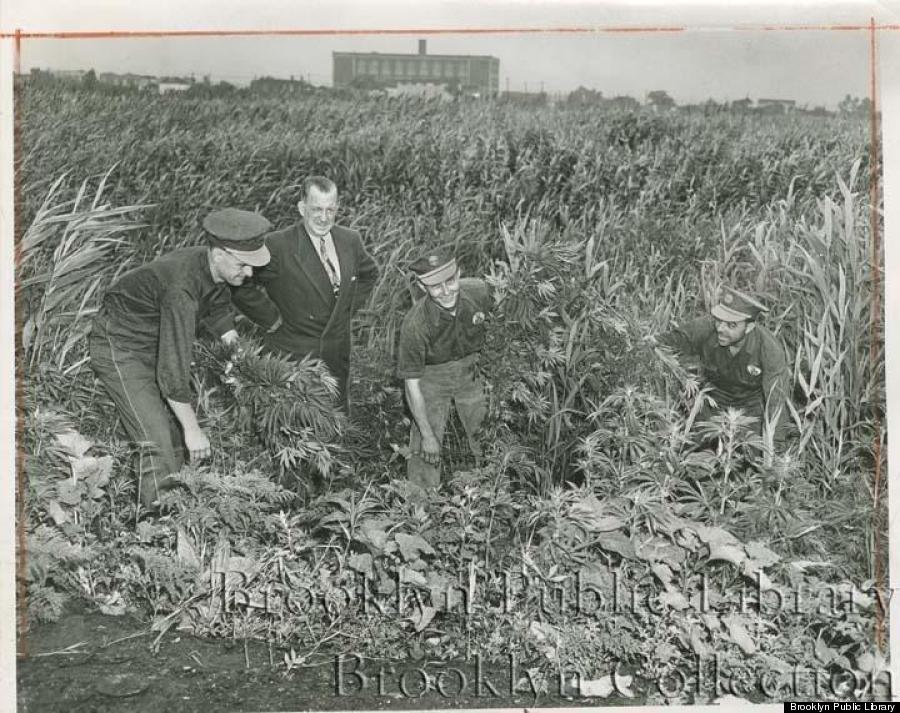 "Root and branch--Chief Sanitation Inspector John Gleason directs three aides as they uproot a patch of marijuana near Fairfield Ave. Workers are, left to right, Howard Schaaf, John Tinyes, and Charles Friscia." Note: At the time of cataloging, Fairfield Avenue does not exist in Brooklyn.
Via Brooklyn Public Library
.
Then, as now, not everyone in New York agreed with such aggressive prohibition of the drug. WNYC dug into the archives and found this enlightening interview with State Supreme Court Justice John Murtagh, who disagreed with the city's weed crackdown, and noted that studies showed pot was non-addictive, and possibly safer than tobacco cigarettes.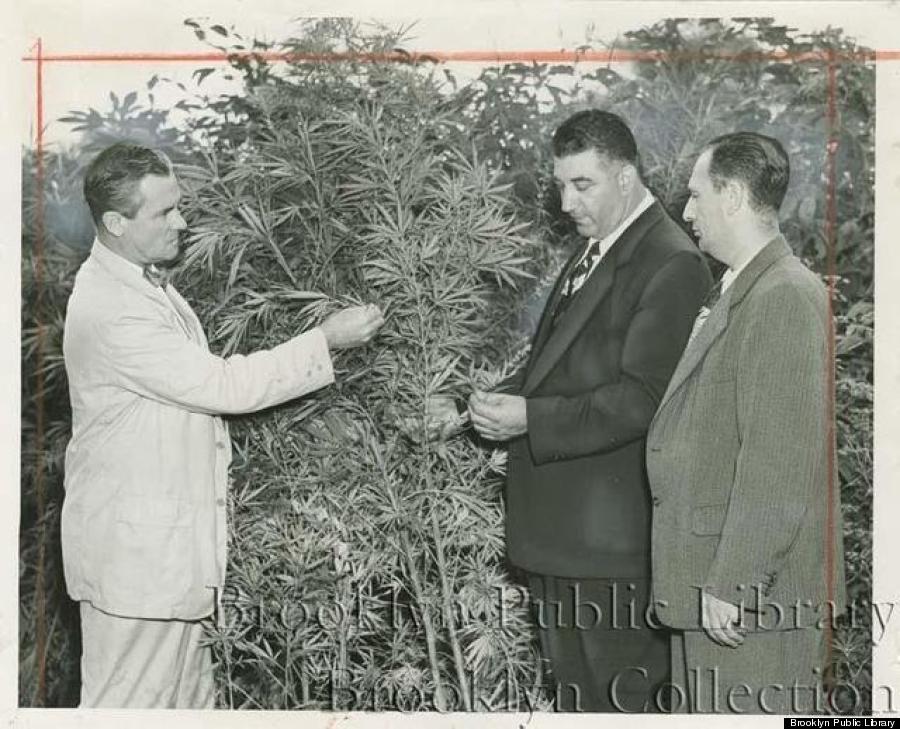 "Marijuana srops up again--Ready for picking is this lofty stand of weed from which reefers are made, discovered at Avenue X and West 11th St. in Gravesend. Getting ready to harvest the crop are ... Deputy Inspector Peter Terranova, left, head of Police Narcotics Squad, and General Inspector Frank Creta and Associate Superintendent Augustine Ferretti of the Sanitation Department." Via Brooklyn Public Library.
As HuffPost's Nick Wing pointed out earlier this month, marijuana prohibition in the United States was also racist from the start. And since Gleason's "White Wing Squad," New York's enforcement of marijuana laws has disproportionately affected minorities. From a 2012 Drug Policy Alliance report:
"In the last decade since Michael Bloomberg became mayor, the NYPD has made 400,038 lowest level marijuana possession arrests at a cost of $600 million dollars. Nearly 350,000 of the marijuana possession arrests made under Bloomberg are of overwhelmingly young Black and Latino men, despite the fact that young whites use marijuana at higher rates than young Blacks and Latinos."
These days, Brooklyn District Attorney Ken Thompson has vowed to stop prosecuting cases involving less than 15 grams of pot, instead treating them as noncriminal offenses. There's also a push from lawmakers in Albany to legalize marijuana in New York.
Maybe, one day, cannabis will grow all over Brooklyn once again.
All photos and captions from the Brooklyn Public Library.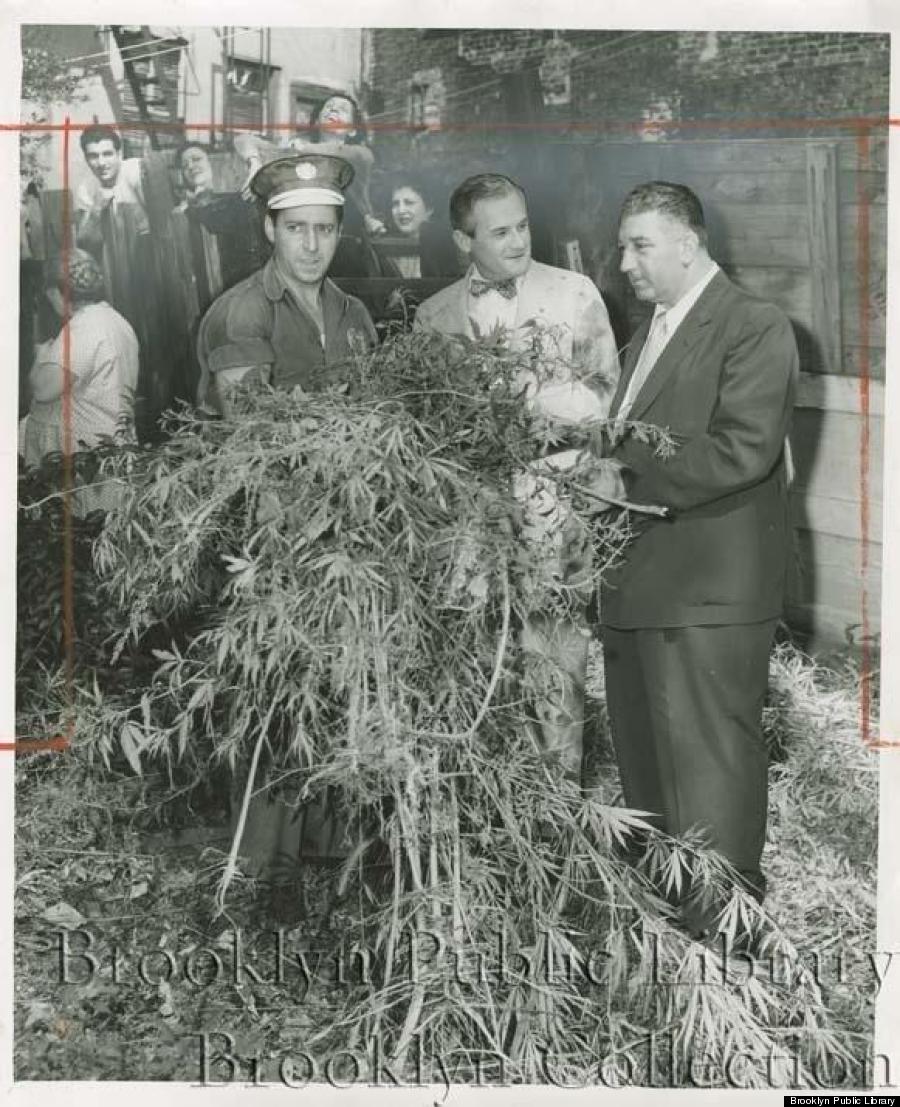 "Weeding out operation--Police Inspector Peter Terranova, commanding officer of the narcotics squad, flanked by Anthony Cristiano, a Department of Sanitation workman, and Frank Creta, general inspector of the department, exhibit part of a haul of more than 100 pounds of marijuana found growing at 82 Butler St. the dope weed was burned in department incinerators." Via Brooklyn Public Library.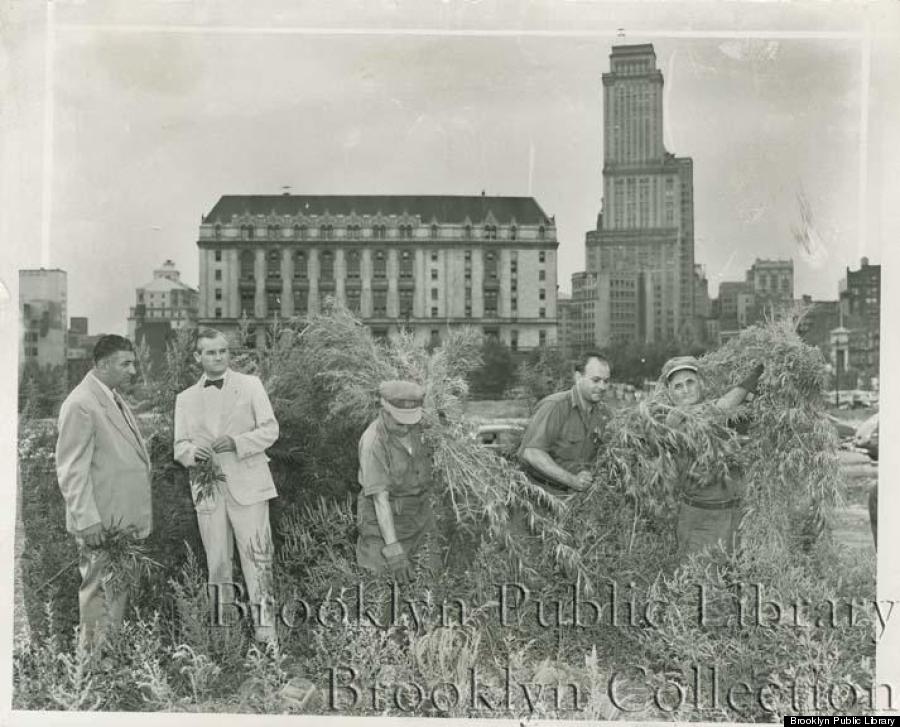 "August haul--In the shadow of Brooklyn Federal Building, one block north of Tillary St., a new crop of marijuana is cut down by sanitation workers. Inspector Frank Creto, left, Sanitation Department, and Deputy Inspector Peter E. Terranova, Police Department, survey the operation, latest in joint efforts by the two departments to rid the city of the weed." Via Brooklyn Public Library.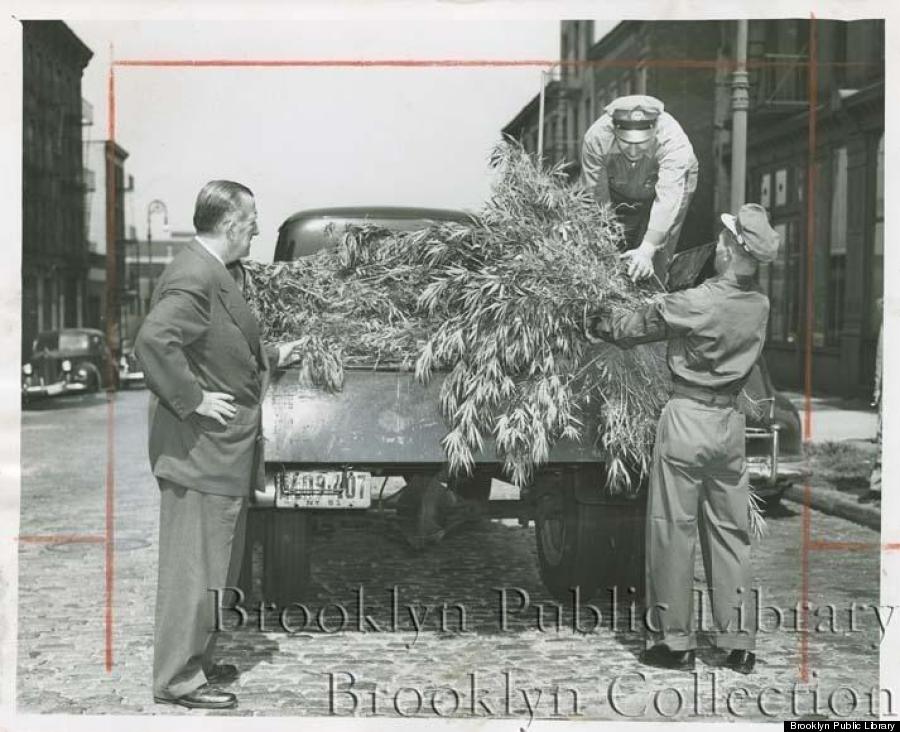 "Evil harvest--Inspector John E. Gleason of the Sanitation Department supervises as departmental workers load uprooted marijuana onto truck. Weeds found growing near Williamsburg Bridgfe were dug up as part of citywide campaign to eradicate marijuana from lots and outlying roadsides." Via Brooklyn Public Library.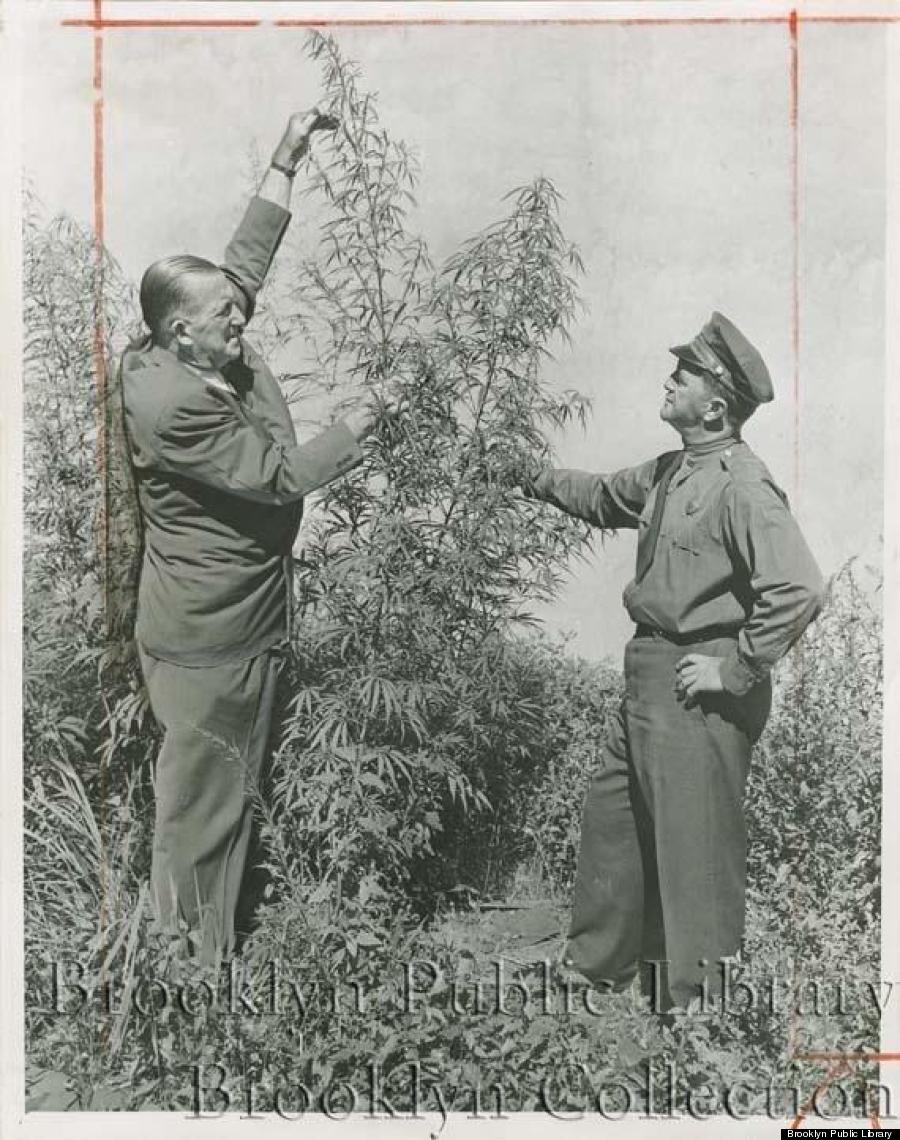 "Plenty of dream stuff--There seems to be no end to the marijuana 'plantations' unearthed in the borough. Here Sanitation Department Chief Inspector John E. Gleason examines a plant taller than he, found in a lot at 81 N. 4th St. With him is Dennis Healy, Sanitation District Superintendent for Greenpoint and Williamsburg. Millions of dollars worth or the plant have been dug out here in the last 60 days." Via Brooklyn Public Library.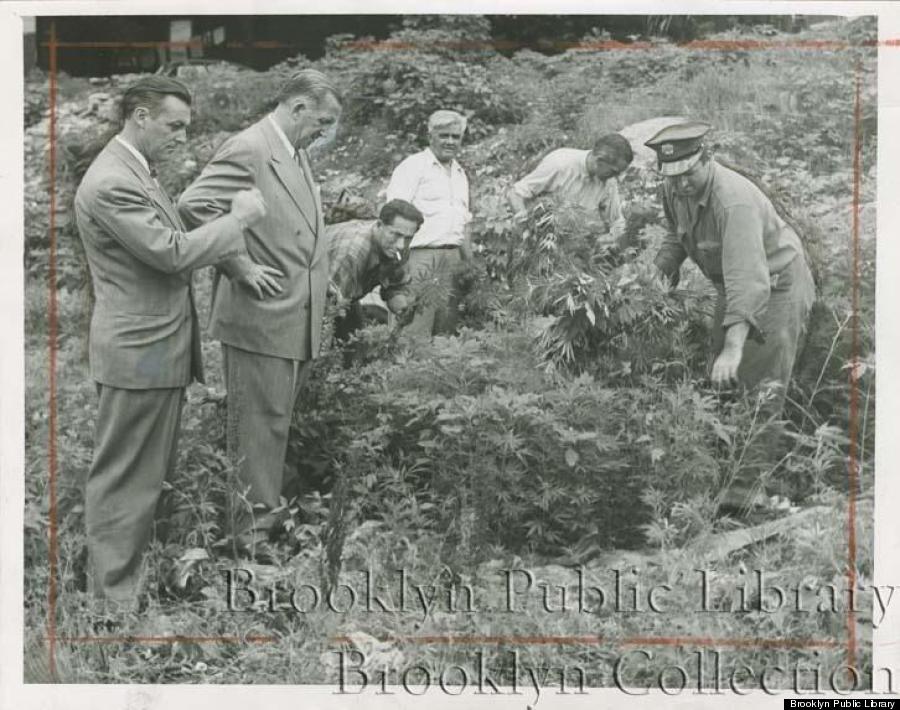 "Potential reefers--Assistant Borough Superintendent Arthur McMahon and Chief Inspector John E. Gleason supervising the destruction by Sanitation Department men of a clump of marijuana discovered." Via Brooklyn Public Library.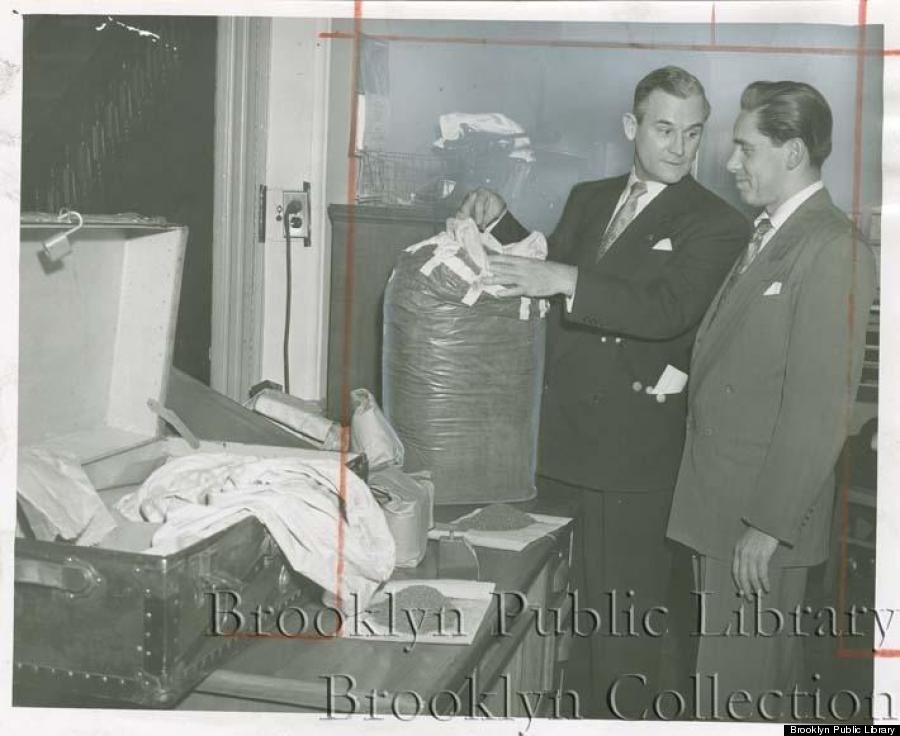 "Big marijuana haul--Seizing 80 pounds of stuff that reefers and bad dreams are made of, are Deputy Inspector Peter Terranova, head of narcotics squad, left, and Assistant D. A. Norman Felig. Cache was grabbed along with 'importer' Homer Jackson, in Bedford Stuyvesant rooming house." Via Brooklyn Public Library.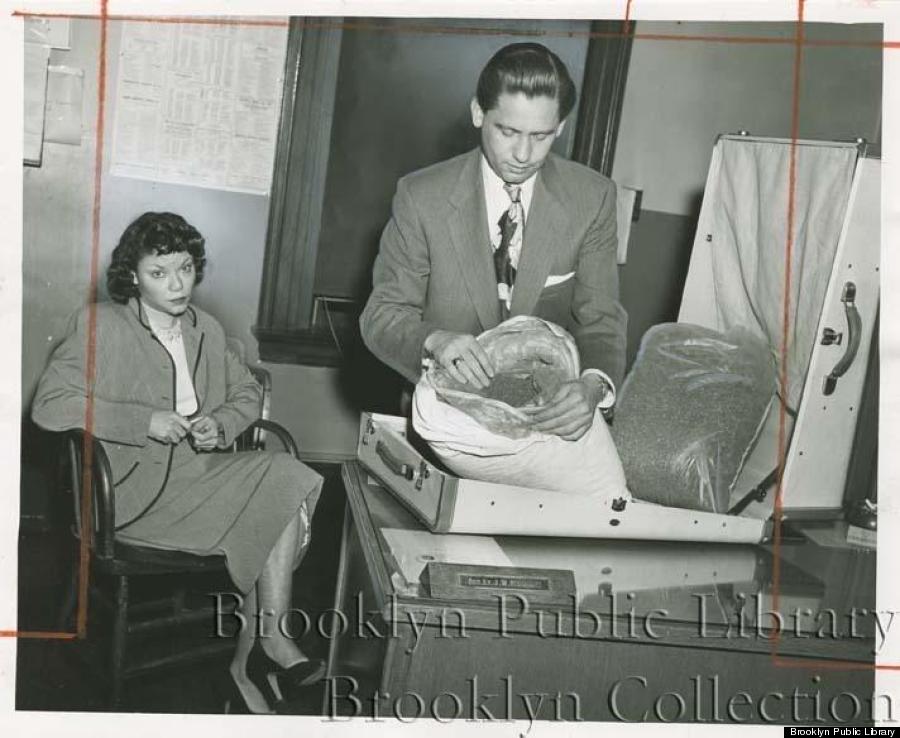 "Marijuana and girl from Texas--Marguerite Gooden, 31, of San Antonio, sits dejectedly by while Assistant District Attorney Norman Felig examines $80,000 marijuana cache detectives had found in her Hotel St. George room." Via Brooklyn Public Library.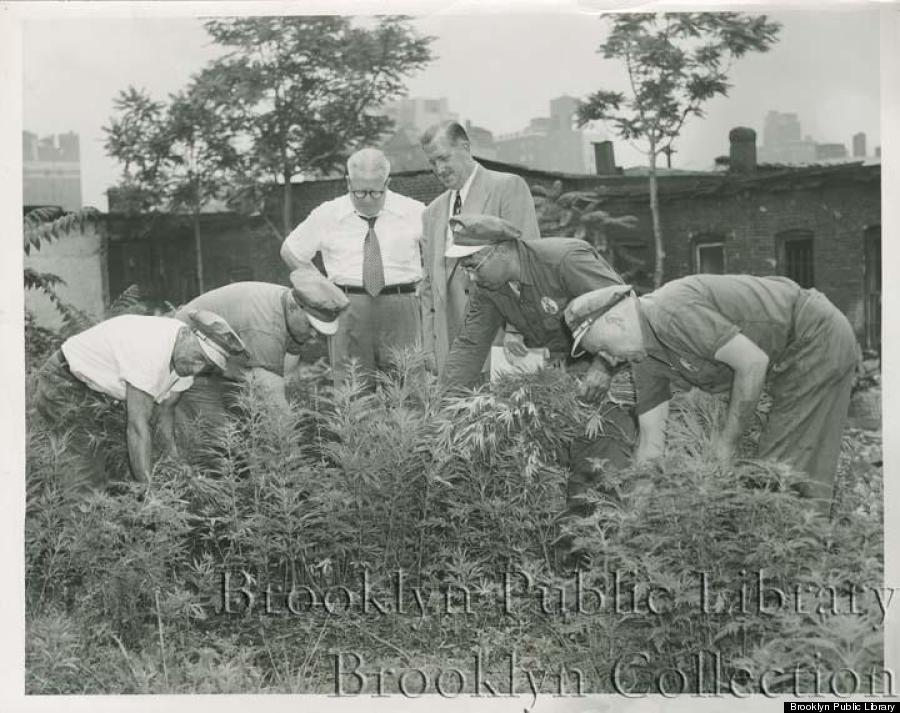 "Dope destroyed--A quartet of Sanitation Department workers reap a potentially unhappy harvest of marijuana weeds from the rear lot at 51 Concord St. Once ferreted out of the ground, the growth is immediately destroyed. Supervising the anti-dope squad are Borough Sanitation Superintendent James E. Walsh, left, and Chief Inspector John E.Gleason." Via Brooklyn Public Library.