The 56th annual Grammy Awards presented a pairing of epic proportions, as Daft Punk took the stage with none other than the great Stevie Wonder, performing "Get Lucky." Pharrell Williams and Nile Rodgers are hand to lend their talents as well.
Neil Patrick Harris introduced the performance, announcing that it marked Daft Punk's second television performance ever. Williams shed the illustrious hat he was wearing earlier in the night -- the one that inspired its own Twitter account -- in favor of a more restrained 10-gallon hat. Pharrell, Rodgers and Wonder were center stage at the start of the performance, with Daft Punk appearing after the first chorus in what looked like a sci-fi recording booth.
Daft Punk was nominated for three Grammys, including Album of the Year. The French duo collected two awards during categories announced before the telecast's start: Best Dance/Electronica Album and Best Engineered Album (Non-Classical) for "Random Access Memories." They were also up for Record of the Year and Best Pop Duo/Group Performance for their song "Get Lucky." In previous years, the French electronic duo has been nominated for eight Grammy awards, wining the Best Dance Recording for the song "Harder Better Faster Stronger" and Best Electronic/Dance Album for the album "Alive 2007," both in 2009.
While Wonder is not up for an award this year for his own work (featured on PJ Morton's "Only One, which is nominated for Best R&B Song), from 1973-2006, he has won a whopping 22 trophies, giving him the title of the most Grammys awarded to a solo male artist. Wonder was also honored with a Grammy Lifetime Achievement Award in 1996.
The evening's other performers included Katy Perry, Kendrick Lamar, Beyonce and Jay Z.
The 56th annual Grammy Awards were hosted by LL Cool J in Los Angeles on Jan. 26. For the full Grammys coverage, check out the liveblog below:
01/26/2014 11:46 PM EST
Because The Grammys Aren't Live Because This Isn't 2014 Apparently
call your relatives on the west coast and tell them it's not worth it #grammys

— Kia Makarechi (@Kia_Mak) 4 years ago
01/26/2014 11:36 PM EST
Daft Punk Dominated Grammys Night
"Random Access Memories" was named Album of the Year, the fifth total Grammy Award Daft Punk won on Sunday night.
01/26/2014 11:32 PM EST
The Best
Guys, it happened. I met Beyonce. And she is an angel. And I am not worthy. And I will never stop shaking. #PatheticFanGirlOfTheYear

— Anna Kendrick (@AnnaKendrick47) 4 years ago
01/26/2014 11:31 PM EST
Bow Down
Beyonce lays her eyes on Pharrell's hat, reacts accordingly #Grammys http://t.co/6LlaZFKN1N

— BuzzFeedEntmnt (@BuzzFeedEnt) 1 year ago
01/26/2014 11:29 PM EST
Matt Drudge Weighs In On The Grammys
GAY WEDDINGS AT GRAMMYS

— DRUDGE REPORT (@DRUDGE_REPORT) 5 years ago
01/26/2014 11:27 PM EST
Do You Agree?
Kacey Musgraves is what Sandra Bullock would look like as a country star #Grammys

— Nathaniel Rogers (@nathanielr) 6 years ago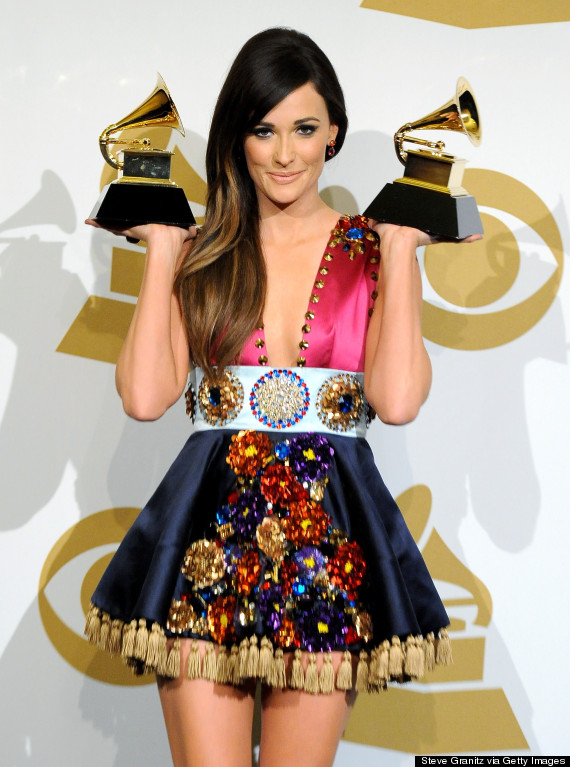 01/26/2014 11:24 PM EST
The Grammys' In Memoriam Segment; Or ...
And now, with the evening's 57,000th piano recital...

— Jody Rosen (@jodyrosen) 4 years ago
01/26/2014 11:22 PM EST
This Is What Madonna Looked Like During "Same Love"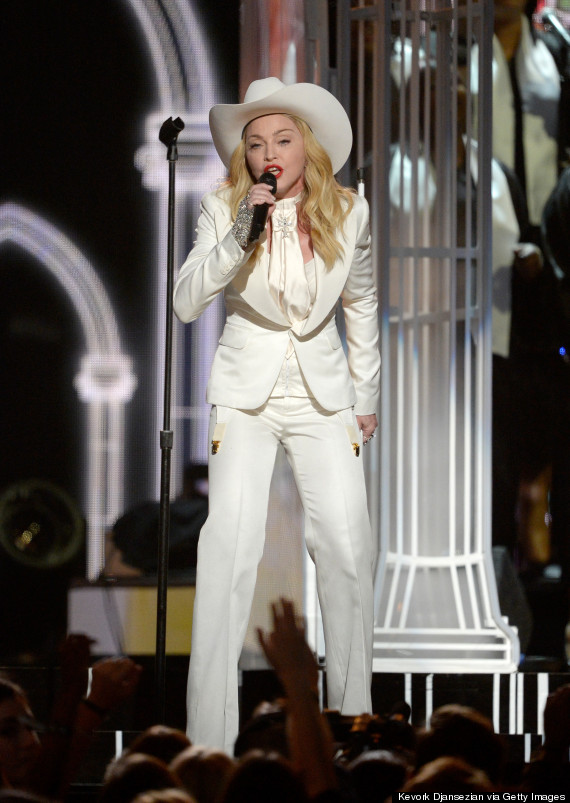 01/26/2014 11:18 PM EST
How The Other Half Is Living Tonight
Me right now scrolling through my newsfeed not watching the Grammys http://t.co/ohvq4xwD7J

— Renee Jacques (@reneejacques) 4 years ago
BEFORE YOU GO
PHOTO GALLERY
Grammy Awards 2013