Madonna took the stage alongside Macklemore and Ryan Lewis at the 56th annual Grammy Awards on Sunday (Jan. 26). The trio performed "Same Love" with Mary Lambert, who's featured on the track, and the Madonna classic "Open Your Heart" while 33 marriage ceremonies took place throughout the aisles. Queen Latifah introduced the performance and officiated the mini-weddings.
Madonna announced last weekend that she would join an act onstage, but it wasn't until one day before the telecast that we know the capacity in which she'd appear. She joined the performance two-thirds of the way in, wearing a sleek white pantsuit.
The 33 couples involved represented all demographics: gay, straight, interracial and spanning a variety of ages. Lewis' sister was reportedly among the couples, marrying her boyfriend.
"I expect that people with all kinds of opinions might voice them, and that's healthy," Neil Portnow, president of the National Academy of Recording Arts and Sciences, told The New York Times, emphasizing that the performance is not a stunt. "We don't need to stoop to the level of trying to find gimmicks and sensationalistic approaches to what we do."
Madonna has seven Grammys to her name. The first came in 1992 -- a decade into her career -- when she won Best Long Form Music Video for "Blond Ambition World Tour Live." She nabbed three more awards in 1998, when "Ray of Light" earned Best Pop Vocal Album and the titular single won Best Dance Recording and Best Short Form Music Video. She's picked up three additional awards since, including Best Electronic/Dance Album for 2005's "Confessions on a Dance Floor."
Madonna, Macklemore, Lewis and Lambert were among a slew of A-list performers on Sunday's telecast, including Keith Urban, Katy Perry, Taylor Swift, Paul McCartney and Ringo Starr.
For continuous Grammy updates, check the live blog below.
01/26/2014 11:46 PM EST
Because The Grammys Aren't Live Because This Isn't 2014 Apparently
call your relatives on the west coast and tell them it's not worth it #grammys

— Kia Makarechi (@Kia_Mak) 4 years ago
01/26/2014 11:36 PM EST
Daft Punk Dominated Grammys Night
"Random Access Memories" was named Album of the Year, the fifth total Grammy Award Daft Punk won on Sunday night.
01/26/2014 11:32 PM EST
The Best
Guys, it happened. I met Beyonce. And she is an angel. And I am not worthy. And I will never stop shaking. #PatheticFanGirlOfTheYear

— Anna Kendrick (@AnnaKendrick47) 4 years ago
01/26/2014 11:31 PM EST
Bow Down
Beyonce lays her eyes on Pharrell's hat, reacts accordingly #Grammys http://t.co/6LlaZFKN1N

— BuzzFeedEntmnt (@BuzzFeedEnt) 1 year ago
01/26/2014 11:29 PM EST
Matt Drudge Weighs In On The Grammys
GAY WEDDINGS AT GRAMMYS

— DRUDGE REPORT (@DRUDGE_REPORT) 5 years ago
01/26/2014 11:27 PM EST
Do You Agree?
Kacey Musgraves is what Sandra Bullock would look like as a country star #Grammys

— Nathaniel Rogers (@nathanielr) 6 years ago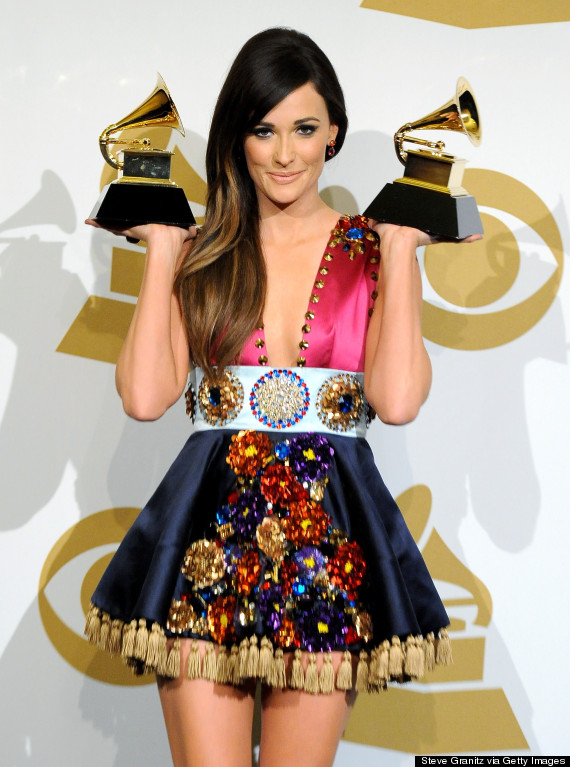 01/26/2014 11:24 PM EST
The Grammys' In Memoriam Segment; Or ...
And now, with the evening's 57,000th piano recital...

— Jody Rosen (@jodyrosen) 4 years ago
01/26/2014 11:22 PM EST
This Is What Madonna Looked Like During "Same Love"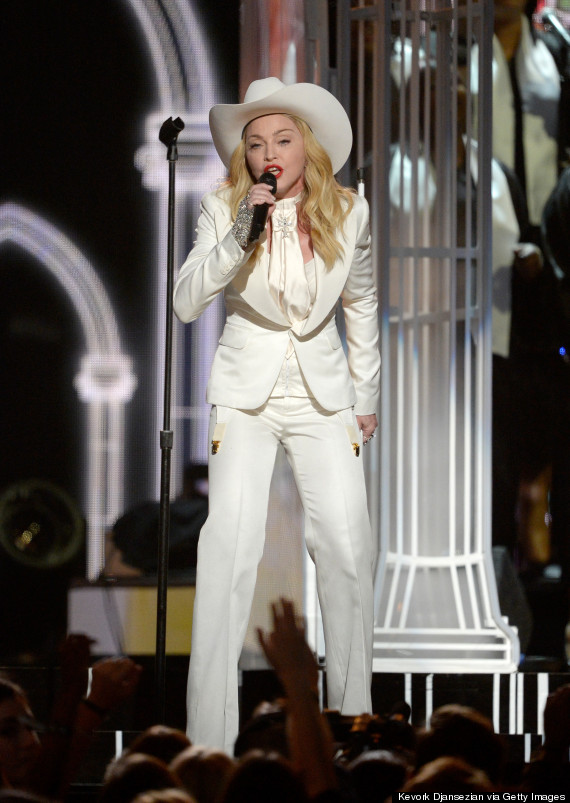 01/26/2014 11:18 PM EST
How The Other Half Is Living Tonight
Me right now scrolling through my newsfeed not watching the Grammys http://t.co/ohvq4xwD7J

— Renee Jacques (@reneejacques) 4 years ago
BEFORE YOU GO
PHOTO GALLERY
Grammy Awards 2013