Got a success story of your own? Send it to us at success.stories@huffingtonpost.com and you could be featured in our I Lost Weight series!
Name: Scott Sewell
Age: 33
Height: 5'10"
Before Weight: 328 pounds
How I Gained It: I watched an excessive amount of television, ate fast food for at least two meals a day and drank anywhere from four to eight cans of soda every single day. Additionally, I worked in an office environment and sat for eight hours a day without integrating any sort of exercise.
I knew I was obese for several years, and it impacted me both emotionally and physically, but also on a practical level. I couldn't shop at regular clothing stores and instead had to go to specialty stores that only carried "big and tall" sizes that were of course much more expensive than their smaller-sized counterparts. I struggled to ride public transportation because I took up almost two seats. Flying on airplanes was the worst -- trying to fit into those cramped seats or using their comically small bathrooms was almost impossible.
Breaking Point: It was a trip to Boston in May 2012 that finally motivated me to really give diet and exercise a try. I went to Boston to watch the Boston Celtics play the Philadelphia 76ers in a playoff match on a Saturday night. The following morning I planned to visit Fenway Park for the first time to watch the Boston Red Sox play the Tampa Bay Rays.
I took a packed bus from New York City to Boston on Saturday morning and was miserable the entire ride. I could tell that the unfortunate person who had to try to fit in the seat next to me wasn't happy either. I finally arrived at the arena for the basketball game and every fan in attendance was given a white Boston Celtics playoff t-shirt to wear during the game. I found my seat and looked around my section and noticed everyone was wearing their shirts except me. I was wearing a size 4XL t-shirt at the time, and this shirt was only a large. The Celtics won the game, and I had a great time, but I'll never forget the feeling of shame as I sat there holding that white shirt.
The next day I made my way to Fenway Park, excited that I'd finally be able to fulfill a childhood dream. I found my seat and realized in horror that there just wasn't any way I'd be able to sit in the seat for the ticket I'd purchased. The seats at Fenway are notoriously small. In the end I actually had to go customer service to get approval to sit in a folding chair behind the back row of the seats in my section. When I returned from the trip I decided that was enough; it was time to lose the weight.
How I Lost It: I knew I couldn't just totally change my life in one day, so I decided to start small and set realistic goals. I wanted to lose a total of 158 pounds, so I broke that into four smaller goals.
I began by cutting soda out of my diet completely. Even to this day I feel like this was one of the most important steps I took on my weight loss journey. I replaced the soda with water and used an app on my phone to track my water and calorie intake each day.
I began eating breakfast every day and also started packing small, 100-calorie snacks to help control food cravings. My goal was to eat several small meals a day to keep my metabolism burning instead of eating just two or three large meals set four to five hours apart.
I also started slowly increasing my exercise intensity and frequency. I began by walking a mile in the morning before work and then walking another mile at night when I returned home. Over time I increased the mileage and eventually got to a point where I'd just jump on the treadmill and walk throughout an entire basketball game.
After a few months of walking, a good friend told me about a Couch to 5K training program that slowly introduces beginners into the world of running. I finished the program in about eight weeks and ran five kilometers for the first time on September 22, 2012. I started to see results on the scale relatively quickly after that. I lost my first 50 pounds in just under four months, and my next 50 pounds around five months after that. Today, I've lost 140 pounds and have ran hundreds of 5Ks and several 10Ks. I even completed my first 15K in December in Central Park. It was 25 degrees and snowing throughout, but the feeling of accomplishment after crossing that finish line is something I'll remember for the rest of my life.
Losing this weight just wouldn't have been possible without the constant kind words of encouragement from co-workers, and the overwhelming support from both friends and family over the past 18 months. My goals for 2014 are to get to my initial goal weight of 170 pounds -- only 18 pounds to go! -- and to run in the Philadelphia marathon.
Current Weight: 188 pounds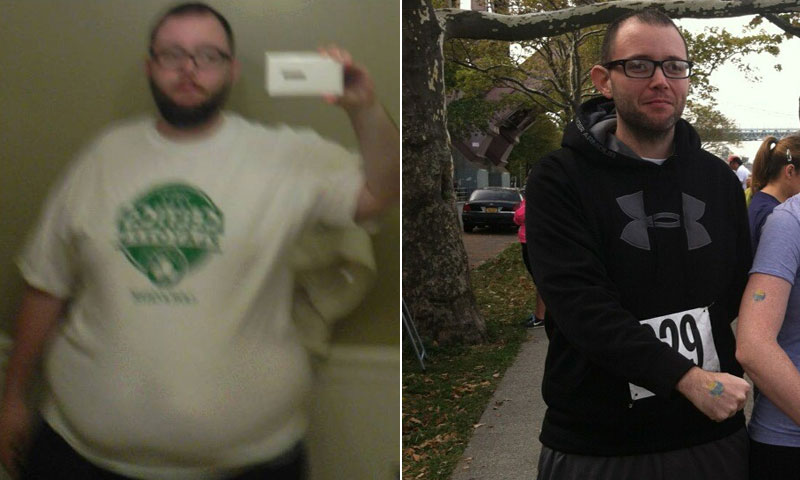 The Huffington Post publishes photographs as they are submitted to us by our readers.
Check out more of our inspiring weight loss stories below:
PHOTO GALLERY
Weight Loss Success Stories