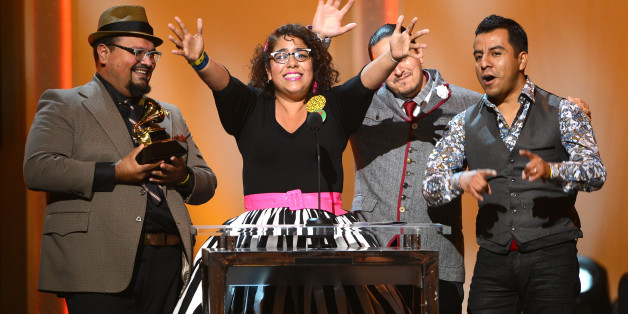 On Los Angeles' historic Olvera Street, merchants remember a little girl singing Spanish-language boleros for tourists who sometimes would drop spare change in a hat nearby.
Her name was Marisol Hernandez, whose father owned a bric-a-brac shop on the street's square, and occasionally someone's off-hand compliment would include the hope that they one day see her on television winning a Grammy.
No one took it as seriously as little Marisol, who is not so little any more and has made a name for herself as the lead vocalist of one of Los Angeles' hot Latino bands, La Santa Cecilia.
Grammy nominee La Santa Cecilia
And as for that line about a Grammy, Marisol and La Santa Cecilia will be vying for just that in Sunday televised awards show, hoping to win for its album "Treinta Días."
La Santa Cecilia, named for the patron saint of musicians, will also join ensembles Roomful of Teeth and Summer Horns in performances kicking off the Grammy Awards show which Cyndi Lauper will host.
Meanwhile, the band has already scored a triumph in becoming a crossover sensation and validating the band members struggling artist days.
"We all shared this desire to write our own music, to tell our own stories," says Hernandez who performs under the name Marisol, "and we just kind of came together. We started playing open mikes, coffee shops, fundraisers –wherever people would let us play we would play — and it just grew from there."
Last year the trade publication Advertising Age named La Santa Cecilia one of the "Rising Hispanic Artists to Watch," certifying the band's "crossover appeal" in making the difficult jump from the Spanish-dominant to the English-speaking general market.
Treinta Días
"Treinta Días," named for the 30-day struggles to make rent that band members faced over the years, reached No. 3 on iTunes' Latin music rankings, putting the band on the same footing as Pitbull and Marc Anthony.
It has also made the band champions of the underdog immigrations rights movement, trying to get passage of comprehensive reform legislation.
"La Santa Cecilia reflects a pivotal moment in the evolving cultural understanding of undocumented immigrants," the Washington Post said of the band last year when it performed in the nation's capital, pressing for reform of existing immigration laws.
"From elementary school to high school, you're taught that you can do whatever you want if you work hard, if you study," says Hernandez. "It's not 'till later that you realize how many of your peers or your friends or your cousins aren't allowed those same opportunities, because of not having proper documentation."
The band's own accordion player, Jose "Pepe" Carlos, for instance, was only six when his Oaxacan parents emigrated illegally, and he's still trying to secure his U.S. citizenship.
"Everywhere we go the people that come out are people like Pepe that are going through all that same stuff," says percussionist Miguel Ramirez.
La Santa Cecilia band was formed in 2005 by Hernandez and Ramirez, with who wanted to blend ethnicities and identities uniquely forged in multicultural Los Angeles.
"That's one of the big reasons we started the band," says Ramirez, "to give back and contribute to music in some way, to return what it gave to us in our lives.
"It's really important to us to not just drive around and play at the House of Blues. We want to go into schools, teach kids, show them what we do, and what music means to us and what we've been able to accomplish with it."
Update: La Santa Cecilia did in fact win a Grammy Sunday night in the "Best Latin Rock, Urban or Alternative Album" category for their album "30 Días."
Wowzaaaaaa we won!!! #grammy #latinalternative #ThankYou #ThankYou #ThankYou #ThankYou #ThankYou #ThankYou pic.twitter.com/Q8NeZPlsRU

— La Santa Cecilia (@lasantacecilia) January 27, 2014
This article originally appeared on VOXXI under the title "The Cross-Over Success Of La Santa Cecilia."
BEFORE YOU GO
PHOTO GALLERY
Harsh Immigration Laws