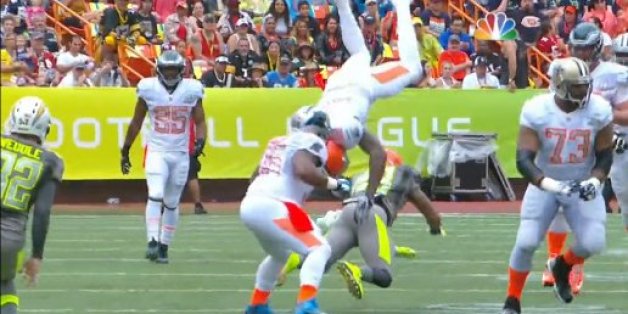 For those who thought that the new schoolyard format would make the Pro Bowl less physical -- with some players from the same team facing off against each other -- think again. Some of the NFL's best players did not mind delivering some bruising hits on their teammates.
Kansas City Chiefs linebacker Derrick Johnson seemed fine with crushing teammate and star running back Jamaal Charles late in the first quarter. Charles took a delayed handoff and tried breaking through up the middle, but he was immediately laid out by Johnson. Charles suffered a concussion in the Chiefs' playoff loss to the Colts just three weeks before the Pro Bowl.
"Andy Reid in Kansas City just swallowed his cigar on that one," NBC announcer Chris Collinsworth said.
Johnson was so excited about the hit that he tweeted about it afterwards.
Have to give my fellow teammate some friendly fire. LOL! I can't lie, it felt pretty good! #probowl

— Derrick Johnson (@superdj56) January 27, 2014
Later in the game, Browns defensive back T.J. Ward flipped over teammate and wide receiver Josh Gordon on a 13-yard gain.
"I don't think he knew what he was doing but I'll give him the benefit of a doubt on that one," Gordon said of the hit, per CBS Cleveland. "I'll get him back in Cleveland."
BEFORE YOU GO
PHOTO GALLERY
PHOTOS: 2014 Pro Bowl