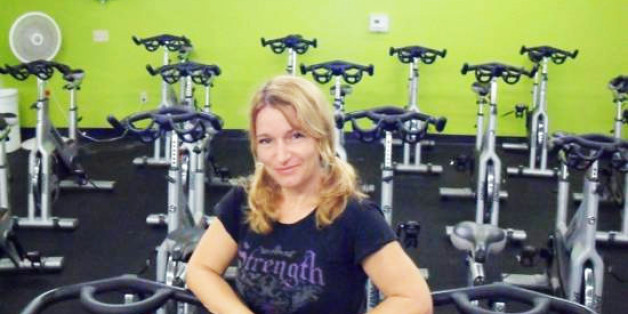 One of the reasons I started my website is that I wanted a place for women to come together and dream. We women need to know that we don't have to hang on to an old dream that has stopped nurturing us -- that there is always time to start a new dream. This week's story is about a former fitness instructor who found herself weighing in at 200 pounds. Motivated by the death of a family member, she returned to the gym, and is now 80 pounds lighter. -- Marlo, MarloThomas.com
By Lori Weiss
For everyone else in the room, it was just another day at the gym. The music was blaring and the sweat was pouring, as 15 people pedaled harder and faster -- as if their stationary bikes would actually take them somewhere. At the end of the hour, 14 students walked out of their spin class and returned to their lives. But for Helen Ryan, it was an hour that would take her back to her past, and propel the 47-year-old mother of two toward her future.
"I was halfway through the class and I was sure I was dying!" Helen laughed. "I was working really hard and I could feel my legs shaking. But as I looked around and saw all these really fit people on their bikes, it was almost as if a light was lit inside me. I was doing something I didn't think I could do for fifteen years, right alongside them, and I could feel my body beginning to remember what it was like to be successful. Suddenly I had a glimmer of hope."
It had been 15 years since Helen, a former fitness instructor, had set foot in a gym. But working out wasn't the only thing she'd left behind. She had given up on a dream -- and somehow, lost herself along the way.
"When I was younger, I felt like the world was full of possibilities," she reflected. "I thought I would write and travel. I was working on a journalism degree and juggling a full time job and a part time job. Something had to give. So I left school and found myself stuck in a secretarial job -- and I started filling the hole in my life with food. I was still teaching some private classes, but when the weight started creeping on, I left the fitness scene completely."
And as she began having children, her issues with weight only got worse. Helen, who got her first fitness job in the 80's because of how great she looked in a unitard, put on more than 80 pounds.
"I was just working and taking care of the kids," she explained. "I'd give and give all day -- and then once everyone went to bed, I'd eat chips and cookies. I needed something for me, and that was the way I rewarded myself. But when you eat refined carbs before going to bed, it all goes right to your butt -- or at least it did for me. So I began isolating myself. And when I'd take my kids to a public swimming pool, I'd wear my street clothes."
"I wanted to do things with my kids, get them out more, run around in the park with them. But at 200 pounds, it was hard to keep up with them. I couldn't even bend over and tie my shoes. And here in California, where all the women are thin with big boobs, I felt even worse. I not only felt fat. I felt ugly."
"I'd lost so much of myself, I'd given up. I was just hoping someone would show up at my door and bring me a solution."
But then, in a tragic turn of events, Helen lost even more. Her father was diagnosed with lung cancer and she watched him slip away.
"That's when it hit me -- when I started to realize I was letting my own life slip away. I had to stop putting things off and saying I'll go to the beach next year, when I'm thinner. I had to make something happen."
Article continues below slideshow
So Helen started out slowly -- setting a goal to simply get a little bit healthier. She began getting up before the kids and working out to an exercise tape for twenty minutes each morning. And she added fruits and vegetables to her diet.
"I was a vegetarian who didn't eat fruit or vegetables," she said with a smile. "I ate brownies, chips, nachos, pizza and pop tarts. So I started replacing those with better choices, but I didn't tell anyone, because I was afraid that I'd fail. But within three months, I had lost 29 pounds."
Which brings us to that spin class -- where the former fitness instructor not only found herself -- but recovered the confidence she'd lost somewhere along the way. That one class would mark the beginning of a journey that would take her to the top of a mountain, on a 100 mile bike ride, and back to her old self.
"I had tried to take a spin class just after my son was born. I went to a big 24 hour gym and brought him with me in his car seat. But when we got there, they told me the class was full. When you're in a bad place, you just need one rejection to make you turn around and not go back. And that's exactly what happened. But the weight loss gave me the courage to try again."
"I remember getting on the bike and almost falling off the seat. But once I got started and that old feeling started to come back -- I pushed myself and I made it the entire hour. I knew if I could do it once, I could do it again."
So Helen started bringing her kids with her -- and giving herself one hour to take a spin class, three times a week. Within ten months, she'd lost a total of 82 pounds. She became a certified spin instructor, and was on her way to her next adventure.
"All the instructors were cyclists," she recalled, "and they were going for a ride up Mt. Palomar. I hadn't been on a bike since I was a teenager, but when they invited me to come along, I went out and bought an inexpensive mountain bike and rode it around the block to make sure I could still ride one. But I found out pretty quickly, it would take a little bit more than that. There are Tour De France cyclists that train on Mt. Palomar!"
"Ten minutes up the mountain, my thighs were screaming at me. Everyone else was riding road bikes, which are much lighter and easier to maneuver up a mountain. But somehow, during the year I took off the weight, my fear of failure had shifted to a fear of giving up. I wasn't going to let myself fail. It was 100 degrees. I ran out of water. It took me two and a half hours, but I made it to the top."
That was just the beginning of Helen's journey. She'd challenge that mountain three more times, until she got her time down to an hour and a half. And when her friends invited her on a 100 mile bike ride, she happily signed on.
"I'd been overweight for so long, I still saw myself that way, so I needed to keep smashing barriers. At mile 70, I wiped out, but I was determined to cross that finish line. It took me seven and a half hours, but I made it!"
That night Helen joined her friends for a celebration -- all decked out in a mini-skirt, despite the fact that her knees were covered with bandages. Her only regret -- that the restaurant they chose was out of chocolate cake.
"After 100 miles, I couldn't believe I couldn't get a piece of chocolate," she laughed. "I've learned now that it's not all or nothing. If you eat a slice of chocolate cake, even on a day that you don't work out, it won't break you. I still have birthday parties with my kids. I still eat pizza with them. I don't want to be perfect. I just want to live a healthier life."
And that's exactly what Helen is doing. One small success led to many others and today, she divides her time between teaching classes, personal training, running a design studio and raising her kids. She's even returned to her dream of writing by penning articles on fitness.
"I love doing things I thought I never could," she said proudly, "and helping others do the same. It's not about getting down to a size zero. It's about feeling that inner success -- pushing past your limits and knowing that anything is possible."
Add Marlo On Facebook:
Follow Marlo on Twitter:
Sign up to receive my email newsletter each week - It will keep you up-to-date on upcoming articles, Mondays with Marlo guests, videos, and more!