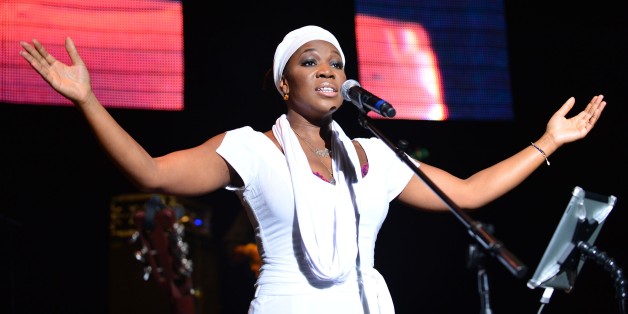 This year's 56th annual Grammy Awards spawned tons of criticism from performers blasting the event to other critics speaking out against some of the show's obvious snubs.
Well, you can now add India.Arie's name to the growing list of people expressing their thoughts on Macklemore and Ryan Lewis sweeping this year's the rap categories. Yesterday the Grammy Award-winning songstress penned an open letter on her personal Tumbler page blasting the Grammy committee's failure to honor select artists.
@Kendricklamar WAS robbed, BUT he was not the only one who was robbed. Personally, I was pleased he was able to perform and they KILLED! IT! One of the FEW moving moments of the night for ME.

Though it's called "Music industries biggest night" the #Grammys are NOT about the music, it's a popularity contest. The voting process allows people, to vote on name recognition alone - the music industry politics is a whole NUTHER conversation. Too much to go into here.
The American Music Awards is a show that awards sales and popularity - the #Grammys are SAID to be about the music.

If the hip hop community voted on hip hop - r&b COMMUNITY the same - same for each category - we'd see winners that reflect the MUSIC ITSELF. We all know that's just not the way it goes.

NOW the BIGGER losers, are ALL of black music. Where was the black music community represented in last nights #Grammy show? Performers and Winners (or not) … Where were the black artists?

And this isn't the first time the #Grammy's has had a show all but excluding young black America and black artists in general, although we set the worlds musical trends. Why NOT televise the lifetime achievement awards of the Isley Brothers? SURELY they deserved to be on televised stage LAST NIGHT! While other artists were on stage TWICE?
Do you agree? Read more of India.Arie's open letter here.
BEFORE YOU GO
PHOTO GALLERY
Grammys Red Carpet 2014