President Barack Obama will deliver his fifth State of the Union address on Tuesday, in which he will talk for an extended period about the priorities he'd like Congress to act upon over the next year. The American public is largely in agreement that the president's speech won't actually mean a whole lot, but his words won't be the only things carrying a message in the House chamber this evening. The president, first lady Michelle Obama and congressional lawmakers all have invited guests, many of whom are intended to represent political initiatives important to the people who brought them.
On Monday, the White House announced the initial round of guests to be seated in Michelle Obama's box. The list includes Jason Collins, the first openly gay NBA player; two survivors of the Boston Marathon attack in April; Gary Bird, a fire chief who helped usher his town of Moore, Okla. through a devastating tornado and Joey Hudy, a 16-year-old entrepreneur and inventor of a world-famous marshmallow cannon. A second round was announced early Tuesday, and that list is expected to be finalized later.
While all of the guests invited by the Obamas undoubtedly both deserve their spots and also fulfill any political criteria that may have been attached to them by the White House, here are our picks of people who should have made the Obamas' guest list.
1. A West Virginian left without water after the recent chemical spill.
When around 10,000 gallons of the coal-cleansing 4-methylcyclohexane methanol spilled out of a storage facility owned by Freedom Industries and into West Virginia's Elk River, around 300,000 residents were left without clean water for a week or longer. A wave of hospitalizations followed the spill, and nearly two weeks after the initial incident was discovered, it was reported that Freedom Industries had failed to disclose a second chemical compound that had leaked into the river. Obama approved emergency aid to West Virginia, but Washington as a whole -- from Congress to Sunday news shows -- appeared largely disinterested by the episode.
By inviting a West Virginian left without water after the spill, Obama could remind the nation of the consequences of an often unchecked reliance on dirty energy, and also show support for more effective regulations that could prevent such disasters from being repeated in the future. At worst, he'd be called an enemy of coal, which wouldn't be anything new for the president.
2. Charlotte Figi, a 7-year-old medical marijuana patient.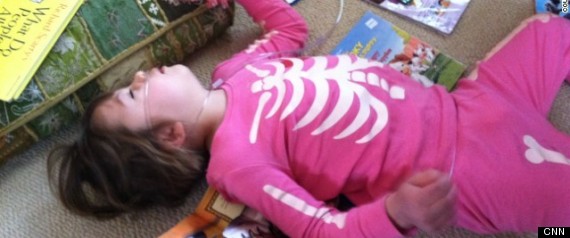 When Charlotte was diagnosed with Dravet Syndrome, a rare form of epilepsy characterized by intense seizures, her family was desperate for a treatment. They tried putting their daughter on a highly specialized diet, but it lost effectiveness over a few years. The Figis were running out of options, so they ultimately turned to cannabis oil extracted from a marijuana strain that has low levels of THC, the psychoactive compound that gets users high, and elevated levels of cannabidiol, another prominent chemical in pot that has been found to have therapeutic effects. The treatment worked, and Charlotte's seizures fell from 300 a week to around three over the next eight months.
Meanwhile, the work that the Realm of Caring nonprofit has done in developing these effective medical strains of marijuana remains illegal at the federal level.
3. Obama heckler and anti-war activist Medea Benjamin.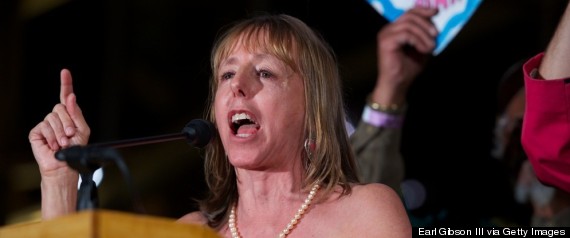 Twelve years after the first detainee first arrived at Guantanamo Bay in 2002, more than 100 human rights activists marched to the White House on Jan. 11 to continue their battle to shut down the detention facility. Medea Benjamin, co-founder of Code Pink, a women's social justice nongovernmental organization, has been an outspoken anti-war activist and human rights champion for decades, receiving New York State's Peace Action Peacemaker Award in October.
Of course, she wouldn't actually be high on the Obamas' invite list. In May, Benjamin was escorted out of the president's counterterrorism speech at the National Defense University after repeatedly interrupting the president to protest his overseas drone policy and advocate for the closure of Guantanamo.
"I grew up in the days of the Vietnam War, and recognized at an early age that we as citizens have to do more to stop our government from getting in overseas interventions that were unjust and lead to the deaths of so many of our soldiers as well," Benjamin told the Daily Beast after the incident. On Jan. 14, Benjamin told Voice of Russia that she found the Obama administration's drone policy "disgusting."
"I don't know that you are going to leave there thinking the U.S. is a great place. But that is not the point. The point is you just can't hold people," Benjamin said. "Either you give them a fair trial, you convict them, you let them do their time and then you still have to release them unless they've been given life in prison or you can't call yourself a civilized society."
4. Iraq veteran Tomas Young.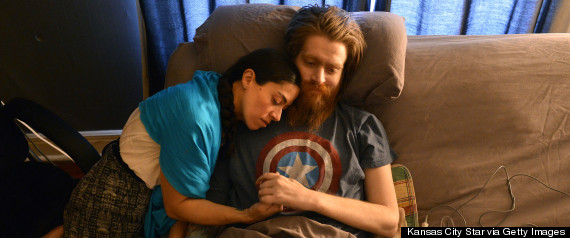 Young joined the Army in the wake of 9/11, spurred on by his patriotism and a desire to help the nation exact revenge on those responsible for the terrorist attacks. Years later, he found himself deployed in Iraq, which had no connection to the plot against the United States. Just five days into his first tour, his convoy came under attack, leaving Young paralyzed and physically damaged beyond repair.
Young went on to become one of the most vocal veterans against the wars, but when his voice began to fail him in 2013 due to lasting complications from his wounds, he penned a scathing letter to former President George W. Bush and Vice President Dick Cheney for the 10th anniversary of the Iraq War. Young said they would be his final remarks on the matter, because he planned on refusing hospice care in order to die under his own terms.
After months of struggling with his own fate, Young was convinced by his love for his wife, Claudia (pictured above), to accept painful and intensive treatment in order to continue living. While he may not seek the limelight, his presence would be a powerful reminder of the human cost of war, even for those lucky enough to survive it.
5. Marijuana entrepreneur Toni Fox.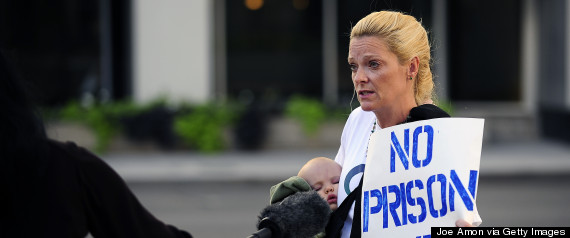 Fox is a new kind of businesswoman. While the Obamas invited the owner of a Wisconsin brewery to the State of the Union last year, Fox sells marijuana and does so legally in Colorado. As owner of the 3-D Cannabis Center in Denver, Fox was driven to activism after her brother was sentenced to 10 years in federal prison for selling weed. She has become both a strong advocate for reforming the nation's harsh anti-pot laws, as well as evidence that there's lots of money in taxed and regulated marijuana sales.
6. Vanessa Ferreira, the Walmart striker who was fired six months after her lone Florida protest.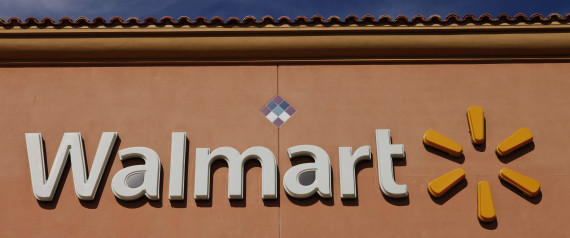 On the day before Thanksgiving, Vanessa Ferreira, a cake decorator in the baked goods department at Walmart, walked out of the Florida store where she worked to protest the company's low wages and substandard working conditions. Although she attempted to recruit fellow disgruntled employees to strike with her, no one else left the building.
"They're so scared," Ferreira said of her co-workers. "I couldn't get anybody to join. They said, 'You can't fight Walmart.'" After half an hour, Ferreira was ordered to leave the premises for trespassing.
After eight years at Walmart, Ferreira earned a mere $11.90 per hour, or roughly $25,000 per year. Six months later, Ferreira was fired from Walmart. She claimed that Walmart had no evidence for the alleged extended breaks it cited as the reason for her firing, and that the action was instead a result of her continued efforts to improve working conditions for Walmart employees.
"Walmart does not want you to say anything," Ferreira said. "They don't want you to ask questions. They want you to sit there and obey. When you start asking questions, they start retaliating."
7. Cranford Coulter, a Philadelphia homeless advocate who is losing his own house.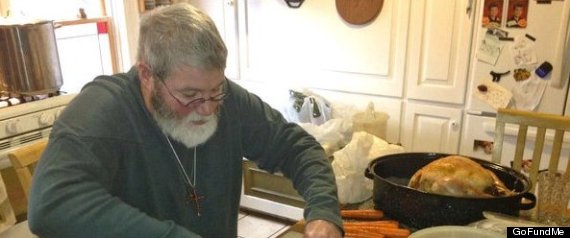 For the past 25 years, Cranford Coulter has been preparing and delivering homemade soup to Philadelphia's homeless through his home-based ministry, The King's Jubilee. Every week, 58-year-old Coulter packs up his car with igloo coolers filled with hot soup, stacks of hand-sewn blankets and a set of clean T-shirts before heading down to Center City, Philadelphia, to distribute aid. In an unfortunate twist of fate, Coulter's home is being foreclosed and has been listed for a Feb. 26 sheriff's sale after several missed mortgage payments.
"If I stop doing this, I'll die," Coulter told Philly.com. "This is the one constant I know."
Threatened with the loss of his home, Coulter launched a fund-raising campaign with the goal of $15,000. He has since raised over $44,000 in donations. According to Philly.com, "Coulter has continued to make soup for more than 100 homeless people who show up each Thursday on the Parkway, across from the Family Courthouse."
8. Ex-pastor Ryan Bell, who was fired and exiled for his trial run with atheism.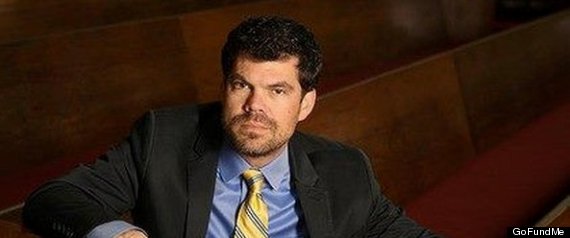 On Jan. 1, former Seventh-day Adventist pastor Ryan Bell decided to embark on a year-long introspection of his faith by exploring a world without God, documenting the experiment on his blog yearwithoutgod.com. Since the California pastor launched his theological examination, however, Bell has been fired from his positions as adjunct professor at Azusa Pacific University and Fuller Theological Seminary.
"So I find myself, on Day 4, without any employment. My savings will run out in about two weeks and I'm scrambling to find immediate work doing, well … anything -- manual labor, waiting tables, other teaching and consulting, or whatever I can find," Bell wrote on his blog days after he began his journey.
Quickly after Bell's firings, financial and moral support for the exiled theologian began pouring in from an ironic source. Atheist blogger Heman Mehta launched a GoFundMe campaign to assist Bell as he looked for odd jobs to support himself and his two daughters, ages 10 and 13. Although the fundraiser set a $5,000 goal, the site has thus far raised $27,254.00.
"As an atheist, I want Bell to know that we appreciate what he's trying to do and that we'll support him even if his Christian community will not and (more importantly) even if he decides atheism isn't for him when the year is over," Mehta wrote.
9. Slandered climate scientist Michael Mann. Michael E. Mann is an American paleoclimatologist who serves as the director of the Earth System Science Center at Pennsylvania State University. Mann has contributed to the development of climate science for decades, developing revolutionary techniques in distinguishing patterns in past climate change.
In 2012, however, National Review writers and the conservative think tank Competitive Enterprise Institute accused Mann of manipulating global warming data, defaming him by comparing him to serial child molester Jerry Sandusky and advancing disproved allegations of scientific fraud. The unsubstantiated claims posited by a slew of climate change deniers made Mann the target of anonymous death threats and vicious billboard campaigns, and he even received letters laced with anthrax-like powder at his work. In an effort to restore his scientific integrity, Mann filed a defamation suit against his attackers. On Jan. 22, Judge Frederick Weisberg of the Superior Court of the District of Columbia rejected the defendants' motion to dismiss the libel suit, marking a small victory for the Penn State climate expert.
"As the staid scientific journal Nature put it, climate researchers are in a street fight with those who seek to discredit the accepted scientific evidence, and we must fight back against the disinformation that denies this real and present danger to the planet," Mann wrote in 2012 on the liberal blog ThinkProgress. "The worst thing we can do is bury our heads in the sand and pretend that climate change doesn't exist."
If Obama really wants to get serious about climate change, he could start by standing by one of the men who is doing the most to research it.
10. These gay black fathers.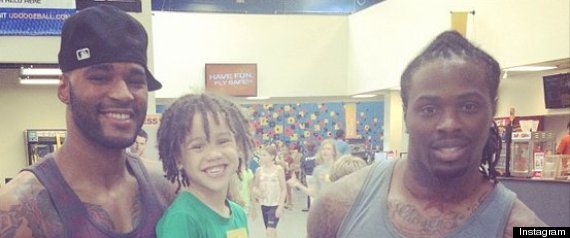 The nation could use more of Kordale and Caleb, a gay black couple raising three children together. Unfazed by negative backlash surrounding their family dynamic, the two men set out last week to remind their critics that their goal as parents was simply "to provide, love, educate, support, encourage, and love some more." If their social media accounts are any evidence, it looks like they're doing a pretty good job of that.
Obama has spoken on issues of black fatherhood in the past, and Kordale and Caleb underscore that when it comes to relationships and parenting, what matters most is love and commitment.
11. The first three women ever to pass the Marine Corps' combat training course.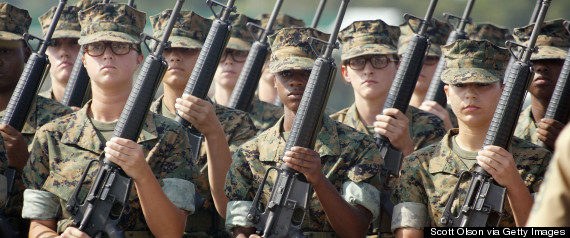 In November, Pfc. Julia Carroll, Pfc. Christina Fuentes Montenegro and Pfc. Katie Gorz became the first women to pass the Marine Corps' combat training course, which includes a grueling nine weeks of "live fire events" and a 12.5 mile full-pack hike while carrying a rifle and 82 to 90 pounds of gear. The infantry women were part of a group of 15 women and 266 males who volunteered for training at Camp Lejeune in North Carolina. They graduated from the course on Oct. 31, marking a historic event for women in the Armed Forces.
12. Houston Mayor Annise Parker. In light of Texas' ban on same-sex marriage, Houston Mayor Annise Parker (D) married her longtime partner Kathy Hubbard in California on Jan. 16, marking a proud moment for LGBT advocates nationwide.
Parker's 2009 victory made Houston the largest U.S. city with an openly gay mayor.
"This is a very happy day for us. We have had to wait a very long time to formalize our commitment to each other," Parker told the Associated Press. "Kathy has been by my side for more than two decades, helping to raise a family, nurture my political career and all of the other ups and downs and life events that come with a committed relationship."
13. A World War II Honor Flight Veteran. A group of World War II veterans with the Mississippi Gulf Coast Honor Flight drew widespread attention at the onset of the government shutdown in October, when they pushed through barriers at the World War II Memorial in D.C. in order to pay their respects. GOP lawmakers quickly seized upon the veterans for political advantage, posing for photo-ops and urging Obama and Democrats to reopen the memorial, which had been closed because Republicans had refused to fund the government without an added measure to defund or delay Obamacare.
Inviting one of these veterans to attend State of the Union months after politicians stopped paying attention to them might be a petty jab at Republicans, but it would also allow Obama to pay homage to a veteran who deserves it.
14. Student loan activist Alan Collinge. Skyrocketing tuition costs for higher education in the U.S. have been accompanied by massive student debts, burdening an entire generation with crushing loans that will take a lifetime to repay. Student loan debt has been continuously growing, hitting the $1 trillion marker in the third quarter of 2013, according to the Federal Reserve Bank of New York. Moreover, nearly one third of student borrowers in repayment are delinquent on their student loans.
In the early 2000s, a young scientist named Alan Collinge, who has a degree in aerospace engineering from USC, found himself unable to repay $38,000 in student loans after being fired from a research job at the California Institute of Technology. After defaulting in 2001, his original debt turned into $100,000, due to accrued interest and penalties.
Collinge has served as an advocate for student loan reform for more than 10 years. In 2005, Collinge founded StudentLoanJust.org, a grassroots citizens organization that aims to restore standard consumer protections to student loans through research, media advocacy and grassroots lobbying initiatives.
"The federal student loan system in this country has turned predatory," Collinge wrote in a change.org petition to Obama. "This is due to the unjustified, and unwarranted congressional removal of nearly all fundamental consumer protections from the loans-protections that exist for every other type of loan in the nation."
15. Ju Hong, an immigration reform advocate who interrupted Obama during a speech last year. Hong, an undocumented immigrant from South Korea, heckled the president last November during a speech in San Francisco, urging him to halt the deportations that have surged to a high under the Obama administration. While Obama has insisted that he is committed to getting long-stalled immigration reform moving again, and while undocumented immigrants have been in the first lady's box during past State of the Union addresses (and will be again this year), inviting an activist who has taken such an aggressive, no-nonsense approach could have signified that Obama was prepared to both tackle the issue with a newfound intensity, as well as turn the other cheek.
16. Bill Nye the Science Guy.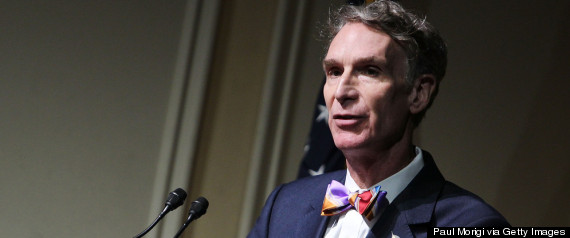 The last few years of sequestration budget cuts have resulted in scarce funding for crucial scientific endeavors, leaving many of the nation's top scientists jaded and frustrated.
In March, Bill Nye the Science Guy denounced deep cuts to NASA, expressing disappointment that "Congress was unable to avoid the sequester."
"Nevertheless, despite the serious economic challenges the nation faces, a strong space program remains vital to our future scientifically, economically, and culturally," Nye advised in The Planetary Society's March press release. "We must continue to look upward, even during difficult times."
Despite the stagnating effects of sequestration, the science warrior, a 2013 Environmental Hero Award recipient, has remained an avid advocate of science literacy, frequently challenging organizations and politicians that demand the teaching of creationism in public schools.
While adults have the right to deny evolution if they please, Nye argues, it is critical for children to be exposed to scientific thinking at an early age. "It's a deep concern," Nye told HuffPost. "If the United States produces a generation of science students who don't believe in science, that's troublesome."
17. Richard Sherman, cornerback for the Seattle Seahawks.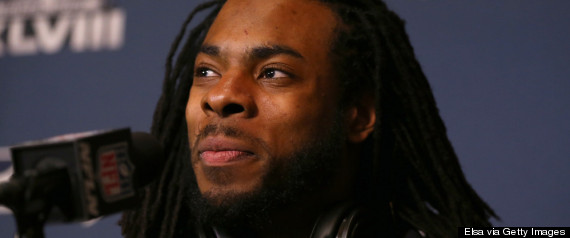 Sherman was fired up after making the game-winning play in the NFC Championship. He gave a highly memorable and very loud post-game interview that led to two rather ridiculous conclusions from his critics: 1.) Sherman was a "thug" for trash-talking his opponent, whom he'd just unsuccessfully attempted to congratulate on a hard-fought game, only to have a hand smashed into his face mask, and 2.) The Stanford graduate and communications major had come unhinged and was no longer capable of understanding what he was doing.
The backlash sparked an immediate debate about problems we as a nation have judging people we know nothing about based on incredibly shallow criteria. Few of Sherman's naysayers had any clue about his background, which includes everything from a charity organization to being one of the most respected players in the league, on and off the field. Instead, they offered knee-jerk, often racially tinged criticism. What many didn't realize was that Sherman's rant was not only great for his brand (minus a small fine), but that it also held up a mirror to a nation of people too quick to expose their prejudices when they wrongly believe someone has confirmed them.
18. Anti-GMO activist and Stonyfield Farms co-founder and chairman Gary Hirshberg.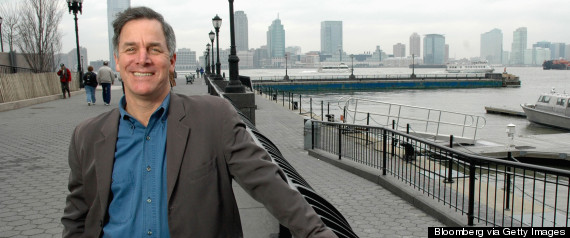 Hirshberg has become one of the most prominent voices in the push to force companies to label their products that use genetically modified organisms as ingredients. GMOs are used in countless products in the U.S., and while their proponents insist that they are safe, critics are concerned that potential negative health effects of the engineered strains won't emerge for years, or perhaps generations.
Pro-GMO labeling activists have called on Obama to uphold a 2007 campaign promise in which he said he would take action on the issue. Lawmakers have attempted to take that matter into their hands, to no avail. Obama has been almost entirely silent on labeling.
BONUS: An awake Justice Ruth Bader Ginsburg.
We know these addresses can get long and boring. Hang in there RBG!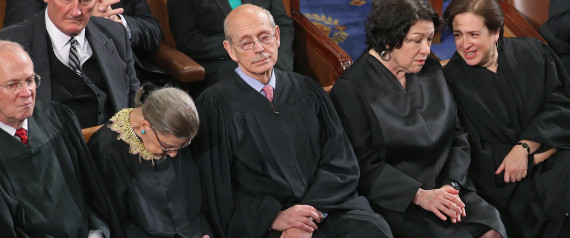 CORRECTION: The original article incorrectly stated that Mann was a 2007 Nobel Laureate. The 2007 Nobel Peace Prize was awarded jointly to Al Gore and the Intergovernmental Panel on Climate Change, with whom Mann has worked, serving as the lead author on the "Observed Climate Variability and Change" chapter of a 2001 IPCC report.

BEFORE YOU GO
PHOTO GALLERY
Unforgettable State of The Union Moments