Forget the State of the Union address — Shep Smith's annual breakdown of the menu at the White House luncheon for journalists before the actual speech is definitely our favorite SOTU tradition.
The lunch, Smith told viewers at the top of his show Tuesday, is "the reason I really come" to D.C. for the State of the Union. As he does every year, he went into great detail about all aspects of the meal on Tuesday. Spoiler alert: he liked the food.
"The one thing that is constant is there is no better food on planet Earth than what comes out of that White House kitchen," Smith said. "I don't know how they do it."
He described the different parts of the meal over the course of the hour. First up was the salad, which Smith introduced with a "Fox News alert." It contained "winter lettuce," "honeyed pecans," a "reggiano crisp... that's like a cracker with air holes in it and it tastes like cheese," a "light" dressing, "shaved carrots" and parboiled tomatoes.
When the show put an image of the menu on the screen, Smith — not wanting to give everything away — said to producers, "Take that down!"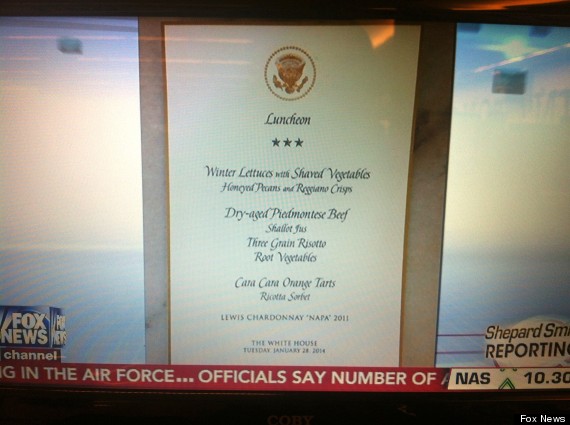 Smith told Fox News reporter Rick Levinthal that the entree was "aged Monte beef" from Italy that came with "mushrooms, squash, pearl onion." When Smith wondered how the beef got to the U.S., Levinthal tried to move on, saying, "I have breaking news here, Shepard."
Smith's reply was "We have to continue this first."
Dessert was Cara Cara orange tart, which Smith said was "delicious" but tricky to eat. Smith said he looked over to see what Diane Sawyer was doing, and said she used a fork. Smith said he tried that, but his dessert nearly exploded all over Wolf Blitzer.
He also shared that "Blitzer likes to separate the food into different piles."
Smith added he "had to Google three different things" to figure out exactly what he ate. "I used Wikipedia as a source for these things today because really, it doesn't matter, but it certainly was delicious!"
Never change, Shep. Never change.