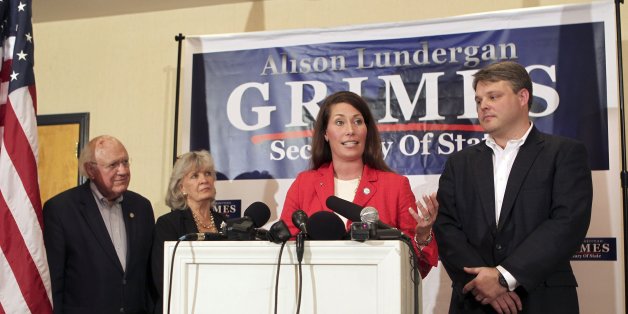 Kentucky Secretary of State Alison Lundergan Grimes (D), who is running to unseat Senate Minority Leader Mitch McConnell (R-Ky.), unveiled a new website Wednesday attacking the senator over jobs in their state.
The website features a document with the headline "Mitch McConnell's Jobs Plan:" and no text underneath. Underneath the document is the subtext "30 years is a long time to have writer's block."
Charly Norton, a Grimes spokeswoman, said the site is intended to call out McConnell for not helping the state from his position of power in Washington, D.C., which he likes to tout back home.
"The site underscores the stark contrast between Alison Lundergan Grimes -– the only #KYSEN candidate to propose a comprehensive Kentucky jobs plan -– and Mitch McConnell who after nearly 30 years in Washington, still refuses to offer a plan to create jobs," Norton said in a release. "Kentucky's unemployment rate remains higher than the national average and far too many Kentuckians are still looking for work. The commonwealth's middle-class families can no longer afford to pay the price for McConnell's failed leadership."
The McConnell campaign did not respond to a request for comment.
Grimes laid out her own jobs plan earlier this month, in which she talked about easing restrictions on coal plants while expanding investment and research into clean coal technology. She also voiced support for raising the minimum wage in Kentucky from $7.25 an hour to $10.10.
Her campaign has tried to make jobs an early theme in the race. She released a web ad last week in which an Eastern Kentucky resident criticizes Senate Minority Leader Mitch McConnell (R-Ky.) for being absent from the region, which was hit hard by the recession.
On Sunday, McConnell told Fox News that Republicans could capture independent and undecided voters by emphasizing a message that they're "the party of the private sector."
McConnell will face Republican businessman Matt Bevin in the primary.
BEFORE YOU GO
PHOTO GALLERY
Senate Seats Up For Grabs In 2014