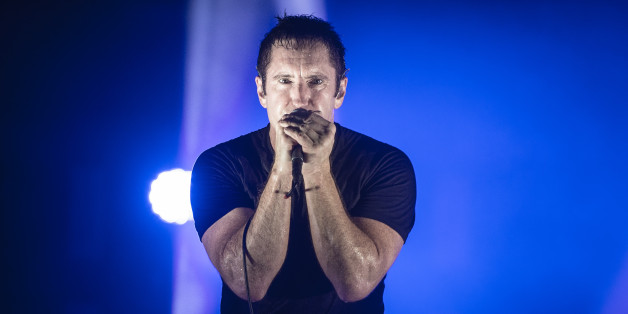 Trent Reznor was not pleased when his performance with Dave Grohl, Josh Homme and Lindsey Buckingham was cut short at the end of the 56th annual Grammy Awards on Sunday, tweeting a big, "heartfelt F--K YOU" to the powers that be. Ken Ehrlich, Grammys executive producer, took a moment to respond to Reznor's social media blast in an interview with The Hollywood Reporter, apologizing for the unfortunate situation.
"I'm sorry he was upset. I was really thrilled that we were finally getting him on the Grammys. The final jam started with Arcade Fire a few years ago, and LL Cool J last year. I want to end on a high, an up note. I did tell them we'd take it as long as we could. The number was about five, six minutes long, and we got to within a minute twenty of the end. We got as close as we could possibly get."
Then again, Ehrlich could just blame it on the alcohol -- and by extension, the generosity of Jay Z:
"I really don't drink, but about an hour from the end of the show, Jay Z keeps a little bottle of cognac underneath his seat, and takes a taste. So I came down there a couple of times during the show and he filled my cup. By the 'In Memoriam' segment, I was feeling pretty good."
Ehrlich goes on in the interview to explain that the idea to marry 33 couples at the show came from his daughter, insult one half of Daft Punk, and discuss his favorite moments of the Grammys. You can read it all here.
BEFORE YOU GO
PHOTO GALLERY
The 2014 Grammys Red Carpet