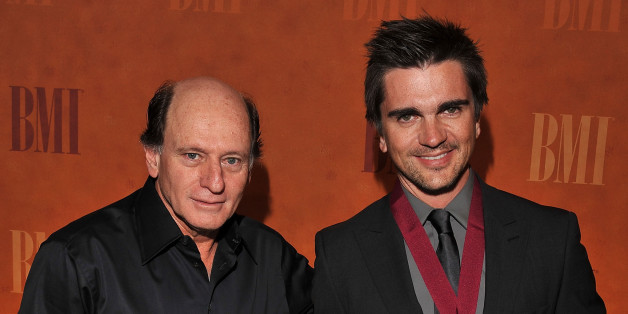 Juanes' former manager says the Colombian singer is nothing less than "ungrateful" and "despicable."
In an interview with RCN's entertainment show "El Lavadero" on Colombia's RCN network, Fernán Martínez spoke for the first time about the abrupt and strange way in which he and the singer parted ways almost three years ago.
"It's funny, after building a career together for 11 years, winning so many awards, so much publicity, so much fame and a lot of money no doubt, I don't know what happened to him," Martínez said. "He's looking to reach other heights, I think he is doing it, he wants to be another type of artist and I don't know, I wish him luck."
In the summer of 2011, Juanes announced via his Twitter that while he wasn't ending his musical career, he was taking "a small stop to dedicate some time to himself and his family," according to El Universal.
At the time he also announced that he would be ending his 11 year professional relationship with Fernán Martínez, who represented the Colombian star when he first went solo and when he reached international fame.
"It's true that my professional relationship with Fernán has ended, it's false that I will be going into politics, that truly is a joke," the star tweeted in 2011.
Martínez, who also represented singers like Enrique Iglesias, assured the hosts of "El Lavadero" that he would never work with the Colombian singer again.
"Impossible, when the mirror is shattered there can no longer exist and there doesn't exist even the remote possibility of falling into that trap again," Martínez insisted. "He's someone I don't even want to cross paths with again. To talk about Juanes you have to have a sorcerer, a lawyer, a toxicologist, a judge and a policeman in front of you."
After his hiatus, the Colombian star returned to the studio with the help of Dominican Bachata artist Juan Luis Guerra and released his now Grammy-winning "Juanes: MTV Unplugged" album in 2012.
Martínez, however, still has a sour taste in his mouth concerning how things ended between him and the singer.
"He did a lot of damage," Martínez added. "Let him continue with his career and doing the things he's looking for. There are people who aren't who they seem, they are a total farce in every way, in everything -- artistically, family, everything is a farce."
Martínez went even further and said Juanes "is the apotheosis of ingratitude. He is a totally ungrateful, despicable person."
HuffPost Voces contacted Juanes for comment via his Universal Music record label, but has yet to receive a response.

BEFORE YOU GO
PHOTO GALLERY
20 Things You Didn't Know About Juanes