Another set of partisan (D) polls shows close races for Senate in Kentucky and Georgia. CNN's instant poll rounds up the usual State of the Union findings. And most Americans would like to return Justin Bieber to Canada. This is HuffPollster for Wednesday, January 29, 2014.
KENTUCKY & GEORGIA - Democratic candidates for Senate in Georgia and Kentucky are running competitively, according to two new Democratic polls.
The Democratic firm Public Policy Polling, who fielded the survey on behalf of Americans United for Change, found Senate Minority Leader Mitch McConnell (R-Ky.) just 1 point ahead of Kentucky's Democratic secretary of state, Alison Lundergan Grimes, among voters in the race for Senate this year.
Former nonprofit CEO Michelle Nunn held a slight edge against four potential Republican opponents for Georgia's open Senate seat by margins of between 1 and 4 points: Rep. Paul Broun by 42 to 41 percent, Rep. Phil Gingrey by 45 to 41, Rep. Jack Kingston by 44 to 42, and former Georgia secretary of state and Susan G. Komen for the Cure official Karen Handel by 44 to 40.
The polls also found that raising the minimum wage to $10.10 is popular in both states. In Kentucky, 57 percent of voters supported raising the minimum wage, while In Georgia, 54 percent supported such raise.
Kentucky's U.S. Senate race has been polled frequently, but solely by partisan outlets, the majority of which have been Democratic. Surveys taken in the past year have shown margins ranging from an 8-point McConnell lead to a 6-point Grimes lead. HuffPost Pollster's poll tracking model, which combines all publicly available polling, shows a close race.
The race in Georgia has received less attention. A previous PPP poll taken early last August put Nunn 5 points ahead of Broun, 2 points ahead of Handel and Kingston, and tied with Gingrey.
CNN'S INSTANT SOTU POLL - On Tuesday night, CNN continued its tradition of conducting an instant poll of Americans who said they watched the State of the Union address. HuffPollster: "The network's poll found that 76 percent of Americans who watched the speech viewed it somewhat or very positively, in line with reactions to his previous speeches, although the percentage with "very positive" views declined. Last year, 77 percent of watchers reported a positive view of the speech to CNN, and slightly higher numbers approved of Obama's speeches in three previous years. (The network didn't conduct a post-State of the Union poll in 2012.)...As in the past, Obama faced a relatively Democratic television audience, with backers more likely than detractors to tune in...According to CNN, 41 percent of respondents to Tuesday night's survey identified as Democrats, 22 percent as Republicans and 37 percent independents...A positive reaction to the president's proposals is no guarantee of their success. In 2013, 70 percent of Americans said policies on guns would move the country in the right direction, up 9 points from before the speech. Those efforts largely stalled. State of the Union addresses historically have little impact on presidential approval ratings. Obama's numbers last year remained virtually unchanged in the week after his speech." [HuffPost, CNN]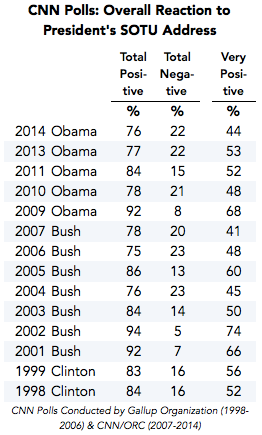 ANNALS OF POLL INTERPRETATION - A new Gallup poll finds that 75 percent of Americans can rate the job performance of Federal Reserve Chairman Ben Bernanke (40 percent approve and 35 percent disapprove. A little over two years ago, however, just 44 percent of Americans could correctly identify Bernanke as the Fed Chair on a Pew Research Center news quiz, while exactly half (50 percent) were unsure and 7 percent guessed wrong. [Gallup, Pew Research]
MOST IMPORTANT POLL OF THE DAY - Emily Swanson and Elise Foley: "More than half of Americans want Justin Bieber to be deported, according to a new HuffPost/YouGov poll. The poll finds that 52 percent of Americans think the troubled teen idol, a Canadian citizen, should be kicked out of the U.S. if he's convicted of a crime, compared to only 26 percent who think he should not be. The idea of deporting Bieber is supported by 55 percent of Republicans, 55 percent of independents, and a 47 percent plurality of Democrats….Of course, Americans' support for deporting Bieber might have nothing at all to do with his alleged criminal activity and more to do with the fact that most Americans just dislike the teen star. Eighty percent said they had an unfavorable opinion of Bieber, including 56 percent who said they had a very unfavorable opinion." [HuffPost]
------ADVERTISING------
Rasmussen Reports – Help Wanted. Rasmussen has a new position open for a senior data scientist/statistician to help lead us into the future of public opinion polling in a way that relies less on land lines and more on a combination of the various media channels available today. If your background is in statistics, mathematics and programming and you have a vision for the next wave in public opinion, please apply. Love of politics and policy a plus. Job listing and more details here.
---------ADVERTISING--------
HUFFPOLLSTER VIA EMAIL! - You can receive this daily update every weekday via email! Just enter your email address in the box on the upper right corner of this page, and click "sign up." That's all there is to it (and you can unsubscribe anytime).
WEDNESDAY'S 'OUTLIERS' - Links to the best of news at the intersection of polling, politics and political data that we missed during our holiday break (starting with a few
new items from today:
-Gallup finds fewer states leaning Democratic in 2013. [Gallup]
-PPP (D) finds Chris Christie's support has fallen in the 2016 national Republican presidential matchup. [PPP]
-Andrew Gelman splits the difference between two forecasts and gives Republicans a 54 percent chance of winning the Senate. [WaPost's Monkey Cage]
-David Hill (R) thinks Republicans "need to find some economic stimulus ideas of their own" given the Democrats embrace of raising the minimum wage. [The Hill]
-Democracy Corps (D) sees "major gains" for Obama in the State of the Union. [Democracy Corps]
-Mark Mellman (D) renews his annual reminder that SOTU speeches produce no bounces. [The Hill]
-Twitter produces an interactive graphic showing a minute-by-minute breakdown of SOTU tweets, coded by subject and keyed to the full transcript. [Twitter]
-Jordan Raqusa explains why the ratings of SOTU addresses have been in decline since the 1980s. [Rule 22 via @jbplainblog]
-Garry Emmons wants pollsters to break out "smart" people so he can focus on attitudes from those who are "demonstrably knowledgeable." [WBUR]