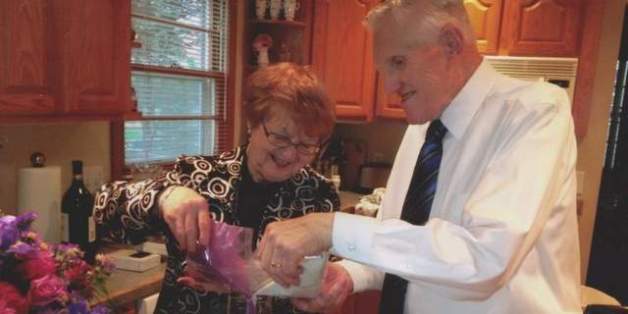 A good Samaritan helped a grieving family outside of Des Moines, Iowa by returning a wedding band that went missing one day before their father's death.
According to the Des Moines Register, a man named Tom Barnabo found the ring -- which belonged to Michael Murrane -- on Saturday night outside of a local grocery store. He saw that the ring had an inscription that read, "MWM-PAM 5-25-1963" so he knew it was important to whomever lost it. Barnabo left his name and number with an employee at the grocery store in case the owner came back looking for it.
Michael -- who had Parkinson's disease and ulcerative colitis -- and his wife Patricia had been at that same store earlier that day to pick up juice because Michael wasn't feeling well. That's when the ring slipped off his finger.
"The only material thing my dad cared about was his wedding ring," the couple's daughter, Mary Murrane, told the Des Moines Register.
That night, Michael's health took a turn for the worse. He died shortly after 7:00 a.m. Sunday morning.
When the family realized the wedding band was missing, Mary decided to stop by the grocery store to see if it was there. Inside, one of the employees gave her Barnabo's contact information. She and Barnabo picked a place to meet so he could return the ring.
"She just broke down into tears and gave me the biggest hug in the world," Barnabo said. "I'm very happy I was able to come across it for them."
This isn't the only heartwarming lost-then-found wedding ring story we've heard recently. Earlier this month, a Chicago couple found a wedding ring in their frozen pipes. They learned that the jewelry belonged to the home's previous owners -- Louise and Randy Hearne. Fortunately, the ring was returned to the Hearnes just in time for their 40th anniversary.
Head over to the Des Moines Register for more on the Murranes' story.
Keep in touch! Check out HuffPost Weddings on Facebook, Twitter and Pinterest.
BEFORE YOU GO
PHOTO GALLERY
Bizarre Lost Wedding Ring Stories