She believes in the Father, Son and the Holy Toes.
Paula Osuna, of Silver City, N.M., claims that the image of Jesus appeared to her in a bruise on her toe, KRQE reports.
Osuna's foot was thoroughly bruised last weekend, when she fell down the stairs, according to the Christian Post. A few days later, she asked her fiance, to rub some holy dirt -- which he had saved from a pilgrimage to the Catholic shrine in Chimayo -- on her foot.
She bandaged the foot over the dirt, and the next day, when she took the bandages off, her family members pointed out that one of her bruises had taken on the shape of Jesus Christ.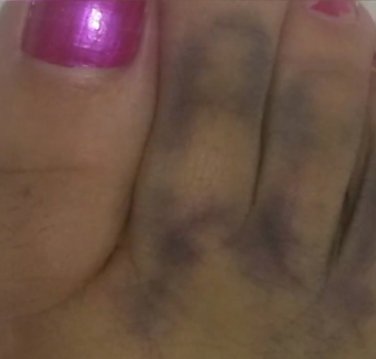 BEFORE YOU GO
PHOTO GALLERY
Sacred Sightings?