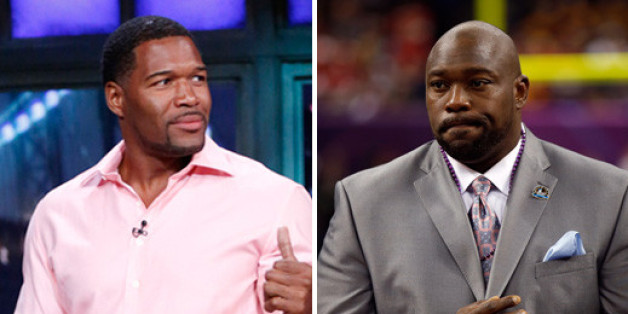 Pro Football Hall of Famer Warren Sapp still has nothing nice to say about former Giants defensive end Michael Strahan. Sapp, an analyst for NFL Network, told Newsday on Tuesday that Strahan is not a Hall of Famer.
"When you stack it up and he only has four straight Pro Bowls and a mythical sack record that y'all still walk around like it's something to be praised -- I mean y'all have got to get off your high horse in New York and speak about the real. And when you really measure him up, he comes up short," said Sapp, who was inducted in 2013. "I thought you got into the Hall because your resume stacked up with the echoes of the game, not just the good, the great. And four straight Pro Bowls [is good], but it ain't great."
Strahan quickly fired back, telling the New York Daily News that "the tiger does not pay attention to the opinion of a sheep." This comment echoed a tweet from Seattle Seahawks cornerback Richard Sherman amid the backlash against his NFC Championship Game.
"I don't understand what the problem is, to be honest with you. If you have a problem with me, I'm the type of guy you come and talk to me," Strahan said. "I'm not a coward to talk to somebody else when I have somebody's number. I'm going to come to you and tell you if I have a problem. So I don't understand what this whole thing is about."
Contrary to what Sapp said, Strahan actually went to seven Pro Bowls (the same amount as Sapp) and was named First-Team All-Pro four times (also the same amount as Sapp). The war of words between the two dates back to 2002 when Sapp said Strahan's single-season sack record (22.5) should have an asterisk due to the controversial slide by Packers quarterback Brett Favre. The most sacks Sapp had in a single season was 16.5 in 2000.
So it's still unclear why Sapp has a problem with Strahan.
BEFORE YOU GO
PHOTO GALLERY
Best 2013 Sports Photos