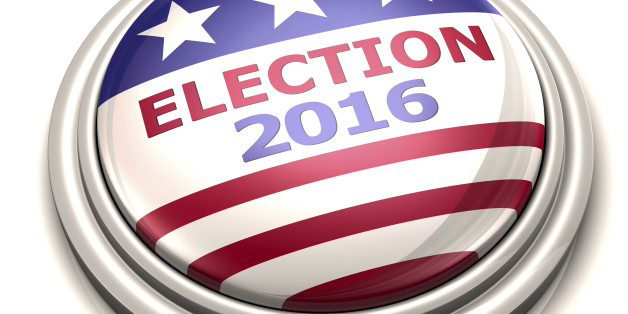 A new national poll showing Clinton leading the Democrats and Christie in decline prompts another round of debate about the value of a polling "snapshot" three years before an election. And this is somehow connected to a talking toaster. Seriously. This is HuffPollster for Thursday, January 30, 2014.
'NON-EXISTENT CANDIDATE LEADS NON-EXISTENT COMPETITORS IN NON-EXISTENT RACE' - Jason Linkins ponders the meaning of a new PPP poll that measured Republican voter preferences for the 2016 GOP nomination: "Yes, in the Magic Kingdom of Hypothetica, Mike Huckabee, on the strength of comments that embarrassed Reince Priebus, is narrowly beating Jeb Bush, Chris Christie, Rand Paul, Ted Cruz, Paul Ryan, Marco Rubio, Luke Skywalker, Grumpy Cat, and a plucky little toaster that can talk and grant wishes, but would trade all of his powers for the chance to find true love. Meanwhile, in America, I would really, really caution anyone to think twice before betting that Mike Huckabee will run, let alone lead a primary field. Call me up when Huckabee starts doing things like hiring an experienced campaign staff or signing up major donors." There is more. HuffPollster urges you to read it all. [HuffPost]
MEANWHILE, ANOTHER 2016 POLL SHOWS CLINTON LEADING DEMS - Philip Rucker and Scott Clement: "Hillary Rodham Clinton holds a commanding 6 to 1 lead over other Democrats heading into the 2016 presidential campaign, while the Republican field is deeply divided with no clear front-runner, according to a new Washington Post-ABC News poll. Clinton trounces her potential primary rivals with 73 percent of Democrats and Democratic-leaning independents, reinforcing a narrative of inevitability around her nomination if she runs. Vice President Biden is second with 12 percent, and Sen. Elizabeth Warren (Mass.) is third with 8 percent. Although Clinton's favorability rating has fallen since she stepped down as secretary of state a year ago, she has broad Democratic support across ideological, gender, ethnic and class lines. Her lead is the largest recorded in an early primary matchup in at least 30 years of Post-ABC polling." [WaPost]
...And Christie falling - Gary Langer: "Chris Christie's popularity has been badly dented and Republican preferences for president look like a six-car pileup in the latest ABC News/Washington Post poll. Just 35 percent of Americans see Christie favorably overall, dropping from 52 percent in a Gallup poll in June, while his unfavorable score has doubled to 40 percent. He's gone from a 32-point net positive rating last summer to a 5-point net negative now – never a comfortable place for a public figure. And he's notably weak among strong conservatives, a core Republican group. There's room for Christie to rebuild; 25 percent of Americans have yet to form an opinion of him. But nearly half the public, 46 percent, sees the political payback controversy that's engulfed him as a sign of broader problems with his leadership; 43 percent call it an isolated incident." [ABC]
Two new New Hampshire polls test the 2016 primary -
-University of New Hampshire: "Although few voters have made up their minds about who to vote for in the 2016 New Hampshire Primary, Hillary Clinton remains the clear favorite among New Hampshire Democrats but the GOP still lacks a frontrunner. Republicans are now less likely to support Chris Christie because of the Bridgegate scandal." [UNH]
-Purple Poll - "Former Secretary of State Hillary Clinton is very well-liked by Democratic primary voters (89/6), as is Vice President Joe Biden (69/12) and Senator Elizabeth Warren (62/12)." [Purple Strategies]
Skeptical reactions...:
-Political scientist Jonathan Bernstein: "Ignore those polls! Whatever the merits of polling on the 2016 presidential nominations (and perhaps I'll get to that later), general election polls at this early date are essentially worthless. The results are some messy mix of relative party standing, candidate name recognition, recent press reports about the candidates and who knows what else. Any relationship with events taking place in the fall of 2016 is almost totally coincidental...The 2016 nomination campaigns have started; in fact, they started some time ago. But only among the relatively few people who pay very close attention to politics. For most voters, 2016 is in other galaxy, and they won't really start paying attention until the conventions kick off the fall 2016 campaign. Yes, voters will answer pollsters' questions, but there's just no reason for us to pay any attention to the answers -- or whether one candidate outperforms another at this point." [Bloomberg]
-DSCC Executive Director Guy Cecil: "I love that old political adage: the only poll that counts is the one 3 years before the election." [@guycecil]
...prompt a defense of early polls from The Fix - Chris Cillizza: "Now for the assumption that simply by the act of conducting a poll about a far-off race you are predicting that the poll results MUST match the ultimate outcome. Talk to any pollster -- non-partisan, Democratic or Republican -- and they will tell you that polls are by their very nature snapshots in time, not predictors of outcome. (Modeling, the sort of stuff Nate Silver does, is, on the other hand, meant to be predictive.) And, if you kept talking to that pollster they would tell you that the head to head number in any poll -- especially one conducted 700 days (or so) before an election -- is probably the least important number in the survey. The perceptions that people have about the candidates' character attributes/strengths/weaknesses is far more telling as an indicator of the shape of the race to come than who is ahead in the horserace question. In short: You need to take the WaPo-ABC poll -- and the dozens (or maybe even hundreds) that have come before it and will definitely come after it -- for what they are: Early measures of name identification and voter perceptions about the candidates." [WashPost]
CRIST LEADS SCOTT IN FLORIDA - Quinnipiac: "Former Florida Gov. Charlie Crist, now running as a Democrat, leads Republican Gov. Rick Scott 46 - 38 percent in this year's governor's race and tops the incumbent on almost every measure, including handling the economy and jobs, listed by voters as the most important issues in the race, according to a Quinnipiac University poll released today. Scott started behind Crist 50 - 34 percent in a March 20 survey by the independent Quinnipiac University and narrowed the gap to 47 - 40 percent in a November 21 survey." [Quinnipiac]
-HuffPollster's poll tracking model gives Crist a roughly 6-point lead over Scott.
ACA: PERCEPTIONS LITTLE CHANGED AFTER JAN 1 - Kaiser Family Foundation: "January 1st may have been a monumental date for those working on and closely following the Affordable Care Act (ACA), but the latest Kaiser Health Tracking Poll finds little change in the public's knowledge and views of the law. With enrollment in new coverage options underway, a majority of the public believes that only 'some' of the ACA's provisions have been put into place, while just about one in five think 'most' or "all" of the law has been implemented...Among the uninsured – a key group for outreach under the law – unfavorable views now outnumber favorable views by roughly a 2-to-1 margin (47 percent versus 24 percent). This is a change from last month when 43 percent of the uninsured had an unfavorable view and 36 percent were favorable. More of those without coverage say the law has made the uninsured as a group worse off (39 percent) than better off (26 percent). Despite these views, large shares of the uninsured see health insurance as "very important" and say they need it, while four in ten say they've tried to get coverage in the past 6 months, and half expect to get it this year." [KFF]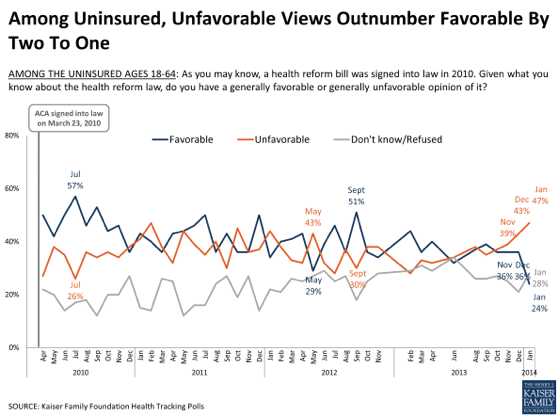 But intent to purchase through exchanges on the rise Gallup: Fifty-six percent of uninsured Americans who plan to get health insurance say they will do so through a government health insurance exchange. That figure has steadily increased since Gallup began tracking uninsured Americans' intentions in October. [Gallup]
----ADVERTISING----
Rasmussen Reports – Help Wanted. Rasmussen has a new position open for a senior data scientist/statistician to help lead us into the future of public opinion polling in a way that relies less on land lines and more on a combination of the various media channels available today. If your background is in statistics, mathematics and programming and you have a vision for the next wave in public opinion, please apply. Love of politics and policy a plus. Job listing and more details here.
------ADVERTISING------
HUFFPOLLSTER VIA EMAIL! - You can receive this daily update every weekday via email! Just enter your email address in the box on the upper right corner of this page, and click "sign up." That's all there is to it (and you can unsubscribe anytime).
THURSDAY'S 'OUTLIERS' - Links to the best of news at the intersection of polling, politics and political data that we missed during our holiday break (starting with a few
new items from today:
-55 percent of Americans are dissatisfied with U.S. gun laws, the highest level since 2001. [Gallup]
-Fewer than a quarter of Pennsylvania voters think Gov. Tom Corbett (R) deserves reelection. [HuffPost]
-Kathy Frankovic charts the toll of Bridgegate on Chris Christie's nationwide favorable ratings. [YouGov]
-46 percent of Americans say the news media makes the weather sound worse than it really is. [Rasmussen Reports]
-Steve Shepard says early polling may be underestimating Republican support. [National Journal]
-Sean Trende examines how reapportionment will affect "the coming fight over the death of some majority-minority districts." [CrystalBall]
-Television ratings for the State of the Union address hit a 14-year low. [Hollywood Reporter]
-Marc Hetherington and Thomas Rudolph explore polarization over trust in government, or why Americans have "vanishingly low trust in government when their party is out of power." [WaPost's Monkey Cage]
-The US has canceled funding for opinion polls in Afghanistan's presidential elections. [Yahoo]
-Patrick Ruffini (R) makes the case for probabilistic voter targeting. [Engage]
-The Analyst Institute (D) is hiring. [Analyst Institute]
-Reddit user atrubetskoy plots a map showing how much snow it takes to close school in every U.S. county. [The Atlantic]
-Jimmy Kimmel's "Lie Witness News" shows shows how a camera crew can enhance "social desirability" bias. [Re/code]