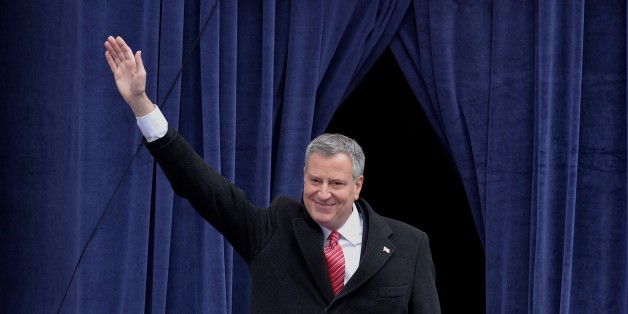 New York City Mayor Bill de Blasio (D) announced Thursday that he's joining the gun control advocacy group Mayors Against Illegal Guns, which was co-founded by his predecessor, Michael Bloomberg.
De Blasio has pledged to pursue measures to combat gun trafficking and illegal gun sales. In a press release, the mayor's office said de Blasio wants to increase coordination between state and federal authorities to prevent people with severe mental illness and those convicted of domestic violence from obtaining guns.
Bloomberg lauded de Blasio's decision to join the group.
"Mayors are on the front lines of preventing gun violence in their communities and they know better than anybody else the daily toll of gun violence in our cities and towns," Bloomberg said. "As a New Yorker it is particularly meaningful to me that Mayor de Blasio is joining our effort to curb gun violence. As Mayor he understands that common sense gun laws are vital to that success – but gun violence is a national problem that must be addressed by our leaders in Washington. Mayor de Blasio and the other new mayors who join our coalition strengthen our efforts to end the bloodshed. I look forward to working with him to change our nation's laws so we can get illegal guns off our streets."
De Blasio said in the release that he is "proud to join" the group.
"We are going to force this issue on the national stage to protect New Yorkers from the illegal guns flooding into our city," he added.
De Blasio's willingness to work in partnership with Bloomberg indicates that the relationship between New York City's former and current mayor could be experiencing a thaw. Bloomberg had harsh words for de Blasio in September, saying he was running a campaign of "class-warfare" that was "racist," because de Blasio, in Bloomberg's opinion, was "using his family to gain support."
BEFORE YOU GO
PHOTO GALLERY
Obama's Executive Actions On Gun Violence