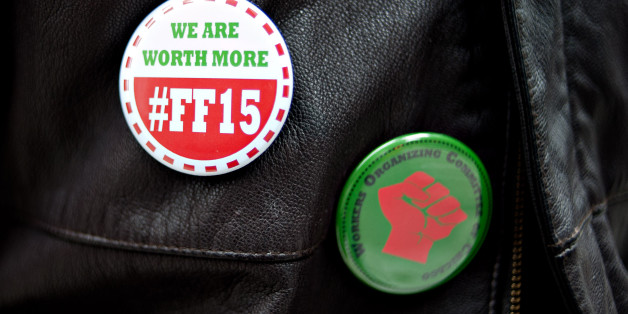 With support from the highest offices in both Illinois and the nation for a higher minimum wage, several Chicago aldermen joined activists and low-wage workers gathered Thursday morning to back a set of city referendums that would boost the minimum wage for workers in the Windy City.
Supporters rallied at the Chicago Temple in the city's Loop to kick off what organizers called "a major push by a coalition of community organizations to educate and mobilize voters." Early voting starts March 3.
Both President Obama and Illinois Governor Pat Quinn called for a higher minimum wage during this week's respective State of the Union and State of the State addresses. According to NBC Chicago, a referendum on the March 18 ballot in a portion of Chicago's voting precincts "will ask if the city should require a minimum wage of $15 per hour for employees of companies with an annual gross revenues in excess of $50 million."
Katelyn Johnson, the executive director of minimum wage advocacy group Action Now, said in a statement:

"Demanding major multi-billion dollar corporations, such as McDonald's and Walmart, to pay their workers $15 an hour is a real opportunity to support low-wage workers and their families, to lift thousands of Chicagoans out of poverty, and to boost Illinois' economy by strengthening our small businesses."
Aldermen Harris and Faulkes "We support the #fightfor15" #winning pic.twitter.com/7t5i1UGb6N

— Fight For 15 (@fightfor15) January 30, 2014
According to a statement from advocacy group Stand Up Chicago, the aldermen supporting the referendum include: Alds. John Arena (45th); Will Burns (4th), Jason Ervin (28th), Toni Foulkes (15th), Ricardo Munoz (22nd) and Roderick Sawyer (6th).
In his Wednesday State of the State address, Gov. Quinn said, "Our minimum wage workers are doing hard work. They're putting in long hours. Yet in too many instances, they are living in poverty. That's not right."
Quinn then called for lawmakers to raise Illinois' current minimum wage of $8.25 an hour to $10. Most state Republicans oppose an increase, the Sun-Times reports, including all the Republican gubernatorial candidates.
The non-binding referendum will be voted on March 18 in 103 precincts in 20 Chicago wards across the city.
BEFORE YOU GO
PHOTO GALLERY
What Minimum Wage Haters Won't Say