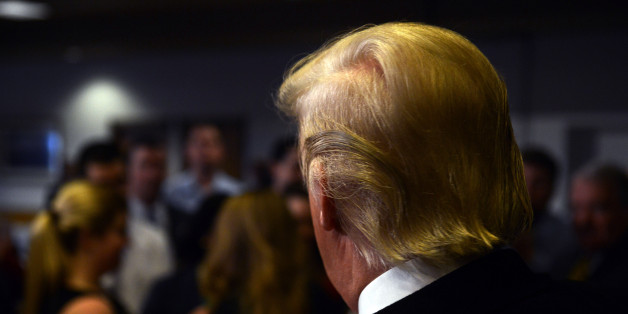 This again? It's been a little while since reality TV personality Donald Trump has roiled the political media with teasing announcements of fake campaigns to come, but I guess the celebrity mogul is in need of some synergy, because he's now injecting himself into New York's gubernatorial contest.
It's important to note that the residents of New York state need not fear the possibility of Trump running for anything -- this is an exercise in trolling, as always. Still, it's a pretty hilarious one, given the terms Trump has decided to set. Here's the New York Daily News' report on this distraction:
Trump, appearing on an Albany radio station this morning, said he is "ready, willing and able" to run for governor but will not do so if [Westchester County Executive Rob ] Astorino or anybody else enters the race. Trump also ruled out taking his potential candidacy to the state GOP convention in the spring.

"I really want unity," said Trump, who is scheduled to address a GOP fundraiser in Buffalo Friday. "I want to go in there right from the beginning and I want to go in swinging right from the beginning. I don't want to be knocking Rob or knocking anybody else to win a primary."
Ha, OK, Donald! Here's what's really going on in the New York gubernatorial race: Astorino hasn't formally announced as a candidate, but he's been giving all the signs that such an announcement is imminent. In the past few weeks, he's gone from sitting on the fence, to leaning toward a run, to ramping up criticism of Gov. Andrew Cuomo, to saying that he'd happily embrace an endorsement from New Jersey Gov. Chris Christie. Trump has no beef with Astorino. Really, he's got nothing to say about this race at all, other than that he's unwilling to face any real politician -- Astorino or otherwise -- who enters the race. Rather than just say the obvious -- he'd likely get beaten by any sensible primary opponent -- Trump couches all this in an insincere call for unity and a pledge not to crowd a field that no one is asking him to join.
It's all reminiscent of former SNL-er Kristen Wiig's "Dont Ask Me To Sing!" character:
The most recent polls conducted in the race, by Siena, do show Cuomo beating both Astorino and Trump by 48-point margins (it's 67-19 percent with Astorino, 70-22 percent for Trump), but there's more undecided voters in the mix in the Cuomo-Astorino match-up, and -- oh, yeah -- there's the little matter of Astorino being a professional politician and not an anthropomorphic butt of a joke. So, all told, Cuomo would probably be pleased to draw Trump as an opponent. Trust me: He won't be so lucky.
If there's anything I've learned from this, it's that Trump's "vote for me only if no other human being on earth enters the GOP primary" position indicates that the man has a lot more self-awareness than I'd previously credited him.
[Would you like to follow me on Twitter? Because why not?]
BEFORE YOU GO
PHOTO GALLERY
Donald Trump's Hair