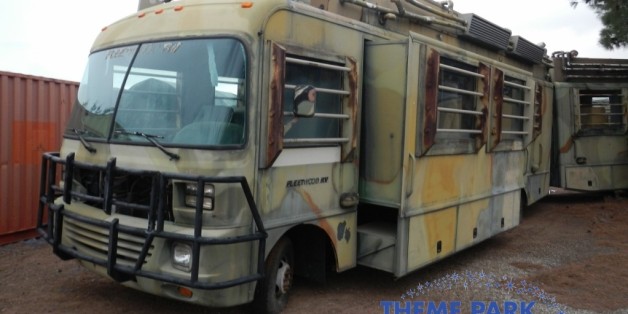 There's no better way to prepare for the return of dinosaurs than by snatching up the velociraptor cage from "Jurassic Park" and the RV from the sequel, right?
Well, here's some good news for doomsayers and collectors alike: Both items happen to be for sale on eBay. Interested parties should put their bids in soon, though; the auctions end a little after 8 p.m. (PST) on Feb. 4.
With bidding currently at well under $20,000, the RV seems like a bonafide bargain compared to the velociraptor cage, which has already broken the $100,000 mark. The hefty price tag may be a little odd given the fact that, besides its movie pedigree, the cage is nothing more than a box made of "wood, with some metal/steel components," according to the seller, Theme Park Connection. However, it comes with a full-size velociraptor prop. So there's that.
The RV, known for its role as a mobile dinosaur laboratory in "The Lost World: Jurassic Park," looks a bit worse for wear. The paint is faded, it's not drivable (the seller notes that it hasn't been started in two years and that it does not have a title), and the tires are said to be dry-rotted.
Both items are located about 45 minutes outside of Los Angeles, according to the listing, and due to the heavy weight of both pieces (and missing title of the RV), the buyer will have to pay expensive shipping costs to save these two pieces from extinction.
Worth it? We'll let you decide.
PHOTOS: