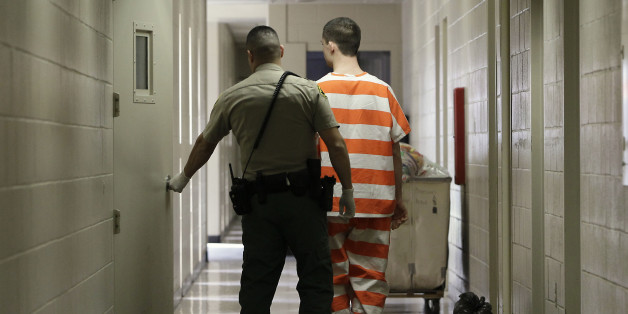 As the Affordable Care Act rolls out across the country, the sheriff of San Francisco wants to get an unexpected group on board: former inmates.
Believing that improving a city's economy and public safety may lie in prioritizing healthcare for prisoners reentering society, San Francisco Sheriff Ross Mirkarimi hopes to make signing inmates up for Obamacare a city policy and break the cycle of sending mentally ill ex-offenders back to jail.
Though coverage wouldn't start until inmates leave jail, the policy would allow applicants to sign up while still incarcerated so they would be covered upon release.
Mirkarimi presented his legislation to the city's Board of Supervisors on Tuesday, proposing that his office support the county jail in submitting inmate applications for affordable healthcare plans, available to them only upon release. He estimates that about 90 percent of jail detainees have no health insurance or the financial capability for it upon release, and that a similar percentage will qualify for Obamacare coverage.
In an age when correctional facilities often replace hospitals in handling the mentally ill and when studies find seriously affected patients are just as or more likely to be incarcerated than hospitalized, Mirkarimi's legislation could play a key role in getting help to those who need it.
"Enhancing access to integrated health care for the uninsured is not only a wise public health move, but it's also wise public safety strategy -- there is nexus between repeat incarceration and poor chronic health, especially people suffering with mental illness or substance addiction," Mirkarimi said, predicting a 20 percent decrease in future arrests of inmates signed up for healthcare coverage before being released.
Furthermore, given the high rates of hepatitis, HIV/AIDS and tuberculosis in the prison population, helping inmates sign up for healthcare coverage that will activate as soon as they walk out the door could hinder the spread of disease in their communities.
"Individuals that are released from prison, they are 12 times more likely to die even in the first two weeks following release," Dr. Emily Wang of Yale Medical School told Marketplace. "They are more likely to be hospitalized, they are more likely to go to the emergency department."
Mirkarimi also predicts that insuring the 31,000 San Francisco inmates booked each year will spare the city of significant spending. With projected reduction in emergency room visits and other costs, he estimates the city will save an annual $2,500 on each inmate who enrolls in the program.
BEFORE YOU GO
PHOTO GALLERY
27 Reasons Why U.S. Shouldn't Lead War On Drugs