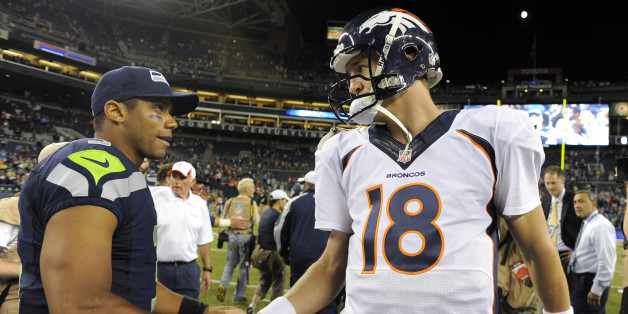 Super Bowl XLVIII promises any number of juicy matchups, but a few are so good and so important that they deserve special recognition. Broncos quarterback Peyton Manning is a mastermind of exploiting advantages, and, for only the sixth time in Super Bowl history, we have the league's top-ranked offense going up against its top-ranked defense.
With that in mind, let's take a look at the key considerations for each team for coming away with the Lombardi Trophy on Sunday.
Denver Broncos: Screen Game
For all the talk about Manning's gaudy passing numbers, the irony is that he's only got 72 attempts greater than 20 yards (four per game); his numbers are great, but most of his throws are short. Manning has a vast arsenal of weapons in receivers Demaryius Thomas, Eric Decker and Wes Welker, but what makes their screen game unique is their ability to incorporate uber-athletic tight end Julius Thomas. Plus, running back Knowshon Moreno totaled over 500 yards receiving this season, his best showing as a pro, and almost all of that came from screens. In fact, the Broncos completed nearly 100 passes to running backs. Manning is a genius at reading coverages, and he will check to a screen on any down, at any part of the game.
Seattle Seahawks: Stop The Screens
The Seahawks will employ their physical man-to-man coverage, using safeties Earl Thomas, an All-Pro, and Kam Chancellor, a pro bowler, to stack the box at times and thwart screens. While the sexiest matchup is probably Richard Sherman being responsible for Thomas, the other Seattle corners will have to do a great job of jamming the physical Broncos receivers at the line of scrimmage.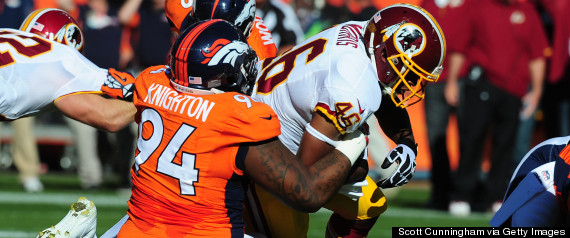 Denver: Stop The Run
The Broncos' run defense ranked eighth in yards against this season, thanks in large part to defensive tackle Terrance "Pot Roast" Knighton, a run-stuffing monster in the middle. Knighton is a key reason why Denver held opposing running backs to just 3.9 yards per carry this year and led the NFL in defending runs up the middle. He must get off his blocks against Seahawks Pro Bowl center Max Unger early.
Seattle: Feed Beast Mode
Marshawn "Beast Mode" Lynch will get 25-plus touches in this game, and it will be his job to set the tone early, gain first downs and, perhaps most importantly, keep the ball away from Manning. Seattle's zone running game hangs on Lynch's incredible ability to make one cut and take the ball upfield. The 27-year-old pro bowler never seems to tire, almost picking up steam as the game progresses. He is averaging about 125 yards during the postseason.
Denver: Red Zone Offense
The Broncos have the league's most efficient red zone offense, and the numbers show why: Manning has 37 touchdown passes with zero interceptions. He will employ the no-huddle to keep Seattle off balance, but he also isn't afraid to slow it down. This is an area where the draw game to Moreno is highly dangerous.
Seattle: Turnovers In The Red Zone
No team in football forced more red zone turnovers this season than Seattle, which uses its physical corners to break receivers off timing routes like slants and hitches. This is also where the Seahawks' athletic linebackers can come up big. Bobby Wagner and Bruce Irvin are athletic enough to cover for short spurts, and the defensive line will have to get pressure on Manning, who has not yet been sacked in the playoffs.
Denver: Take Away Russell Wilson's Throwing Lanes
Seattle will lean on wide receiver and electric playmaker Percy Harvin in this game, so expect the Broncos to bracket him as much as possible. Don't forget that Denver is missing All-Pro linebacker Von Miller and cornerback Chris Harris, Jr., who has played the most snaps of any Broncos defensive player all year. The key is to produce a pass rush on Wilson, the Seahawks quarterback, just as San Francisco did during the first half of the NFC Championship. When that happened, Wilson got happy feet and struggled with accuracy.
Seattle: Get Wilson Comfortable Early
Wilson is best in play-action and when he can get outside of the pocket to make throws on the move. He doesn't necessarily have to run the ball himself, but the fact that he might poses a problem for Denver and will allow him to find guys. Much has been made of Wilson's struggles over the past six games, in which he's averaged a mere 162 yards passing, but to be fair, six of Seattle's last seven opponents have ranked in the top 10 in total defense. Denver, meanwhile, ranks 19th.
Email me at jordan.schultz@huffingtonpost.com or ask me questions about anything sports-related at @Schultz_Report. Follow me on Instagram @Schultz_Report. Also, be sure to catch my NBC Sports Radio show, "Kup and Schultz," which airs Sunday mornings from 9-12 EST, right here.
BEFORE YOU GO