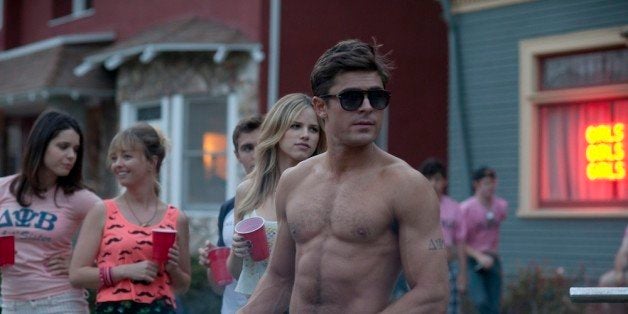 The worldwide debut of a work-in-progress edit of the new comedy "Neighbors," Sundance hit "Boyhood" and David Gordon Green's "Joe" are among the 115 films that will screen during the 2014 South By Southwest Film Festival in Austin, Texas this March. The features join previously announced premieres, such as "Veronica Mars" and Jon Favreau's "Chef."
"I'm very, very pleased with the lineup. There are so many films here that I just can't wait for audiences to be able to see," Janet Pierson, head of SXSW Film, told HuffPost Entertainment. "I just know how strong we think the films are."
In addition to 68 films from first-time filmmakers, 76 World Premieres, 10 North American Premieres and seven U.S. Premieres, the 2014 SXSW Film Festival lineup includes some other special events. The fest's new Episodic section highlights some brand-new television series, such as Mike Judge's "Silicon Valley" (HBO) and Robert Rodriguez's "From Dusk Till Dawn: The Series" (El Rey Network).
"I'm really thrilled about the Episodic section. We've been watching quality television for years, and when I started working at this festival in 2009, we were trying to think about how to approach TV," Pierson said. "We had this incredibly successful experience with 'Girls' in 2012, with talent in Lena Dunham, who we had discovered and could see her evolution. Television is such a big subject, but why would we do it? Why should we be involved? Like all our film curation, we're looking for individual voices. This year we got our heads around how we could do this well. We're thrilled with the six projects we're presenting. They're by great creators, individual voices, cool subjects that work without our audience. They have edgy themes, they're funny, they're genre-based."
Also included in this year's festival, another first: Wes Anderson. The "Grand Budapest Hotel" director will take part in a Q&A session at SXSW.
"Wes went to UT. He's been on the top of everybody's wish list. People are like, 'Hey, can we get Wes Anderson?'" Pierson said about the coup of getting Anderson. "As far as I know this is the first time he's been here in decades."
Check out the 2014 SXSW lineup below. The fest runs from March 7 through March 15.
Austin, Texas – January 30, 2014 – Today the South by Southwest (SXSW) Film Conference and Festival announced a diverse features lineup for this year's Festival, the 21st edition and running March 7 – 15, 2014 in Austin, Texas. The 2014 program expands on SXSW tradition of embracing a range of genres and span of budgets, featuring a wealth of vision from experienced and developing filmmakers alike. For more information visit http://sxsw.com/film.

Listed in the announcement are 115 of the features that will screen over the course of nine days at SXSW 2014. The lineup below includes 68 films from first-time filmmakers, and consists of 76 World Premieres, 10 North American Premieres and 7 U.S. Premieres. These films were selected from a record 2,215 feature-length film submissions composed of 1,540 U.S. and 675 international feature-length films. With a record number of 6,482 submissions total, the overall increase was 14% over 2013. The Midnighters feature section and the Short Film program will be announced on February 5, with the complete Conference lineup and schedule to follow on February 12.

New for 2014, SXSW introduces the "Episodic" screening category, inspired by the success of previous SXSW programming, such as the world premieres of HBO's hit series Girls and A&E's Bates Motel. This section will feature premieres of innovative new work hitting the small screen, including HBO's Silicon Valley, Showtime's Penny Dreadful, AMC's Halt and Catch Fire, Hulu's Deadbeat, FOX's COSMOS: A SpaceTime Odyssey and From Dusk Till Dawn: The Series, debuting on Robert Rodriguez's El Rey Network.

Also new for 2014, SXSW launched SXsports, a Convergent sports-focused track open to all Film and Interactive registrants, incorporating film screenings and panel elements, and touching on all aspects of sports through the SXSW lens of cultural impact, entertainment, innovation and the forward-thinking convergence areas of those respective worlds. Featured Speakers include Mandalay Sports Media Chairman Peter Guber, ESPN's Bill Simmons & Nate Silver in conversation, US Men's National Soccer Team Head Coach Jürgen Klinsmann in conversation with Men in Blazers' Roger Bennett, and cycling legend Greg LeMond. SXsports associated films appear in a variety of screening sections, and are denoted with an asterisk.

In addition to nine full days of film screenings, SXSW Film Conference, (Friday, March 7 – Tuesday, March 11), will feature over 150 informative and entertaining sessions, including its first-ever daily keynotes, previously announced to include Lena Dunham, Jason Blum and Casey Neistat, and major Conversations with luminaries like Alejandro Jodorowsky. For more confirmed Conference sessions, including details on additional Conversations and programming for the all new SXsports, Digital Domain, Future 15s, Mentor Sessions, Meet the Insiders, Workshops, Startup Alley, and Come & Capture Film Factory visit www.sxsw.com/film/sessions/about. The final Conference lineup will be released Wednesday, February 12.

"We are psyched to present this year's slate - truly diverse in size, shape, and emotional tone and reflective of our ever-eclectic tastes. As always, we strive for the delicate balance of launching new voices, while providing equally combustible entertainment from red carpet moments and highly anticipated titles to soon-to-be-new-addictions from the small screen," said Head of SXSW Film Janet Pierson. "Getting to share this work with our adventurous, intelligent, film-loving audience is where the magic happens and the films truly come alive. Is it March yet?"

Once again, the festival's main competition categories are comprised of eight Narrative Feature world premieres and eight Documentary Feature world premieres, vying for their respective Grand Jury Prizes. The SXSW Film Awards show will take place on Tuesday, March 11 at 8pm at the Paramount Theatre, and hosted by comedian Jerrod Carmichel. Announced at the show will be the Feature Film Jury Award winners, Short Film Jury Award winners, Design Award winners, and Special Award winners. In addition to juried awards, all feature categories, with the exception of Headliners and Special Events, will be eligible for category specific Audience Awards. Audience Award winners will be announced via http://sxsw.com on Saturday, March 15.

The Narrative Feature Competition includes: 10,000KM, directed by Carlos Marques Marcet, Animals, directed by Collin Schiffli, Before I Disappear, directed by Shawn Christensen, Fort Tilden, directed by Sarah-Violet Bliss & Charles Rogers, The Heart Machine, directed by Zachary Wigon, I Believe in Unicorns, directed by Leah Meyerhoff, The Mend, directed by John Magary and Wild Canaries, directed by Lawrence Michael Levine. The Documentary Feature Competition includes: Beginning With The End, directed by David Marshall, Born to Fly, directed by Catherine Gund, The Great Invisible, directed by Margaret Brown, The Immortalists, directed by Jason Sussberg & David Alvarado, Impossible Light, directed by Jeremy Ambers, Mateo, directed by Aaron I. Naar, Print the Legend, directed by Luis Lopez & Clay Tweel and Vessel, directed by Diana Whitten.

An additional selection of highlights include the worldwide debut of Nicholas Stoller's Neighbors, Michael & Peter Spierig's Predestination, Diego Luna's CESAR CHAVEZ, Neil Berkeley's Harmontown, Liz Tuccillo's Take Care, Elijah Drenner's That Guy Dick Miller, Jack Plotnick's Space Station 76, Florian Habicht's Sheffield: Sex City, Nacho Vigilondo's Open Windows, Angus MacQueen & Guillermo Galdos's The Legend of Shorty, Alejandro Jodorowsky's The Dance of Reality, Darius Clark Monroe's Evolution of a Criminal, Jason Bateman's Bad Words, Mike Myers' Supermensch, David Gordon Green's Joe, John Ridley's JIMI: All Is By My Side and a special screening of 1954's Godzilla: The Japanese Original, with a Q&A following with 2014 Godzilla director Gareth Edwards. They join previously announced films such as Opening Night film Chef, as well as narrative features Veronica Mars, Break Point, and Creep, and documentaries Doc of the Dead, Leave the World Behind, and the Episodic Special Event COSMOS: A SpaceTime Odyssey.

The 2014 SXSW Film Festival will feature:

NARRATIVE FEATURE COMPETITION
Eight world premieres, eight unique ways to celebrate the art of storytelling. Selected from 1,324 films submitted to SXSW 2014.

Films screening in Narrative Feature Competition are:

10,000KM (Spain)
Director: Carlos Marques Marcet, Screenwriters: Carlos Marques-Marcet, Clara Roquet Autonell
A year of a long distance relationship, two computers and two cities – Los Angeles and Barcelona, can love survive 6,000 miles? Cast: Natalia Tena, David Verdaguer (World Premiere)

Animals
Director: Collin Schiffli, Screenwriter: David Dastmalchian
Jude and Bobbie are a young, homeless couple who masterfully con and steal in an attempt to stay one step ahead of their addiction. They are ultimately forced to face the reality of their situation when one of them is hospitalized. Cast: David Dastmalchian, Kim Shaw, John Heard (World Premiere)

Before I Disappear
Director/Screenwriter: Shawn Christensen
Based on the 2013 Academy Award® winning short film Curfew. At the lowest point of his life, Richie gets a call from his estranged sister, asking him to look after his eleven-year-old niece, Sophia, for a few hours.
Cast: Shawn Christensen, Fatima Ptacek, Emmy Rossum, Paul Wesley, Ron Perlman, Richard Schiff
(World Premiere)

Fort Tilden
Directors/Screenwriters: Sarah-Violet Bliss, Charles Rogers
It shouldn't be this hard for Allie and Harper to get to the beach.
Cast: Bridey Elliott, Clare McNulty, Griffin Newman, Jeffrey Scaperrotta, Neil Casey (World Premiere)

The Heart Machine
Director/Screenwriter: Zachary Wigon
A man begins to suspect that his long-distance girlfriend, whom he met online but has never met in person, has been living in the same city the whole time and sets out to find her.
Cast: John Gallagher Jr., Kate Lyn Sheil, David Call, Louisa Krauss (World Premiere)

I Believe in Unicorns
Director/Screenwriter: Leah Meyerhoff
I Believe in Unicorns follows the lyrical journey of an imaginative teenage girl who runs away from home with an older punk rock drifter, but not even unicorns can save her now.
Cast: Natalia Dyer, Peter Vack, Julia Garner, Amy Seimetz, Toni Meyerhoff (World Premiere)

The Mend
Director/Screenwriter: John Magary
A dark comedy about rage, doubt, lust, madness and other brotherly hand-me-downs.
Cast: Josh Lucas, Stephen Plunkett, Lucy Owen, Mickey Sumner, Austin Pendleton (World Premiere)

Wild Canaries
Director/Screenwriter: Lawrence Michael Levine
When their elderly neighbor suddenly drops dead, a young Brooklyn couple investigates signs of foul play.
Cast: Sophia Takal, Lawrence Michael Levine, Alia Shawkat, Annie Parisse, Jason Ritter (World Premiere)

DOCUMENTARY FEATURE COMPETITION
Selected from 892 submissions, the eight world premieres in the Documentary Feature category bring real world stories to life, demonstrating innovation, energy and bold voices.

Films screening in Documentary Feature Competition are:

Beginning With The End
Director: David Marshall
Beginning With the End takes viewers on a profound, and profoundly moving, journey with a group of high school seniors working as trained hospice volunteers -- a story of beginnings and endings in a year of self-discovery and awakening. (World Premiere)

Born To Fly
Director: Catherine Gund
Born To Fly pushes the boundaries between action and art, daring us to join choreographer Elizabeth Streb and her dancers in pursuit of human flight. (World Premiere)
*SXsports screening

The Great Invisible
Director: Margaret Brown
Penetrating the oil industry's secretive world, The Great Invisible examines the Deepwater Horizon disaster through the eyes of oil executives, explosion survivors and Gulf Coast residents who were left to pick up the pieces when the world moved on. (World Premiere)

The Immortalists
Directors: Jason Sussberg, David Alvarado
Two eccentric scientists struggle to create eternal youth in a world they call "blind to the tragedy of old age." As they battle their own aging and suffer the losses of loved ones, their scientific journeys ultimately become personal. (World Premiere)

Impossible Light
Director: Jeremy Ambers
Impossible Light reveals the drama and the daring of artist Leo Villareal and a small team of visionaries who battle seemingly impossible challenges to turn a dream of creating the world's largest LED light sculpture into a glimmering reality. (World Premiere)

Mateo
Director: Aaron I. Naar
Mateo follows America's most notorious white mariachi singer on his misadventures in Cuba.
(World Premiere)

Print the Legend
Directors: Luis Lopez, Clay Tweel
The 3D Printing revolution has begun. Who will make it? (World Premiere)

Vessel
Director: Diana Whitten
A fearless sea captain, Dr. Rebecca Gomperts, sails a ship through loopholes in international law, providing abortions on the high seas, and leaving in her wake a network of emboldened activists who trust women to handle abortion on their own terms. (World Premiere)

HEADLINERS
Big names, big talent: Headliners bring star power to SXSW, featuring red carpet premieres & gala film events with major & rising names in cinema.

Films screening in Headliners are:

Chef
Director/Screenwriter: Jon Favreau
Chef is a rich and vibrant comedy - the story of Carl Casper (Favreau), who loses his chef job and cooks up a food truck business in hopes of reestablishing his artistic promise. At the same time, he tries to reconnect with his estranged family.
Cast: Jon Favreau, Sofia Vergara, Scarlett Johansson, John Leguizamo, Bobby Cannavale, Dustin Hoffman, Oliver Platt, Robert Downey, Jr., Emjay Anthony (World Premiere)

Joe
Director: David Gordon Green, Screenwriters: Larry Brown, Gary Hawkins
A gripping mix of friendship, violence and redemption erupts in the contemporary South in this adaptation of Larry Brown's novel. Cast: Nicolas Cage, Tye Sheridan (U.S. Premiere)

Neighbors
Director: Nicholas Stoller, Screenwriters: Andrew J. Cohen, Brendan O'Brien
Seth Rogen, Zac Efron and Rose Byrne lead the cast of Neighbors, a comedy about a young couple suffering from arrested development who are forced to live next to a fraternity house after the birth of their newborn baby. Cast: Seth Rogen, Zac Efron, Rose Byrne, Christopher Mintz-Plasse, Dave Franco, Ike Barinholtz, Lisa Kudrow (Worldwide Debut – work-in-progress)

Predestination (Australia)
Directors/Screenwriters: Michael Spierig, Peter Spierig
A riveting adventure through time centered on a secret government time traveling agency designed to prevent future killers and terrorists from committing their crimes.
Cast: Ethan Hawke, Sarah Snook, Noah Taylor (World Premiere)

Veronica Mars
Director/Screenwriter: Rob Thomas, Screenwriter: Diane Ruggiero
Years after walking away from her past as a teenage private eye, Veronica Mars gets pulled back to her hometown, an ex-boyfriend with baggage, and an unraveling murder mystery.
Cast: Kristen Bell, Jason Dohring, Krysten Ritter, Ryan Hansen, Enrico Colantoni (World Premiere)

NARRATIVE SPOTLIGHT
High profile narrative features receiving their World, North American or US Premieres at SXSW.

Films screening in Narrative Spotlight are:

Break Point
Director: Jay Karas, Screenwriters: Gene Hong, Jeremy Sisto
Two estranged brothers reunite to make an improbable run at a grand slam tennis tournament. The mismatched pair, with some unlikely help from a precocious 11-year-old boy, re-discover their game and their brotherhood.
Cast: Jeremy Sisto, David Walton, Joshua Rush, J.K. Simmons, Amy Smart (World Premiere)
*SXsports screening

CESAR CHAVEZ
Director: Diego Luna
Chávez chronicles the birth of a modern American movement led by famed civil rights leader and labor organizer, Cesar Chavez. Cast: Rosario Dawson, John Malkovich, Michael Pena, America Ferrera, Gabriel Mann (North American Premiere)

Faults
Director/Screenwriter: Riley Stearns
An expert on cults is hired by a mother and father to kidnap and deprogram their brainwashed daughter. He soon begins to suspect the parents may be more destructive than the cult he's being hired to save her from. Cast: Leland Orser, Mary Elizabeth Winstead, Chris Ellis, Lance Reddick, Jon Gries (World Premiere)

The Frontier
Director/Screenwriter: Matt Rabinowitz, Screenwriter: Carlos Colungu
An estranged son travels back home to confront his overbearing father to see if there is any relationship left between them.
Cast: Max Gail, Coleman Kelly, Anastassia Sendyk, Katherine Cortez, Oliver Seitz (World Premiere)

Kelly & Cal
Director: Jen McGowan, Screenwriter: Amy Lowe Starbin
Kelly & Cal explores the heartfelt, somewhat absurd moments in our lives when we seek out a little bit of extra attention. Cast: Juliette Lewis, Jonny Weston, Josh Hopkins, Cybil Shepherd (World Premiere)

The Mule (Australia)
Directors: Angus Sampson, Tony Mahony, Screenwriters: Leigh Whannell, Angus Sampson
In 1983, a naive man is detained by Australian Federal Police with lethal narcotics hidden in his stomach. Caught, 'The Mule' makes a desperate choice...to defy his bodily functions and withhold the evidence...literally. Cast: Hugo Weaving, Angus Sampson, Leigh Whannell, Ewen Leslie, Geoff Morrell, Georgina Haig, Noni Hazlehurst, John Noble (World Premiere)

A Night In Old Mexico (USA / Spain)
Director: Emilio Aragón, Screenwriter: William D. Wittliff
Forced to give up his land and home, Texas rancher Red Bovie isn't about to retire quietly in a dismal trailer park. Instead he hits the road with his estranged grandson for one last adventure.
Cast: Robert Duvall, Jeremy Irvine, Angie Cepeda, Luis Tosar, Joaquín Cosio (World Premiere)
 
Patrick's Day (Ireland)
Director/Screenwriter: Terry McMahon
A young man with mental health issues becomes intimate with a suicidal air hostess but his obsessive mother enlists a dysfunctional cop to separate them.
Cast: Kerry Fox, Moe Dunford, Catherine Walker, Philip Jackson (World Premiere)

Sequoia
Director: Andy Landen, Screenwriter: Andrew Rothschild
Faced with stage three cancer, a young woman sets out to end her life on her own terms, in Sequoia National Park. Cast: Aly Michalka, Dustin Milligan, Todd Lowe, Demetri Martin, Sophi Bairley (World Premiere)

She's Lost Control
Director/Screenwriter: Anja Marquardt
Ronah's life unravels when she starts working with a new client, Johnny.
Cast: Brooke Bloom, Marc Menchaca, Dennis Boutsikaris, Laila (North American Premiere)

Take Care
Director/Screenwriter: Liz Tuccillo
After being hit by a car, a woman (Leslie Bibb) comes home to realize her friends don't really want to take care of her. Desperate for help, she turns to an unlikely source.
Cast: Leslie Bibb, Thomas Sadoski, Betty Gilpin, Michael Stahl David, Nadia Dajani (World Premiere)

Thank You a Lot
Director/Screenwriter: Matt Muir
A struggling, two-bit music manager will lose his job unless he signs a reclusive country music singer, James Hand, who also happens to be his estranged father. Cast: Blake DeLong, James Hand, Robyn Rikoon, Sonny Carl Davis, Jeffery Da'Shade Johnson (World Premiere)

Things People Do
Director: Saar Klein, Screenwriters: Joe Conway, Saar Klein
Bill Scanlin loses his job and embarks on a life of crime. As Bill stays ahead of the law, he discovers that sometimes the only thing worse than getting caught is getting away with it.
Cast: Wes Bentley, Jason Isaacs, Vinessa Shaw, Haley Bennett (North American Premiere)

Two Step
Director/Screenwriter: Alex R. Johnson
Two Step is a fast-paced Texas thriller in which the lives of James, a directionless college dropout, and Webb, a career criminal with his back against the wall, violently collide.
Cast: Beth Broderick, James Landry Hébert, Skyy Moore, Jason Douglas, Ashley Rae Spillers (World Premiere)

We'll Never Have Paris
Directors: Jocelyn Towne, Simon Helberg, Screenwriter: Simon Helberg
We'll Never Have Paris is a clumsy and at once human account of screwing up on a transcontinental level in a noble effort to win back "the one." Cast: Simon Helberg, Maggie Grace, Melanie Lynskey, Alfred Molina, Zachary Quinto, Jason Ritter (World Premiere)

DOCUMENTARY SPOTLIGHT
Shining a light on new documentary features receiving their World, North American or U.S. Premieres at SXSW.

Films screening in Documentary Spotlight are:

Above All Else
Director: John Fiege
A former stuntman and high wire artist puts his family and future on the line when he rallies a group of East Texas landowners and activists to blockade the controversial Keystone XL pipeline. (World Premiere)

Butterfly Girl
Director: Cary Bell
Abbie came of age in honky tonks, defying her life threatening disease, but all the while longing for an identity of her own. Now that she is 18, how much is she willing to sacrifice for her independence? (World Premiere)

DamNation
Directors: Travis Rummel, Ben Knight
This powerful film odyssey across America explores the sea change in national attitude from pride in big dams as engineering wonders to the growing awareness that our own future is bound to the life and health of our rivers. (World Premiere)

Doc of the Dead
Director: Alexandre O. Philippe
The definitive zombie culture documentary, from the makers of The People vs. George Lucas. Doc of the Dead traces the rise and evolution of the zombie genre, its influence on pop culture, and investigates the possibility of an actual zombie outbreak. (World Premiere)

Harmontown
Director: Neil Berkeley
A comedic, brutally honest documentary following self-destructive TV writer Dan Harmon (NBC's Community) as he takes his live podcast on a national tour. (World Premiere)

LADY VALOR: The Kristin Beck Story
Directors: Sandrine Orabona, Mark Herzog
A former U.S. Navy Seal seeks life, liberty and the pursuit of happiness living life as a transgender woman. (World Premiere)

The Legend Of Shorty (UK)
Directors: Angus MacQueen, Guillermo Galdos
The Legend of Shorty is the story of a man and a myth. (World Premiere)

Manny
Directors: Ryan Moore, Leon Gast
From abject poverty to international hero, Manny Pacquiao rose to fame in the boxing ring. At the height of his career, Manny entered the political arena. As history's only boxing Congressman, Manny is faced with a new challenge. (World Premiere)
*SXsports screening

Seeds of Time
Director: Sandy McLeod
Seeds of Time follows agriculture pioneer Cary Fowler's global journey to save the eroding foundation of our food supply in a new era of climate change. (North American Premiere)

Supermensch
Director: Mike Myers
Mike Myers makes his directorial debut with this star-packed documentary about the legendary Shep Gordon, who managed the careers of Alice Cooper, Blondie, Luther Vandross, and Raquel Welch — and still had time to invent the "celebrity chef". (U.S. Premiere)

That Guy Dick Miller
Director: Elijah Drenner
That Guy Dick Miller is the incredible true story of the wannabe-writer, turned accidental character-actor.
(World Premiere)

Wicker Kittens
Director: Amy C. Elliott
Every January, the country's largest jigsaw puzzle contest is held in St. Paul, Minnesota. Wicker Kittens invites you to choose your favorite team and watch them try to put the pieces back together. (World Premiere) *SXsports screening

VISIONS
Audacious, risk-taking artists in the new cinema landscape that demonstrate raw innovation and creativity in documentary and narrative filmmaking.

Films screening in Visions are:

Arlo and Julie
Director/Screenwriter: Steve Mims
A neurotic couple's obsession with a mysterious puzzle comically unravels their world, disconnecting them from reality and jeopardizing their fragile relationship.
Cast: Alex Dobrenko, Ashley Spillers, Chris Doubek, Sam Eidson, Hugo Zesati (World Premiere)

Beyond Clueless (UK)
Director: Charlie Lyne
Narrated by cult teen star Fairuza Balk, Beyond Clueless is a dizzying journey into the mind, body and soul of the teen movie, as seen through the eyes of over 200 modern coming-of-age classics. (World Premiere)

Big Significant Things
Director/Screenwriter: Bryan Reisberg
A week before they move across the country together, Craig lies to his girlfriend in order to go on his first road trip - to the south. Alone. Cast: Harry Lloyd, Krista Kosonen (World Premiere)

Buzzard
Director/Screenwriter: Joel Potrykus
Devil masks, metal, video games, Mountain Dew, and a Party Zone. Scheming slackers of the world unite and take over!
Cast: Joshua Burge, Joel Potrykus, Teri Ann Nelson, Alan Longstreet, Rico Bruce Wade (World Premiere)

Creep
Director/Screenwriter: Patrick Brice, Screenwriter: Mark Duplass
When a videographer answers a Craigslist ad for a one-day job in a remote mountain town, he finds his client is not at all what he initially seems. Cast: Mark Duplass, Patrick Brice (World Premiere)

Cumbres (Heights) (Mexico)
Director/Screenwriter: Gabriel Nuncio
Due a tragedy, two sisters abruptly escape from their hometown in Northern Mexico. Their journey creates a bittersweet relationship marked by pain, guilt and love.
Cast: Aglae Lingow, Ivanna Michel, Abdul Marcos, Sergio Quiñones, Ganzo Cepeda (U.S. Premiere)

The Dance of Reality (Chile / France)
Director/Screenwriter: Alejandro Jodorowsky
The Dance of Reality is a 2013 independent autobiographical film written, produced and directed by Alejandro Jodorowosky. Cast: Brontis Jodorowsky, Pamela Flores, Jeremias Herskovits, Cristobal Jodorowsky, Bastián Bodenhöfer, Alejandro Jodorowsky (U.S. Premiere)

Evaporating Borders (USA / Cyprus)
Director: Iva Radivojevic
Evaporating Borders is a poetically photographed and rendered film on tolerance and search for identity. Told through 5 vignettes portraying the lives of migrants on the island of Cyprus, it passionately weaves themes of displacement and belonging. (North American Premiere)

Evolution of a Criminal
Director: Darius Clark Monroe
How does a 16 year-old evolve into a bank robber? (World Premiere)

Housebound (New Zealand)
Director/Screenwriter: Gerard Johnstone
When Kylie Bucknell is sentenced to home detention, she's forced to come to terms with her unsociable behaviour, her blabbering mother and a hostile spirit who seems less than happy about the new living arrangement.
Cast: Morgana O'Reilly, Rima Te Wiata, Glen-Paul Waru, Cameron Rhodes, Millen Baird (World Premiere)

The Infinite Man (Australia)
Director/Screenwriter: Hugh Sullivan
The Infinite Man is a time travel comedy-romance about a man whose attempts to construct the perfect romantic weekend backfire when he traps his lover in an infinite loop.
Cast: Josh McConville, Hannah Marshall, Alex Dimitriades (World Premiere)

Open Windows (Spain)
Director/Screenwriter: Nacho Vigalondo
Nick's a lucky guy - he's having dinner with Jill Goddard, the hottest actress on earth. Then a guy named Chord calls: dinner's been canceled. And it's Jill's fault. But Chord's got something better… A 21st Century Rear Window. Cast: Elijah Wood, Sasha Grey, Neil Maskell, Adam Quintero, Ivan Gonzalez (World Premiere)

Other Months
Director/Screenwriter: Nick Singer
Marking time as an itinerant plumber, and haunted by recurrent nightmares, Nash hungers for the fleeting ecstasies of nightclubs and bedrooms. Other Months is a stark, honest portrait of disconnection—a young man coming to face his paralysis. Cast: Christopher Bonewitz, Britannie Bond, Emma Morrison-Cohen, Liam Ahern, David Rudi Utter (World Premiere)

The Possibilities Are Endless (UK)
Directors: Edward Lovelace, James Hall
Scottish musician, Edwyn Collins' world was shattered by a devastating stroke. After fighting back from the brink of death, he discovers that life, love and language mean even more to him that he could ever have imagined. (World Premiere)

Premature
Director/Screenwriter: Dan Beers, Screenwriter: Mathew Harawitz
On the most important day of his young life, a high school senior is forced to relive his failed attempt at losing his virginity over and over again, until he gets it right.
Cast: John Karna, Katie Findlay, Craig Roberts, Carlson Young, Adam Riegler (World Premiere)

Song from the Forest (Germany)
Director: Michael Obert
A modern epic set between rainforest and skyscrapers. (North American Premiere)

Space Station 76
Director/Screenwriter: Jack Plotnick, Screenwriters: Jennifer Cox, Sam Pancake, Kali Rocha, Michael Stoyanov
Welcome to the future of the past.
Cast: Patrick Wilson, Liv Tyler, Matt Bomer, Marisa Coughlan, Kylie Rogers (World Premiere)

Surviving Cliffside
Director: Jon Matthews
A West Virginia family faces illness, addiction, and gun violence---while their daughter makes a run for Little Miss West Virginia. (World Premiere)

The Wilderness of James
Director/Screenwriter: Michael Johnson
A restless teenager explores the wilderness of his city while struggling with the absence of his father. Cast: Kodi Smit-McPhee, Virginia Madsen, Isabelle Fuhrman, Evan Ross, Danny DeVito (World Premiere)

EPISODIC (*New screening section)
Featuring innovative new work aimed squarely at the small screen, Episodic tunes in to the explosion of exciting material on non-theatrical platforms, including serialized TV, webisodes and beyond.

Shows premiering in Episodic are:

COSMOS: A SpaceTime Odyssey
Directors: Brannon Braga, Bill Pope, Screenwriters: Ann Druyan, Steven Soter
COSMOS: A SpaceTime Odyssey is a thrilling, 13-part adventure across the universe of space and time revealed by science, exploring humanity's heroic quest for a deeper understanding of nature.
Narrator: Neil deGrasse Tyson

Deadbeat
Director: Troy Miller, Written And Co-Created By: Cody Heller, Brett Konner
Kevin Pacalioglu may have no money and no clue, but he does have one thing–he can see dead people. Faced with New York's most stubborn ghosts, our hapless medium goes to whatever lengths necessary to help finish their unfinished business. Cast: Tyler Labine, Cat Deeley, Brandon T. Jackson, Lucy DeVito (World Premiere)

From Dusk Till Dawn: The Series - Pilot
Director/Screenwriter: Robert Rodriguez
The Gecko Brothers are back. Based on the thrill-ride film, From Dusk Till Dawn: The Series is a supernatural crime saga from Creator, Director and EP Robert Rodriguez premiering March 11 on El Rey Network.
Cast: D.J. Cotrona, Zane Holtz, Eiza González, Jesse Garcia, Lane Garrison, and Wilmer Valderrama,
and Don Johnson (World Premiere)

Halt and Catch Fire
Director: Juan Jose Campanella, Screenwriters: Christopher Cantwell, Christopher C. Rogers
Halt and Catch Fire captures the rise of the PC era in the early 1980s, during which an unlikely trio – a visionary, an engineer and a prodigy – take personal and professional risks in the race to build a computer that will change the world as they know it. Cast: Lee Pace, Scoot McNairy, Mackenzie Rio Davis, Kerry Bishe, Toby Huss, David Wilson Barnes (World Premiere)

Penny Dreadful (USA / UK)
Directors: John Logan, Juan Antonio Bayona, Screenwriter: John Logan
Penny Dreadful is a psychological horror series that re-imagines literature's most terrifying characters (Dr. Frankenstein, Dorian Gray and iconic figures from the novel Dracula) in a whole new light.
Cast: Josh Hartnett, Timothy Dalton, Eva Green, Reeve Carney, Rory Kinnear, Billie Piper, Danny Sapani,
Harry Treadaway (World Premiere)

Silicon Valley
Director: Mike Judge, Created By: Mike Judge & John Altschuler & Dave Krinsky,
Episode One Written By Mike Judge & John Altschuler & Dave Krinsky.
Episode Two Written By Carson Mell.
The new HBO series Silicon Valley takes a comic look at the modern-day epicenter of the high-tech gold rush, where the people most qualified to succeed are the least capable of handling success.
Cast: Thomas Middleditch, T.J. Miller, Zach Woods, Kumail Nanjiani, Martin Starr, Josh Brener, Christopher Evan Welch, Amanda Crew, Matt Ross (World Premiere)

24 BEATS PER SECOND
Showcasing the sounds, culture & influence of music & musicians, with an emphasis on documentary.

Films screening in 24 Beats Per Second are:

The 78 Project Movie
Director: Alex Steyermark
The 78 Project is a journey to connect today's musicians with the recordings of the past. Using a 1930's Presto recorder, artists get one take to cut a 78rpm record anywhere, finding in that adventure a new connection to our shared cultural legacy. (World Premiere)

AMERICAN INTERIOR (Wales)
Directors: Dylan Goch, Gruff Rhys
Two men. Two quests. Two centuries apart. Four ways to experience the search for a lost tribe. Film. Book. Album . App. (World Premiere)

The Case of the Three Sided Dream
Director: Adam Kahan
The documentary film on the life and legacy of Rahsaan Roland Kirk – a one of a kind musician, personality, activist and windmill slayer who despite being blind, becoming paralyzed, and facing America's racial injustices - did not relent. (World Premiere)

Deep City
Directors: Dennis Scholl, Marlon Johnson
Deep City is an inspirational story that explores the early days of soul music in South Florida, the pioneers of that era and their lasting contributions to the broader American musical landscape. (World Premiere)

God Help the Girl (UK)
Director/Screenwriter: Stuart Murdoch
An indie musical from Stuart Murdoch of Belle and Sebastian about two girls and a boy and the music they made one Glasgow summer.
Cast: Emily Browning, Olly Alexander, Hannah Murray, Pierre Boulanger, Cora Bissett

JOHNNY WINTER: DOWN & DIRTY
Director: Greg Olliver
A down & dirty documentary on the life and career of blues legend Johnny Winter, featuring Edgar Winter, James Cotton, Billy Gibbons, Warren Haynes, Luther Nallie, Tommy Shannon, Susan Tedeschi, Derek Trucks and more. (World Premiere)

Leave The World Behind (UK)
Director: Christian Larson
A documentary following the break-up of Swedish House Mafia and their subsequent One Last Tour. A rare look at the electronic scene, amazing live footage and the psychological drama of 3 guys who walked away from everything to save their friendship. (World Premiere)

Our Vinyl Weighs A Ton (This Is Stones Throw Records)
Director: Jeff Broadway
Our Vinyl Weighs A Ton is a feature-length documentary about avant-garde Los Angeles-based record label Stones Throw Records.

Que Caramba es la Vida (Germany)
Director: Doris Dörrie
In the macho world of Mariachi music, very few women can hold their own. Just like the songs they play, this film is a snapshot of life, death and the things in between - seen from a bird's-eye perspective. (World Premiere)

Road To Austin
Director: Gary Fortin
Road To Austin, chronicles how Austin, Texas became the Live Music Capital of the World, dating from 1835 to present day. The film builds to a climax and weaves its way towards an all-star live performance led by Stephen Bruton and his 14-piece band. (World Premiere)

Rubber Soul
Director/Screenwriter: Jon Lefkovitz
Rubber Soul reconstructs portions of two historical interviews with John Lennon and Yoko Ono based on available transcripts and audio, juxtaposing them in order to explore the dynamic nature of Lennon's identity over time. Cast: Joseph Bearor, Denice Lee, Dillon Porter, Andrew Perez (World Premiere)

Sheffield: Sex City (UK)
Director: Florian Habicht
Dylan said 'Don't Look Back' - but what happens if you do? (World Premiere)

Soul Boys of the Western World (UK)
Director: George Hencken
A voyage through the heart of the 80s with one of the decade's most iconic bands, Spandau Ballet, this archive-only film tells the story of a group of working-class London lads who created a global music Empire, but at a price none of them imagined. (World Premiere)

SVDDXNLY
Director: David Laven
SVDDXNLY uncovers the young life and career of A$AP Rocky and the A$AP Mob, from humble Harlem beginnings to their rapid rise to fame. (World Premiere)

Take Me to the River
Director: Martin Shore
Take Me to the River is a film about the soul of American music. The film follows the recording of a new album featuring legends from Stax records and Memphis mentoring and passing on their musical magic to stars and artists of today. (World Premiere)

The Winding Stream
Director: Beth Harrington
The Winding Stream is the story of the American music dynasty, the Carters and Cashes, and their decades-long influence on popular music. (World Premiere)

SXGLOBAL
A diverse selection of International filmmaking talent, featuring innovative narratives, artful documentaries, premieres, festival favorites and more.

Films screening in SX Global are:

The Desert (Argentina)
Director: Christoph Behl
The failed story of a love triangle in a post-apocalyptic world.
Cast: Victoria Almeida, William Prociuk, Lautaro Delgado (North American Premiere)

For Those in Peril (UK)
Director/Screenwriter: Paul Wright
In a remote Scottish town, a young man is the lone survivor of a strange fishing accident that claimed the lives of 5 men. Spurred on by sea-going folklore, the village blames him for this tragedy, making him an outcast amongst his own people.
Cast: George Mackay, Michael Smiley, Nichola Burley, Kate Dickie (North American Premiere)
 
The Special Need (Germany / Italy / Austria)
Director: Carlo Zoratti
Searching for "the first time" Alex, Carlo and their autistic friend Enea find a lot more than they were looking for... (North American Premiere)

Ukraine Is Not A Brothel (Australia)
Director: Kitty Green
A feature documentary that reveals the truth behind Ukraine's topless feminist sensation, 'Femen'.

Wetlands (Germany)
Director: David F. Wnendt, Screenwriters: Claus Falkenberg, David F. Wnendt
18-year-old Helen has her very own view on life, hygiene and good sex. she loves to shock people with unexpected and un-girly behavior.
Cast: Carla Juri, Christoph Letkowski, Meret Becker, Marlen Kruse, Peri Baumeister

A Wolf at the Door (Brazil)
Director/Screenwriter: Fernando Coimbra
A nerve-rattling tale of a kidnapped child and the distraught parents left behind that captures the darkness that ensues when panic breeds suspicion and love turns to hate.
Cast: Milhelm Cortaz, Leandra Leal, Fabiula Nascimento (U.S. Premiere)

FESTIVAL FAVORITES
Acclaimed standouts & selected previous premieres from festivals around the world.

Films screening in Festival Favorites are:

Bad Words
Director: Jason Bateman, Screenwriter: Andrew Dodge
Jason Bateman's feature directorial debut is the subversive comedy Bad Words. Bateman stars as Guy, who finds a loophole in the rules of a national spelling bee and causes trouble by hijacking the competition.
Cast: Jason Bateman, Kathryn Hahn, Rohan Chand, Philip Baker Hall, Allison Janney

Boyhood
Director/Screenwriter: Richard Linklater
One family's journey shot over the course of 12 years.
Cast: Patricia Arquette, Ethan Hawke, Ellar Coltrane, Lorelei Linklater

The Case Against 8
Directors: Ben Cotner, Ryan White
A behind-the-scenes look inside the case to overturn California's ban on same-sex marriage. Shot over five years, the film follows the unlikely team that took the first federal marriage equality lawsuit to the U.S. Supreme Court.

The Dog
Directors: Allison Berg, Frank Keraudren
An astonishing documentary portrait of the late John Wojtowicz, whose attempted robbery of a Brooklyn bank to finance his male lover's sex-reassignment surgery was the real-life inspiration for the classic Al Pacino film Dog Day Afternoon.

For No Good Reason (England)
Director: Charlie Paul
Johnny Depp pays a call on his friend and hero Ralph Steadman and we take off on a high-spirited, raging and kaleidoscopic journey discovering the life and works of one of the most distinctive radical artists of the last 50 years.

Frank
Director: Lenny Abrahamson, Screenwriters: Jon Ronson, Peter Straughan
Frank is a comedy about a young wannabe musician, Jon, who discovers he's bitten off more than he can chew when he joins a band of eccentric musicians led by the mysterious and enigmatic Frank and his terrifying sidekick, Clara. Cast: Domhnall Gleeson, Maggie Gyllenhaal, Michael Fassbender, Scoot McNairy, Carla Azar

Hellion
Director/Screenwriter: Kat Candler
When 13-year-old Jacob's delinquent behavior results in the authorities placing his little brother Wes with their aunt, he and his emotionally absent father must finally take responsibility for their actions and each other in order to bring Wes home. Cast: Aaron Paul, Juliette Lewis, Josh Wiggins, Deke Garner, Jonny Mars

The Internet's Own Boy: The Story of Aaron Swartz
Director: Brian Knappenberger
The story of programming prodigy and information activist Aaron Swartz, from the development of RSS and Reddit to his groundbreaking work in political organizing and the tragic taking of his own life at the age of 26.

JIMI: All Is By My Side
Director/Screenwriter: John Ridley
Covering a year in Hendrix's life from 1966-67, the film presents an intimate portrait of the sensitive young musician on the verge of becoming a rock legend.
Cast: Andre Benjamin, Hayley Atwell, Imogen Poots, Ruth Negga, Adrian Lester (U.S. Premiere)

Kumiko, The Treasure Hunter
Director/Screenwriter: David Zellner, Screenwriter: Nathan Zellner
A lonely Japanese woman abandons her structured life in Tokyo to seek a satchel of money rumored to be hidden in the Minnesota wilderness.
Cast: Rinko Kikuchi, Nobuyuki Katsube, David Zellner, Nathan Zellner, Shirley Venard

No No: A Dockumentary
Director: Jeffrey Radice
In the 1970s Dock Ellis pitched a no-hitter on LSD and courted conflict and controversy, but his latter years were spent helping others recover from addiction. No No: A Dockumentary weaves a surprising story of a life in and out of the spotlight.
*SXsports screening

Obvious Child
Director/Screenwriter: Gillian Robespierre
Obvious Child is an unapologetically honest comedy about what happens when 27 year‑old Brooklyn stand-up comedian Donna Stern (Jenny Slate) gets dumped, fired and pregnant just in time for Valentine's Day.
Cast: Jenny Slate, Jake Lacy, Gaby Hoffmann, Gabe Liedman, David Cross

Only Lovers Left Alive
Director/Screenwriter: Jim Jarmusch
A story centered on two vampires who have been in love for centuries.
Cast: Tom Hiddleston, Tilda Swinton, Mia Wasikowska, John Hurt, Anton Yelchin

Ping Pong Summer
Director/Screenwriter: Michael Tully
Coming soon...Summer 1985.
Cast: Susan Sarandon, John Hannah, Lea Thompson, Amy Sedaris, Robert Longstreet

The Raid 2
Director/Screenwriter: Gareth Evans
Picking up from right where the first film ends, The Raid 2 follows Rama as he goes undercover and infiltrates the ranks of a ruthless Jakarta crime syndicate in order to protect his family and uncover the corruption in the police force.
Cast: Iko Uwais, Yayan Ruhian, Arifin Putra, Oka Antara, Tio Pakusadwo

SPECIAL EVENTS
Live Soundtracks, cult re-issues & much more. Our Special Events section offers unusual, unexpected & unique film event one-offs.

Films screening in Special Events are:

All American High: Revisited
Director: Keva Rosenfeld
All American High: Revisited is a time capsule of teen life in the 1980s, a long-lost documentary that captures an unforgettable era through the eyes of those who lived it.

Double Play: James Benning and Richard Linklater (France / Portugal / US)
Director: Gabe Klinger
A documentary portrait of the friendship between the renowned filmmakers James Benning and Richard Linklater. (U.S. Premiere)

GODZILLA: THE JAPANESE ORIGINAL (Japan)
Director: Ishiro Honda, Screenwriters: Takeo Murata, Ishiro Honda
The 1954 classic that inspired the modern monster movie (national re-release from Rialto Pictures in April). Q&A with Gareth Edwards, director of the summer 2014 film Godzilla, from Warner Bros Pictures and Legendary Pictures. Cast: Takashi Shimura, Akira Takarada, Momoko Kochi

The Grand Budapest Hotel - Extended Q&A with Wes Anderson
Director/Screenwriter: Wes Anderson
The Grand Budapest Hotel recounts the adventures of Gustave H, a legendary concierge at a famous European hotel between the wars; and Zero Moustafa, the lobby boy who becomes his most trusted friend. The story involves the theft and recovery of a priceless Renaissance painting; a raging battle for an enormous family fortune; a desperate chase on motorcycles, trains, sleds, and skis; and the sweetest confection of a love affair - all against the back-drop of a suddenly and dramatically changing Continent.
Cast: Ralph Fiennes, Tony Revolori, F. Murray Abraham, Mathieu Amalric, Adrien Brody, Willem Dafoe,
Jeff Goldblum, Jude Law, Bill Murray, Edward Norton, Saoirse Ronan, Jason Schwartzman, Tilda Swinton,
Tom Wilkinson, Owen Wilson

The Texas Chain Saw Massacre - 40th Anniversary Screening
Director/Screenwriter: Tobe Hooper, Screenwriter: Kim Henkel
An idyllic summer afternoon becomes a terrifying nightmare for five young friends after they stumble upon the home of a depraved Texas clan. Cast: Marilyn Burns, Paul A. Partain, Edwin Neal, Jim Siedow, Gunnar Hansen