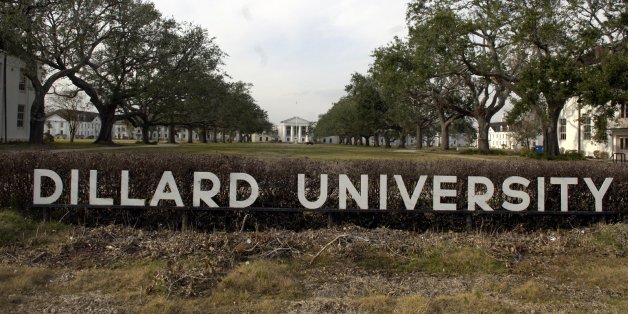 Dillard University will welcome renowned gospel artist Kirk Franklin to the campus on Feb 6., an appearance made possible by the university's signature 'Brain Food' presidential lecture series. Franklin will be the latest in a cast of diverse, distinguished presenters on the historic New Orleans HBCU campus this semester, joining Martin Luther King Jr. speechwriter Clarence Jones, CNN Political Analyst Sunny Hostin, and faith-based social justice activist Jim Wallis.
They are a part of a lecture series renaissance on HBCU campuses around the country, thanks to the success of its modern-day patron saint, Dillard President Walter Kimbrough. A scholar on Black Greek-lettered organizations and a veteran presenter on organizational hazing, Kimbrough helped to revive the HBCU lecture series as the former president of Philander Smith College.
"It's a great opportunity for students to hear key people of the day," says Kimbrough, who assumed the Dillard presidency in July 2012. "HBCU students should have the same kind of experiences as students everywhere else."
With deep traditions interwoven within the socio-political and cultural elements of the American Civil Rights Movement, the HBCU lecture series served as the original speaker circuit for many of the nation's iconic activists, scholars and social commentators. Martin Luther King Jr., Harry Belafonte, Jackie Robinson, Angela Davis, Dick Gregory, Bobby Seale and countless others have addressed undergraduates on black college campuses across the nation on matters of equality, social justice, and professional development.
According to Kimbrough, nearly every president in Dillard's 145-year history has established a lecture series. In New Orleans, Dillard claimed former First Lady Eleanor Roosevelt, Dr. King, Mary McLeod Bethune and other prominent activists as guest speakers in the early 1950's and beyond. At Philander Smith, Kimbrough welcomed a wide range of voices to the campus, from reality star NeNe Leakes and controversial video vixen Karrine Steffans, to conservative pundit Ann Coulter and NAACP President Roslyn Brock.
Predictably, the star power or controversy of the guests brought a lot of attention in Little Rock, AR.
"I can use celebrity to get students to understand what I need them to get," Kimbrough says. "We brought NeNe to talk about domestic violence. A national expert on domestic violence comes in, there's 50 people there. NeNe comes, there's 700. And when she talks about her experience, she brings people to change. We had a young lady come forward and say 'I need help getting out of an abusive relationship.'"
"If you can get one person to think differently, then you've reached the goal."
But with the allure of activism being far outpaced by pop culture and entertainment, there is concern that lesser-known experts some fields will not draw attention from students.
"I don't know if we have anyone today that's on that (MLK) level period," Kimbrough says. "Those leading advocates then were cultural icons, but now, they are two different people. This year, we brought Clarence Jones. We didn't have as many students as we had for other lecturers, because they didn't know who he was. But this guy has an amazing story; he was a speechwriter for Martin Luther King!"
For Kimbrough, it is part of the HBCU mission to bring diverse perspectives which encourage personal development, all within the familial contexts of the historically black college setting.
"It's probably more meaningful at an HBCU, because as smaller institutions, speakers can have more meaningful interaction with the students, and we have a responsibility to show that our education and experiences are just as good (as other institutions). These are people to whom these students may not have been exposed. It also gives faculty members and opportunity to tie in their curriculum to these presentations."
For HBCUs, the lecture series was the scholarly complement to the social outreach of homecoming; a chance to hear renowned thinkers and progressive activists for an affordable price, or free in some cases. But with the commercialization of lectures and presentations, many HBCUs have been priced out of the chance to host distinguished lecturers, and have ceded the knowledge base and exposure to larger, predominantly white institutions with more money for travel and associated appearance expenses.
Kimbrough says the lecture series can serve as an invaluable marketing tool, and with media coverage of national guests coming to campus, the price paid for hosting a celebrity or thought leader far outpaces the costs for paid advertising with regional or national media outlets.
"It's a part of your advertising and branding. You stay in the news for something positive, and the retweets, Facebook posts you can't really measure their value. It's more traction than what you would get for a paid ad in the newspaper or on television."
For many HBCUs, funding often presents a major issue for supporting a robust lecture series. Kimbrough says schools can produce a solid series for around $100,000, but should be augmented by non-profit and corporate support.
"Partnerships with hotels, media companies can help you with accommodations and promotions for the series. Our campus food service company helps us with dinners. And then you reach out to sponsors, nonprofits and other companies to lend financial support."
The Dookie and Leah Chase Foundation will be among those sponsors for upcoming speakers at Dillard. According to Kimbrough, the foundation of one of New Orleans' most famous chefs just contacted the university to confirm its support for the Brain Food series - not just for assisting in bringing scholars to campus, but to lend support to local high school students visiting the campus for the series as well.
At the last edition of the series, Kimbrough said more than 70 New Orleans high school students traveled to Dillard to be in the audience. The recruitment value goes a long way in reaching counselors, parents and all stakeholders in the college selection process.
"Brain Food helps us to build upon our relationships with local high schools, and that's good business for the university," he says. "If we can cultivate those relationships, there's an impact on enrollment, and our bottom line."
The traction can pay off in additional financial support over the long run. Kimbrough cites Coulter's visit to Philander Smith in 2007 and the boost it gave him in appealing to the United Methodist Church for equitable funding on par with predominantly white member schools.
Coulter's visit helped spur conversations and visits to the campus from unlikely visitors - conservative, white Arkansans.
"When she spoke, 85 percent of the people attending were there for the first time. Later, I ran into so many people who said they were on campus for Ann Coulter. We were going to the Arkansas conference of the UMC, and we were able to make a case for increased funding from the group. I think it was a good thing, because I didn't have any trouble getting their support for equalized funding."
"They could see that we were trying to expose students to all kinds of perspectives."