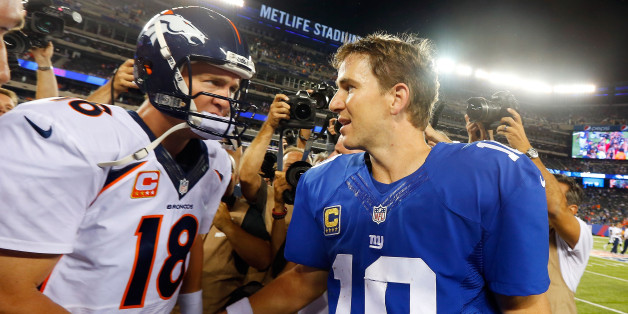 Eli Manning is a two-time Super Bowl-winning quarterback for the New York Giants. His brother, Peyton, happens to be playing with the Denver Broncos in his third Super Bowl this Sunday in New Jersey.
Eli, 33, the No. 1 overall pick in the 2004 NFL Draft, spoke with The Huffington Post about his brother, his experience against the Broncos' opponent, the Seattle Seahawks, what it's like playing in the frigid temperatures of MetLife Stadium, and of course, his love of dogs.
How did you get affiliated with Purina Pro Plan, because this is a really cool cause?
I've been associated with dogs. I do a lot of work with Guiding Eyes for the Blind up here with guide dogs for people who have eye problems and they also have an autistic program, working with kids with autism.

How would you fair in a dog obstacle course?
Probably wouldn't do real well with the obstacle course -- [weaving] in between poles and jumping over things. That's kind of bypassed me a little bit. I can still make the throws and do those things, but all the jumping that's not for me.
Let's talk Super Bowl: This is a unique week for you. What is it like going through all this in New York with your brother playing?
If I'm not going to be in it, there is no one I'd rather be in it than my brother.

What was the main message you communicated to Peyton about playing in this weather, especially in this stadium?
I don't think it's going to be a windy day and I don't think it's going to be real cold, so I think he'll be fine. It's just a matter of execution, and so I'll just try to take away some of the tickets and outside problems that come up when you play in a Super Bowl.
Just how hard is it to deal with all the extraneous factors because you want to lock in, but you also want to take care of ticket requests from family and friends? Do you ever just shut off your phone so it all disappears?
I think obviously Peyton, in his third Super Bowl, and myself having played in two, we have a good little system down. He helped me a bunch when we played in Indy [in the 2012 Super Bowl], and so you try and get all the details done before you get to the Super Bowl city.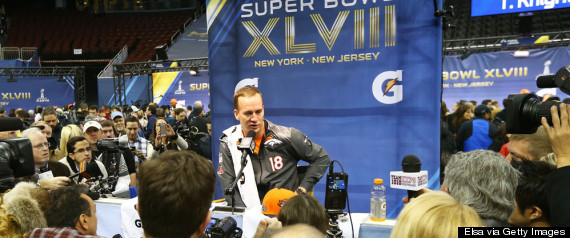 You hosted Seattle this year in a 23-0 loss. How can you attack a defense as prolific as it is?
They're very good and they don't have a weak point. I think Denver is going to have to play a great game. Their offensive line is going to be tested. And that's where I think the game will be won or lost. If those guys can hold up and protect, and give those receivers time to get open ...
Seattle's vaunted secondary -- the Legion of Boom -- gets a lot of media attention, but this team also possesses a very good front seven. What did you see from them this season?


Yeah, they're good. Their defensive line, their defensive ends, they do a good job of stopping the run and then they get to the quarterback. They make him throw before he probably wants to sometimes and they have aggressive corners that make plays, so they're a good squad and they have a good system. Sometimes they're not as productive on the road and that's been a deal, but they're still very talented.
Is there a particular element to the Seattle defense that Peyton can attack?
Well, they like to play a lot of man-to-man and if that's their answer, I think you'll have to see. If they feel they can play man-to-man, I think Denver has a lot of talented weapons, between the tight end, three good receivers, a good running back they can throw to. It will be interesting to see what [Seattle's] attack is: if they'll play more man and single high and try to get pressure, or try to play a little more coverage.
You and Peyton are both known as huge preparation guys, so how much is too much when you have that extra week? Or is there never too much preparation?
You can get into it a little bit, because you've seen most of the games they've played this season. You might start looking at playoff games from the year before and the more film you look at, the more things you'll see [that] you know. A team can only do so much in a game, so obviously you don't want to be surprised by anything, but you have to watch out for over-watching and looking for too many things. Watch out for game-planning too many things.
Let's take that a step further. As a quarterback, when you're in control of a game like this, do nerves play any type of role at all for you?


I don't think so. I think you try to make it like a [regular] game. We talk about it this week, keeping it as routine as possible and it's a little different because you're in a hotel and you're away from family some. But if you usually get a massage on Thursday night this week, then get a massage on Thursday night this week. If you eat certain foods on Friday night, do that. Try to stay with the typical routine and make it seem as normal as possible.
This interview has been edited and condensed.
See more Super Bowl coverage here.
Email me at jordan.schultz@huffingtonpost.com or ask me questions about anything sports-related at @Schultz_Report and follow me on Instagram @Schultz_Report. Also, be sure and catch my NBC Sports Radio show, Kup and Schultz, which airs Sunday mornings from 9-12 ET, right here.