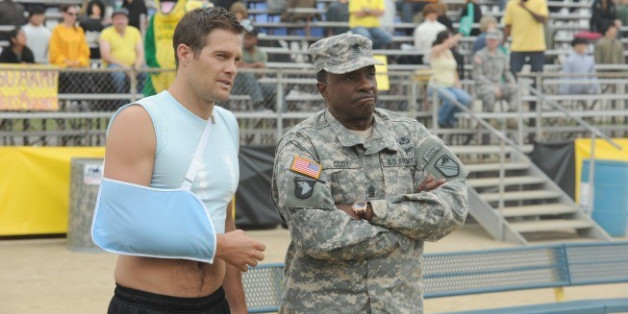 The Super Bowl takes place Sunday (Feb. 2), so it makes sense that Friday's episode of the excellent Fox comedy "Enlisted" features a fierce football rivalry and opposing teams giving their all on the field.
What might make less sense is a grown man wearing a midriff-baring workout shirt during touch-football practice. The belly shirt, viewers find out, is a relic from the days that Staff Sergeant Pete Hill (Geoff Stults) was a star high school athlete.
Comedically speaking, "I let the shirt do all the heavy lifting," actor Geoff Stults said in a recent interview with HuffPost TV.
Stults plays the oldest of three brothers serving in a rear-detachment Army unit; his siblings, Randy Hill (Parker Young) and Derrick Hill (Chris Lowell), never miss a chance to make Pete's life difficult. In Friday's episode, Stults has to coach his platoon, which includes an entertainingly odd set of recruits, when they take on a fierce bunch of Marines in an annual game that the base commander, Donald Cody (Keith David), takes very seriously. It's only touch football, but as far as Cody is concerned, the Army's pride is at stake.
Stults got suitably enthusiastic about shooting the episode -- he even brought in his old football tapes from his time playing for the Manitou Springs Mustangs in Colorado.
"My actual game tape from high school" can be glimpsed in one part of the episode, Stults said. "Everyone in the cast got so sick of me," he added with a laugh. "They were calling me Al Bundy, because my glory years were clearly behind me."
It's possible Pete's career has seen better days -- he was removed from a combat position when he punched a superior officer -- but that's not true of Stults and the show's terrific cast. The chemistry among Stults, Lowell and Young is one of the most amusing things on TV right now, and Randy's naive enthusiasm are especially winning. Fans will not be surprised to find out in Friday's episode, which also features an appearance from guest star Brandon Routh, that Randy is a big fan of videos showing soldiers reuniting with their families.
But part of the charm of "Enlisted" is its "Bad News Bears" quality -- everybody in Pete's unit is a goofball or a screwup of some kind. But to their credit, they sure try hard. There's a one-minute sequence in Friday's episode that shows members of the platoon trying out for the football team, and it's just hilarious. Given the show's wide embrace of everything from sentiment to silliness, somehow it makes sense that upcoming guest stars include not only the clean-cut Routh (who returns in another episode) but the retro hip-hop duo Kid n' Play and Stacy Keach, Barry Bostwick and Dean Stockwell, who play a group of veterans.
As for the show's ace supporting cast, I said in my review of the comedy, one of the most impressive things about "Enlisted" is how specific each recruit is. One of the most satisfying things about the show is that the leads, the supporting cast and Angelique Cabral, who plays an efficient sergeant in charge of a rival platoon, all have their own particular and distinctive ways of being funny.
Though his character functions more as a straight man, the "Enlisted" actors who play the platoon's misfits get quite a few chances to improvise, Stults said. Executive producers Kevin Biegel and Mike Royce, the actor noted, "know they're all comedians, so they'll just let them do funny stuff. We'll do what's scripted, and then we'll just let them roll," and sometimes those improvisations make it into the final product.
"I have so much fun listening to them and watching them every day that it's got to translate on screen," Stults said. "The episodes for me that are the most fun are the ones that are inclusive of the whole platoon."
Though it's nailed a distinctive mixture of sharp humor, goofy physical comedy and well-earned sincerity since it premiered a few weeks ago, Stults said he and the rest of the show's creative team were very aware that there were details about Army life in the pilot that a number of veterans took issue with. The show quickly corrected those problems, but Stults said there was also some concern that the show would be too goofy and light.
"The first trailers that were going out -- they made it look a little bit more slapstick-y and kind of ridiculous," Stults said. "So there was some backlash from some people in the military -- they were like, 'You're making fun of us.'"
But the cast members and producers made a point of hosting screenings and viewing parties for members of the military and interacting with them whenever possible. This weekend, in fact, Stults and his co-stars will be partying in New York with the winner of an "Enlisted" trivia contest, and the show's team has also kept up with the response to subsequent episodes on social media. Now that people have seen the humane and thoughtful ways in which the show depicts the lives of soldiers -- despite spending a lot of time on believable hijinks that occur on a stateside Army post -- there are few complaints to be found.
"It's been really wonderful to see the reaction after some of these people's [views] have changed," Stults said. And one reaction in particular had a big impact on him. After last week's episode, which touched on Pete's Post-Traumatic Stress Disorder, a man (possibly a veteran) told Stults on Twitter that he had decided to get help.
"I was sitting on the plane tearing up" when he saw that, Stults said. "I've never thought that what I do as an actor does anything for anybody, other than making them laugh once in a while. That was the proudest moment I've had as a professional."
The show will occasionally return to Pete's PTSD, but Stults said, "it won't be jammed down the audience's throat. You'll just see more subtle signs and more struggle. We may even see Pete feeling like he's gotten above it, and then we might see him realize that he sees he still needs help and [see him] ask for help."
It's a credit to "Enlisted" that it does such a fine job with two quite different missions: It's a funny comedy with memorable characters and a distinctive approach to workplace chaos, and it depicts the men and women who serve in the military with respect. Perhaps the best measure of the show's respect for members of the military is the fact that it doesn't reduce them to one-dimensional types.
"This is, as we're all aware, a sometimes serious job and people who have worn that uniform have died in that uniform," Stults said. "The people in the military take that very seriously and we as Americans need to take that seriously, because every day they make sacrifices for us. It's important to us that we do the little things right, and we'd never want to be making fun of the Army. The Army's not the joke, it's the situational comedy of a workplace -- that and the dynamic among the family members. That's where the funny is."
"Enlisted" airs 9 p.m. ET Fridays on Fox. And below is a clip from Friday's episode, "Homecoming."
BEFORE YOU GO