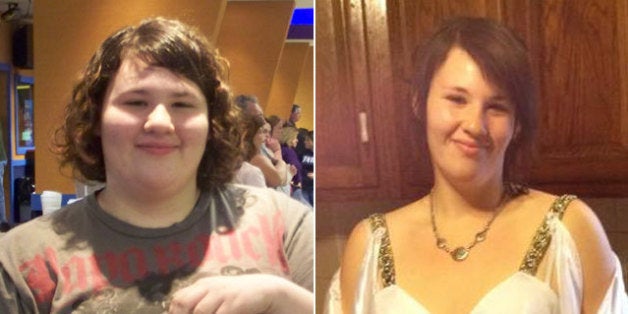 Got a success story of your own? Send it to us at success.stories@huffingtonpost.com and you could be featured in our I Lost Weight series! The Huffington Post publishes photographs as they are submitted to us by our readers.
Name: Alyssa Croteau
Age: 20
Height: 5'3"
Before Weight: 250 pounds
How I Gained It: I grew up in a household where there was never an emphasis on portion size or the food that we ate. Pasta was the easiest, cheapest and most widely available food for us. I have been overweight my entire life. Since my family was low income, my parents could only afford food like ramen noodles and all of the cheap, processed junk from supermarkets. What saved my health (and my waistline) was my preference for apples over chips and my aversion to juice and soda. I know that if I had eaten differently, I would have ballooned way over 250 pounds.
My parents tried to get me to exercise more, but what they didn't realize was that I had an eating problem and no matter what sport I played, like soccer, I just wasn't healthy. After a while, they gave up and resorted to bullying me. My entire family bullied me for my weight, especially my father and grandfather. That only worsened my condition and caused a depression I didn't get out of until I was out of high school.
Breaking Point: My breaking point occurred just two months before my 16th birthday. I was out at the mall with my mother to shop for jeans. I didn't mind shopping, but I could never seem to find something that looked decent on me. I grabbed my then-usual size 20 jeans and for once found a pair that were pretty cute! I went to the dressing room, pulled them up and, to my dismay, they wouldn't get past my thighs. I grabbed another pair and the same thing happened. Something inside of me awakened and with shaking hands I grabbed a pair of jeans that were a size 22. They fit perfectly, and for the first time in my life I really looked at myself. In my mind all I could remember was that my aunt was a size 24, and she had seemed huge to me at the time. I made a promise to myself then that I would change my ways and try to just at least lose some weight!
How I Lost It: I started with small steps first; I knew any big changes wouldn't work for me. I started walking for 30 minutes each day after dinner, and I utilized the workout equipment we had at school. I used smaller plates, started eating more fresh foods and finally convinced my mother to start buying healthier food. When I lost that first five pounds I was ecstatic! I couldn't believe it! The weight slowly started to melt off, and I was starting to slowly build the confidence I never quite had.
I didn't always keep it up though. There was a two-year period where I actually got down to 187 pounds and then went back up to 210. It had a lot to do with my ever-present bad eating habits. On New Year's 2013, I decided once and for all I was going to change my ways. Instead of aiming to just lose weight, I aimed for fitness. I started weighing and measuring things instead of eyeballing it and used a wonderful website called SparkPeople to track my fitness and nutrition. Within the first month I lost 10 pounds! I was in this for the long run; I wanted to lose and maintain, so I had to make this my lifestyle. Now, almost a year later, I'm a completely different person! My confidence has sky rocketed. I never felt like I was beautiful or worth anything. I never had any confidence in myself. Since I've lost weight, I feel fantastic about myself and my life. I had always wanted to just jog a mile. Now, I can jog a 5K and my dream is to one day finish a marathon. I can finally fulfill all of my lifelong dreams.
Current Weight: 149 pounds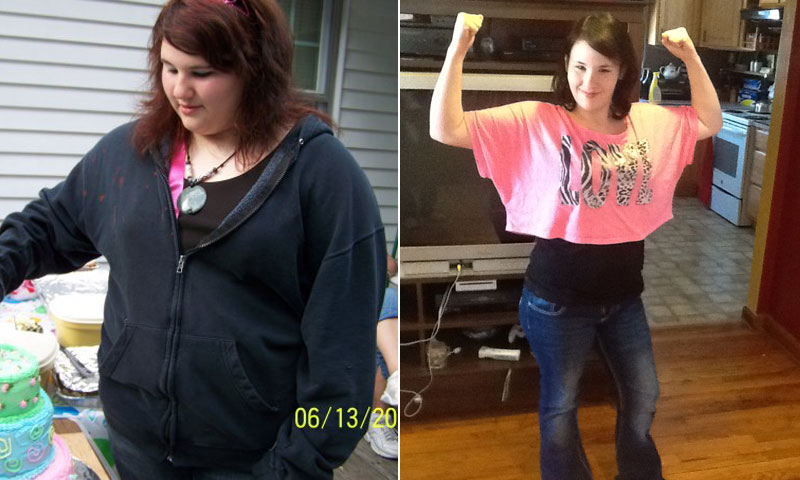 The Huffington Post publishes photographs as they are submitted to us by our readers.
Check out more of our inspiring weight loss stories below:
PHOTO GALLERY
Weight Loss Success Stories