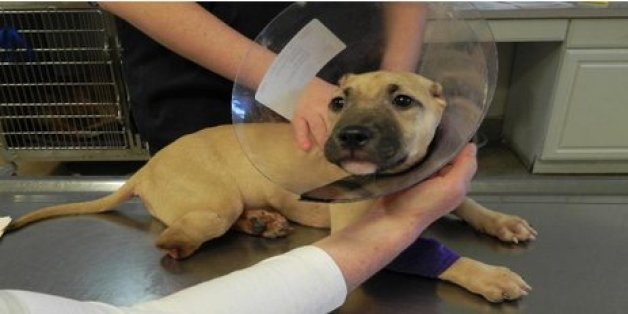 A pit bull puppy in New York will have a long recovery ahead of her after being found with missing ears and a leg after someone cut them off.
The dog, who the Nassau County Society for the Prevention of Cruelty to Animals fondly refer to as Miss Harper, was discovered back in September following an anonymous tip, according to ABC News. The SPCA has referred to the pooch's abuse as a "butchering."
Police are still searching for at least one suspect responsible for the malicious abuse of the 5-month-old animal, but SPCA says they're close to finally making an arrest in the case, according to Long Island News.
"We have just about all the pieces of the puzzle together," said Bob Sowers, of the SPCA. "We know what transpired. We know a good amount of participants here."
In the meantime, the SPCA is hoping to raise funds to get Miss Harper a prosthetic leg. The surgery will require the pup's remaining back leg be amputated so that she can balance and walk correctly, according to Patch.
"We are asking the public and animal lovers to help us in our efforts to raise funds for the needed surgeries and care that this poor puppy faces. More importantly, for this sweet little girl who has been named 'Miss Harper' we have to find a loving home," SPCA said in a statement.
A PayPal account has been set up to collect donations.
Dr. Kim Barlow of My Pet's Vet has been helping the puppy rehabilitate.
"She didn't ask for this," Barlow said. "She didn't deserve this. Nothing. She was just brought into this world. This type of cruelty is something no one ever wants to see. What's sad is we know about her. We don't know about so many others."
BEFORE YOU GO
PHOTO GALLERY
Animals Who Just Need A Hug