Bruno Mars headlined the Super Bowl XLVII halftime show on Sunday night in East Rutherford, New Jersey.
The show began with Mars behind a drum set before he ripped into "Locked Out of Heaven," his hit single from "Unorthodox Jukebox." Mars also performed "Treasure," "Runaway Baby" and a little bit of the Isley Brothers song "Shout." He also helped Red Hot Chili Peppers lead singer Anthony Kiedis on "Give It Away," a seminal hit from the Los Angeles rock band.
Mars closed his Super Bowl set with the ballad "Just The Way You Are."
Mars' involvement in the NFL's biggest game was announced in September of last year. The 28-year-old singer was born in Hawaii and he has become one of the most popular stars in pop music on the back of his albums, "Doo-Wops & Hooligans" and "Unorthodox Jukebox." That latter album, released in December of 2012, won Mars a Grammy Award for Best Pop Vocal Album during the Jan. 26 ceremonies.
"No matter where I perform, it's my job to uplift the people -- whether I'm performing at a graduation party, wedding, bar mitzvah, Grammys, Super Bowl, I'm gonna give it all I got," Mars said of the Super Bowl halftime show during a press conference days before the event. "I don't trapeze and all that stuff. I hope to get people dancing and get people smiling. if you ever come to my shows, it's just us up there with these songs and our instruments. I hope that's enough."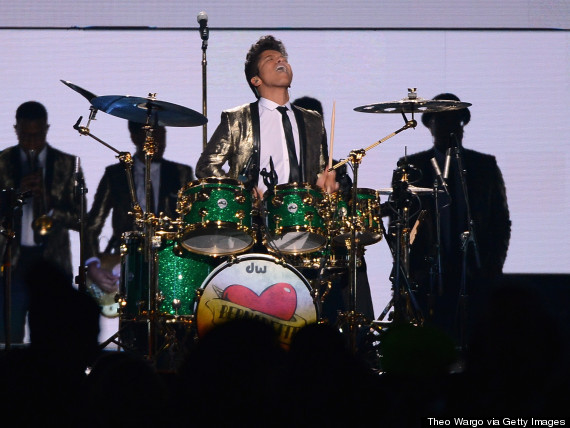 As Forbes noted, the NFL does not pay its Super Bowl halftime entertainers; rather, the league covers all of the expenses for the performances.
Last year, Beyonce ran the world and Super Bowl halftime show, staging a much heralded reunion with Kelly Rowand and Michelle Williams from Destiny's Child.
This year's Super Bowl was held at MetLife Stadium at the Meadowlands Sports Complex in East Rutherford, New Jersey. The Denver Broncos faced off with the Seattle Seahawks in the NFL's big game. The score before Mars' performance was 22-0 in favor of Seattle.
BEFORE YOU GO
PHOTO GALLERY
Bruno Mars At The Super Bowl