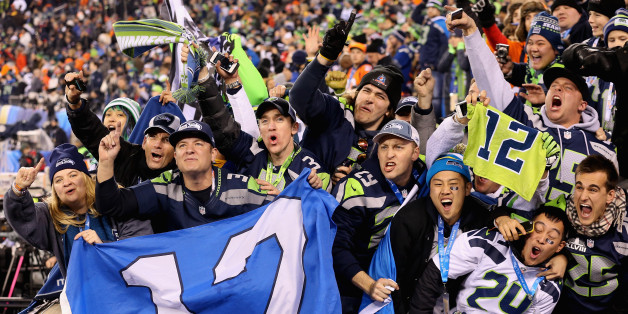 There's a fine line between delusional and confident -- and Seattle Seahawks fan Tim Connors is strutting right on it.
Connors got a tattoo declaring his beloved team's victory in Super Bowl XLVIII -- but he didn't get it after the game. He didn't get it during the game, as the Seahawks turned the match against the Denver Broncos into a laugher. He didn't even get it last week as part of a bold pre-Super Bowl bet.
No, he got inked up last summer -- back in August -- before the season even started.
"I don't want to say they have it in the bag, but I'm pretty confident," Connors was quoted as saying on Friday by ESPN.com.
As you can imagine, Connors is a very happy man. Here's a selfie posted to Twitter late in the game:
Great selfie of Tim Connors, who got Seahawks Super Bowl champs tattooed on him in August pic.twitter.com/6h59CUgcgF

— darren rovell (@darrenrovell) February 3, 2014
Here's a photo of the tattoo itself, from the aptly named Good Karma Body Art shop in Edmonds, WA:
Tim Connors looks like a genius after getting a @Seahawks Super Bowl 48 Champion tattoo days before the game! pic.twitter.com/wf0T29SkDK

— Darren M. Haynes (@DarrenMHaynes) February 3, 2014
But not everyone thought that tattoo would bring good karma. In fact, the tattoo artist actually tried to talk Connors out of it at first.
"I said, 'hey man, people are going to attack you... that you're the jinx of the team,'" tattoo artist Lonnie Moon told KOMO-4 News.
It wasn't a bold prediction just because of the timing. History was also against Connors: While the Seahawks were one of the favorites going into the season, they had only one previous appearance in the big game, a 21-10 loss the the Pittsburgh Steelers in Super Bowl XL.
Looks like the Seahawks have turned their own karma around - as one super fan knew from the start.