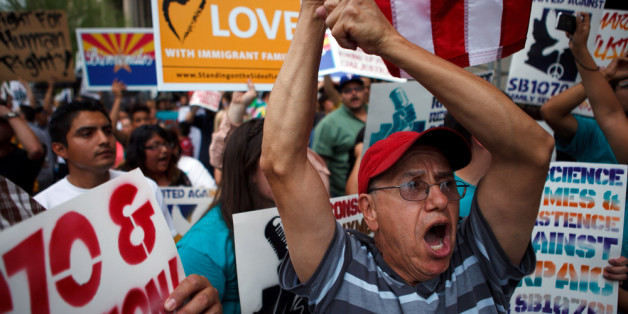 Few states have done more to alienate Latino voters from the Republican Party than Arizona.
But that isn't stopping Arizona conservatives from highlighting Phoenix's demographics in the city's bid to host the 2016 Republican National Convention.
Phoenix is one of a handful of cities that attended the Republican National Committee's winter meeting last month to jockey for the coveted duty. To convince organizers that their city is right for the job, the Phoenix host committee is playing up the symbolic value of its Hispanic population at a time when the Republican Party is hoping to recover from nominee Mitt Romney's dismal performance among Latino voters in the 2012 presidential election.
That pitch grates on the ears of many Latinos, given that Arizona has played a key role in causing the problem in the first place.
"I think it's really ironic that they'd want to come here as the place to get on better footing with Latinos," Carlos Garcia, an organizer with immigrant rights group Puente, told The Huffington Post. "The GOP in Arizona has gone dramatically out of its way to make sure that Latinos get eradicated from this state. Having the convention here would just solidify the anti-Latino sentiment. It would no longer be just an Arizona thing -- it would basically be saying 'Arizona is doing the right thing.'"

In 2010, Arizona passed SB 1070, one of the strictest immigration laws in the country. Among other provisions, the law required police to check the immigration status of those stopped for other reasons if the authorities suspected them of residing in the country illegally. SB 1070 shifted the debate sharply to the right and gave impetus to an ascending movement of hardliners committed to ramping up state enforcement of federal immigration law.
With SB 1070, Arizona took a leading role in alienating the growing Latino vote. The law embodied the concept of enforcement through attrition -- better known these days as "self deportation," following Romney's popularization of the phrase on the campaign trail in 2012. Many Latino citizens in the state feared they would be racially profiled under the new law. Some 81 percent of Arizona Hispanics opposed SB 1070, according to a 2010 Latino Decisions poll. Romney, who embraced SB 1070's approach, won just 27 percent of the country's Hispanic vote, the poorest performance of any candidate since Bob Dole's unsuccessful 1996 run.
Some of Arizona's most prominent immigration hardliners reside in Phoenix and its suburbs: undocumented immigrant chaser Sheriff Joe Arpaio; former State Sen. Russell Pearce, who authored SB 1070; and Gov. Jan Brewer, who signed the bill into law -- all Republicans. Brewer has refused to grant drivers licenses to undocumented immigrants who qualify for deportation relief and work authorization under guidelines issued in 2012 by the Obama administration.
Immigration isn't the only issue dividing Republicans from most Latino voters. Garcia also criticized Arizona Republicans for prohibiting a progressive Mexican-American Studies curriculum in Tucson's public schools. The program was lauded by supporters for raising student achievement and fostering critical thinking, but conservatives passed legislation in 2010 to squelch the curriculum over allegations that it politicized Latino students and bred resentment against Anglos.
"Trying to erase our history was a sign that it wasn't just about undocumented immigrants, they were going after Latinos as a whole," Garcia told HuffPost. "They were trying to get rid of our history, our culture and what we have in this state."
Now Phoenix wants to show the country a different face.
Gordon James, a public relations professional who sits on the Phoenix host committee, says that Phoenix's Latino population should entice conservatives hoping to built their clout among Hispanics.
"Phoenix and Marciopa County and central Arizona have a large percentage of Hispanic voters," James said in a telephone interview. "Everyone's targeting them to get them registered and get them to vote. In my opinion, that's what's going to make the difference. So it would be good to have it there in Phoenix."
At the winter meeting of the Republican National Committee last month, the Phoenix host committee served local foods that showed off the influence of the state's Hispanic origins, including nachos and churros, according to Politico.
James pointed out that the bid had bipartisan support and would come on the heels of hosting the Super Bowl in 2015.
When asked whether the city's reputation as a trailblazer for hardline immigration legislation would undermine Phoenix's pitch, he said he hoped the city had moved on.
"It's not the image that we want," James said. "I think they have moved past it. It was tough."
U.S. Rep. Raul Grijalva (D-Ariz.) disagreed.
"That's idiotic," Grijalva told HuffPost, raising similar issues as those mentioned by Garcia. "It's reflective of how shallow the Republican leadership's understanding of the Latino community is. Their presence here would actually have the reverse effect."
BEFORE YOU GO
PHOTO GALLERY
Harsh Immigration Laws