Tyler Blackburn has had a busy winter as Caleb Rivers, the troubled orphan on "Pretty Little Liars," who recently got a spinoff of his own, "Ravenswood." He's been juggling his (now) ex-girlfriend, Hanna, back on "Pretty Little Liars," and his new flirtation with dead girl, Miranda on "Ravenswood," and he's still seeking answers on both shows.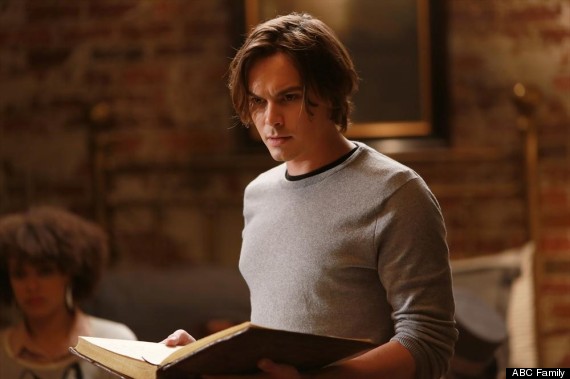 The "Ravenswood" finale airs Tuesday (Feb. 3), and Hanna (Ashley Benson) will make a guest appearance. She makes the 40 minute trek from Rosewood (where "Pretty Little Liars" is set) to Ravenswood to confront Caleb about their breakup and the mysteries he's hidden from her. [If you haven't caught up on "Pretty Little Liars" and "Ravenswood," beware of spoilers below.]
According to Blackburn, Caleb is completely caught off guard when Hanna shows up. "He ended things and wanted to end them on a pretty serious note so that she was hurt so that she didn't follow him," he said. "She immediately asks, 'Where's Miranda?' and puts him in a position where he has to decide what to tell her and he really does open up to her gives her some answers. I think that although they are answers, they're not ones that she's not ready to hear." How does he explain that the girl she's jealous of is dead and he's the only one who can see her? We're betting on an excellent "I see dead people" joke on Hanna's end.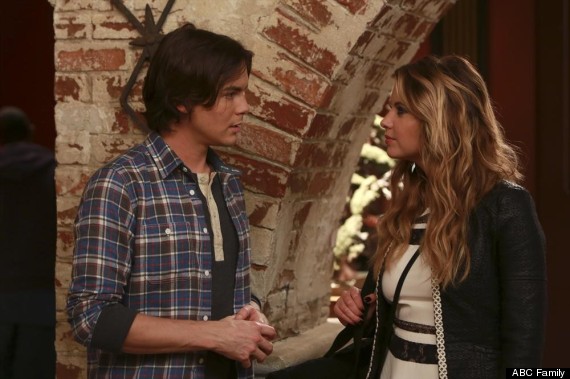 Caleb does decide to tell Hanna that Miranda (Nicole Gale Anderson) died in the car accident in the pilot episode, but he still hasn't figured out his own feelings about her death. "He's reminded constantly about this history with Miranda based on their ancestry," Blackburn said. "So [her death] puts him in a place where he doesn't fully understand. They can't touch. So I think it's really unfulfilling and frustrating for him."
Blackburn admits Caleb still has feelings for Hanna, but in show creator I. Marlene King's world, feelings aren't enough to keep couples together. "I think they were each other's first loves and I think that's undying in a lot of ways. I think Haleb fans will probably shed a little tear at one point or another." Earlier this year, King told HuffPost TV, "Hanna is the love of Caleb's life ... Everything he does, even if it's a heartbreaker, is always to protect her."
Caleb and Miranda's relationship has been a major will-they-or-won't-they question since "Haleb" broke up on in a very tearful "Pretty Little Liars" episode and Blackburn kept mum on whether he would appear again in the final half of "Pretty Little Liars" Season 4. But he promised fans will be left scratching their heads at the cliffhanger on "Ravenswood."
The "Ravenswood" season finale airs Tuesday, 9 p.m. EST on ABC Family.
BEFORE YOU GO
PHOTO GALLERY
"Pretty Little Liars"