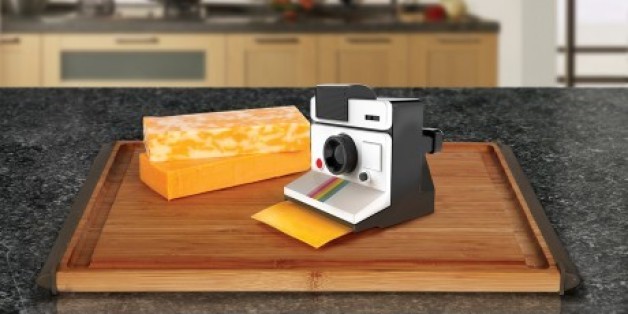 We always hated having to pose for pictures. Being forced to say cheese, made to smile big and all the while trying so hard not to blink. (Yet, somehow we always blinked.) Not only did it feel incredibly unnatural, but it also made us really crave a piece of cheese. And there was never any cheese rewarded for all that picture posing. Why wasn't there ever any cheese?!
If you also dealt with this childhood frustration, you can now right those wrongs buried deep in your psyche with this instant-camera cheese slicer from GAMAGO. This camera is no camera at all. Its flash does not light up. It can't be loaded with film. In fact, this camera cannot take a single picture. But it can slice your block of cheese just like a kitchen knife can.
The camera cheese slicer is a whole lot clunkier than a knife. It probably won't fit in your kitchen drawer. But it's quirky and corny and would go well with your cheeseburger bedsheets and gummy bear sweat shirt. Also, it'll only set you back $10.
Want to read more from HuffPost Taste? Follow us on Twitter, Facebook, Pinterest and Tumblr.