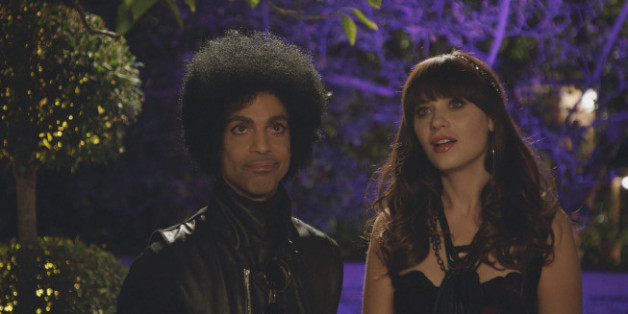 When the worlds of music and scripted television collide, some of the most memorable moments of pop culture are born.
Last week, we were blessed with takeovers by legendary performers on not one, but two of our favorite shows on TV. In the season finale of "American Horror Story: Coven" last Wednesday (Jan. 29), Stevie Nicks made her second cameo, serenading the witches into the Seven Wonders competition with the Fleetwood Mac song by the same name. On Sunday, Prince guest starred as himself on "New Girl", givin Zooey Deschanel's characater, Jess, some relationship advice, eating pancakes and performing his new song "Don't You Wanna Fall in Love Tonight."
In honor Prince and Nicks' cameos, we're looking back on some of the best musical guest star performances in scripted television history:
Britney Spears on "Sabrina, The Teenage Witch"
Admit it, if you had witch powers you would summon your favorite pop star to hang out with you too. Watch this clip to see Britney dole out some advice to Sabrina as they practice dance moves to "Crazy."

Tegan and Sara on "The L Word"
Dana's funeral on "The L Word" was incredibly heartbreaking, but Shane's memory of dropping acid with Dana at a Tegan and Sara concert definitely lightened the mood. The twin sister rock duo performed one of their B-sides, "Love Type Thing," while Dana hallucinated, dancing beside them on stage as they urged her to come out of the closet.

Destiny's Child on "The Famous Jett Jackson"
Remember the amazing Disney Channel show "The Famous Jett Jackson?" Remember when Beyonce couldn't dance? Then you must remember that perfectly awesome episode guest staring Destiny's Child. Not only does the group perform a full song, but Jett fights a guy to "Bug A Boo," and discovers that the singers were being used in a secret nuclear weapons mission. (Erm, what?) "The Famous Jett Jackson" also featured an equally as incredible Britney Spears performance in one episode.

Iggy Pop on "The Adventures of Pete and Pete"
1990s kids shows are a gold mine for musician cameos. Iggy Pop guest starred in five episodes (FIVE!) of Nickelodeon's "The Adventures of Pete & Pete" as James Mecklenberg, the father of Nona (Michelle Trachtenberg). In this episode he sings his daughter a song at the school dance, and it's not your typical Iggy performance.

Stevie Wonder on "The Cosby Show"
Denise and Theo get into the car accident of their life when they find out that the limousine that hit them has Stevie Wonder inside. The singer feels so bad about the fender bender that he invites them to his studio for a listening session. It turns into a sing-a-long when the whole Huxtable family joins Stevie on "I Just Called To Say I Love You."

The Ramones on "The Simpsons"
The Ramones play themselves in the "Simpsons" episode "Rosebud" when they are hired to play at Mr. Burns' birthday party. They sing him a punk rendition of "Happy Birthday," but their performance doesn't please Burns and he asks Smithers to have them killed, mistaking them for the Rolling Stones.

David Bowie on "Extras"
What's worse than being mocked in public? David Bowie singing a song mocking you in public. On "Extras," Ricky Gervais' Andy is feeling down about his new terrible sitcom. When he confides in Bowie at a celebrity bar, the singer turns to the piano to make Andy's day even worse. And to top it all off, the entire bar chimes in for the final lines, "See his pug-nosed face, (Pug, pug, pug, pug)." Honestly though, if anyone is going to publicly shame us, we'd opt for Bowie.

Lady Gaga on "Gossip Girl"
"Gossip Girl" goes Gaga when the pop diva made an appearance on The CW series, letting Blair (Leighton Meester) and her friends watch her practice for her upcoming tour. Here Gaga sings "Bad Romance." There are miles of red fabric, wind machines … and Hilary Duff. Need we say more?

Kelly Clarkson on "The Crazy Ones"
Kelly Clarkson may be one of America's sweethearts, but she didn't act that way when she stopped by CBS' "The Crazy Ones." Watch the scene above when she gets hot and heavy over hamburgers while singing a jingle for McDonald's. It's no "Since U Been Gone," but we'll take it.

Brad Paisley on "Nashville"
Country superstar Brad Paisley (whose wife, Kimberly Williams-Paisley played the part of Peggy on the series) made an appearance on the drama-filled Music City-set series. Connie Britton's character, Rayna James, performs a duet with Paisley, but even with a country music legend on the stage, Rayna only has eyes for guitarist Deacon. But can you blame her?

Slash, ZZ Top, Lisa Loeb, Joey Ramone and more on "The Drew Carey Show"
When guys of "The Drew Carey Show" form a band and get hired for a gig at the Ramada Inn, they realize they are missing one thing: a guitarist. They decide to host some auditions and thus, some of rock n roll's greatest guitar players show their stuff to get the spot. Slash is too good for them, they turn down Dusty Hill of ZZ Top for his beard, and Joey Ramone is just too tall and skinny.

Sheryl Crow, Adam Levine, Mary J. Blige, Elvis Costello and more on "30 Rock"
Elvis Costello, Beastie Boys, Mary J. Blige, Norah Jones, Cyndi Lauper, Moby, Wyclef Jean, Sara Bareilles and Adam Levine are just a few of the names Jack (Alec Baldwin) enlists to sing a "We Are the World" ballad to help help his father who needs a kidney. Liz Lemon even reveals that Sheryl Crow was her "best friend in elementary school."

Jennifer Lopez on "Will & Grace"
If you're boozy gazillionaire Karen Walker (Megan Mullally) and you had a room full of adoring gays at your wedding who would you have perform at the reception? Well, if it's 2004 your answer is probably Jennifer Lopez who was one of the many guest stars on the NBC sitcom. Everything goes smoothly for Lopez while she performs her classic dance anthem "Waiting For Tonight" -- that is until Jack (Sean Hayes) shows up as a backup dancer.

The Beach Boys on "Full House"
It's super exciting news when D.J. wins tickets to the local Beach Boys concert, but after all the excitement in the full house dies down, the family realizes she can only bring one person. She ends up choosing Uncle Jesse, but when Danny gets super upset, she doesn't know what to do … until the Beach Boys show up! They invite the whole family to the show and everyone sings and dances on stage. It's super cute, and we're jealous.