The Red Hot Chili Peppers can rock, but apparently they didn't rock live at the Super Bowl Halftime Show.
The Chili Peppers took to the stage alongside Bruno Mars during the halftime show on Sunday to perform their '90s head-banger "Give It Away." But it wasn't until after the performance that some speculated the band wasn't even playing live.
Fansided pointed out that bassist Michael "Flea" Balzary's instrument appeared to be unplugged.
"Balzary was 'playing bass' during the show even though his guitar wasn't even plugged in. The other guitarist, Josh Klinghoffer, didn't appear to have his instrument plugged in either," Fansided's Mike Dyce wrote.
The website quashed the possibility that Flea was using a built-in wireless transmitter because he was photographed playing the same bass during the National Anthem at a UCLA-Arizona game last month.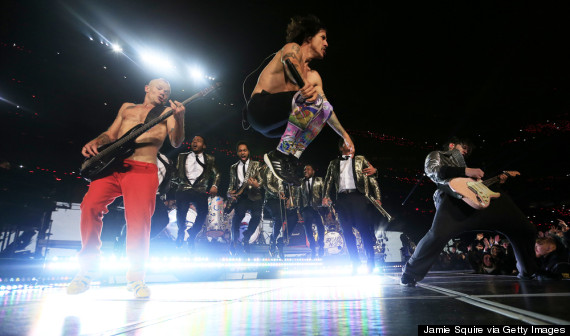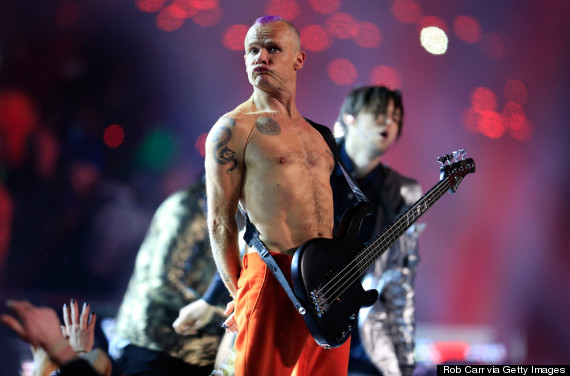 Flea... I mean we all know, but for god's sake at least try to humor the children. #unpluggedlive pic.twitter.com/ferJuOQpkP

— JOE BONAMASSA (@JBONAMASSA) February 3, 2014
USA Today's Chris Chase noted that other musicians have opted out of playing stringed instruments live -- including Yo-Yo Ma and Itzhak Perlman at President Barack Obama's 2009 inauguration -- because of cold weather.
Flea tweeted a message about "trickery" that seemingly referenced the performance.
No trickery. No choice, but no trickery

— Flea (@flea333) February 4, 2014
Even if they didn't play live, the Chili Peppers had a great time rehearsing.
"We did score touchdowns during rehearsals before they kicked us off the field, which was like a dream come true," Anthony Kiedis told the Associated Press. "(Our drummer) Chad Smith threw me a touchdown pass -- one of the greatest feelings of my life."
UPDATE: A rep for the Chili Peppers notified The Huffington Post that Flea had posted a response to the halftime show buzz on the band's website. In his message, Flea admitted the vocals were live, but the bass, drums, and guitar were pre-recorded.
For the actual performance, Josh, Chad, and I were playing along with the pre recorded track so there was no need to plug in our guitars, so we did not. Could we have plugged them in and avoided bumming people out who have expressed disappointment that the instrumental track was pre recorded? Of course easily we could have and this would be a non-issue. We thought it better to not pretend. It seemed like the realest thing to do in the circumstance. It was like making a music video in front of a gazillion people, except with live vocals, and only one chance to rock it. Our only thought was to bring the spirit of who we are to the people.