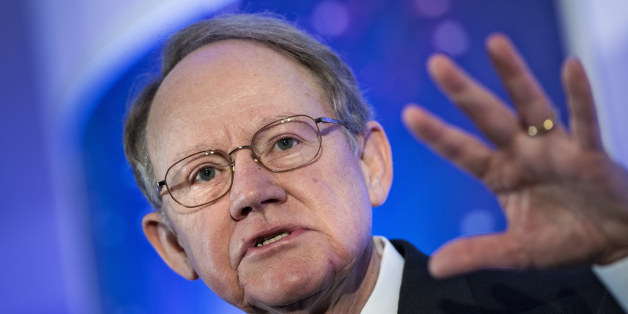 Edward Snowden may have taken advantage of the cozy relationship between the National Security Administration and government contractors to filch secret government documents. But that doesn't mean the contractors have suffered any consequence.
In an interview at a Wall Street Journal-sponsored conference on Tuesday, Mike McConnell, vice chairman for the technology contractor Booz Allen Hamilton and director of the NSA from 1992 to 1996, quickly shot down the notion that Snowden, who took at least some of his documents while working for the company, caused any damage to the company's reputation.
"Our stock value went up about 10 percent, so just put that aside," McConnell said. "A lot of people said, 'Oh, tremendous damage.' There's been no real damage."
Snowden's highly sensitive work for Booz, and before that at Dell, highlighted the the massive and expanding role of consultants in secret government programs. Congressional leaders suggested after Snowden began leaking documents they may limit contractors' access to NSA secrets. Since then, the House and Senate intelligence committees, whose members received at least $3.7 million in campaign contributions from intelligence contractors since 2005, have taken little action on contracting.
Booz had $5.86 billion in revenue in 2012 -- 98 percent from government contracts.
"He targeted my company because we enjoy more access than most other firms," McConnell said of Snowden. "We do core mission for a variety of players -- Army, Navy, Air Force, NSA, CIA, others -- because of the nature of the work that we do."
Booz Allen Hamilton's stock price has gained 50 percent in the last year. After briefly dipping in June after Snowden's name and employment affiliation were revealed, it ascended to $21 in August -- the most since the company first sold stock to the public in November 2010.
Reuters reported in June that Booz hired Snowden to work as a contractor for the NSA despite "discrepancies" in his resume, but McConnell brushed aside a question about his company's hiring process. Looking into Snowden's background, he said, was ultimately a job for the government.
McConnell said Snowden was "narcissistic" and had "failed at most everything he did."
Booz has said it paid Snowden a $122,000 yearly salary before firing him over his leaks.
BEFORE YOU GO
PHOTO GALLERY
Politicians React To NSA Collecting Phone Records